Cincinnati Bengals: Terence "Hello" Newman, Goodbye Keith "Cry Me A" Rivers
April 11, 2012

Christian Petersen/Getty Images
Multiple reports have surfaced that the Cincinnati Bengals have signed veteran corner Terence Newman to a one year contract.  These same reports are stating that the Bengals are also having conversations about trading former starting linebacker Keith Rivers to the New York Giants.
So much for the Bengals having an uneventful off-season!
When you look at both of these moves from a football perspective, they both make sense for the Bengals.  
Due to injuries, Keith Rivers has been replaced in the Cincinnati Defense by the emergence of Thomas Howard and the re-signing of Manny Lawson.  
A trade of this nature, could look terribly lopsided on paper though.  Most expect the Bengals to only net a late round pick or at best, two for the oft-injured Rivers.  
If Rivers proves to be healthy, than he will give the Giants a weak side starting linebacker that they desperately need.  If this scenario occurs, this move will look terrible for the Bengals—even though it may not be.  
On paper, only netting a late round pick or two for a starting linebacker is normally not fair compensation.  But look at this move from the Bengals perspective for a moment.  Rivers has been injured for the past two seasons, and still holds a larger cap number because of his rookie deal.
The Bengals' defense has grown and proven to be successful without him.  Plus, the Bengals do not really know what to expect when Keith Rivers gets back on the football field.  So why not take the risk of underselling on a soon to be 26-year-old injury-plagued linebacker?  
Because if he does prove to have nothing left in the proverbial tank, than the Bengals will be releasing Rivers without any compensation at all.
On the other hand, Terence Newman joins a Cincinnati secondary that continues to be influx.  The Bengals are attempting to deal with the uncertain immediate future of Leon Hall.  Newman's signing will allow the Bengals to add another NFL veteran to their reforming secondary.  The Bengals have already made some significant changes to this position, with the signing and re-signing of Jason Allen and Adam "Pacman" Jones, respectively.  
Newman is a logical fit for the Bengals at corner, with his strong ties to Bengals' defensive coordinator Mike Zimmer.  Arguably, Newman had his best season of his career under Zimmer when they were both in Dallas together.  
With all this said, what does this mean for the Bengals future and draft plans?  As we all know the Bengals currently hold onto two very valuable first round selections in the upcoming 2012 NFL Draft—picks 17 and 21 overall.  
I feel the Bengals off-season acquisitions are a mixed bag of changes when it comes to their NFL draft plans.  Terence Newman is a stop-gap at corner, and the position should still be addressed by the Bengals via the draft.  
Their other free agent signings and re-signings are: Dennis Roland, Jacob Bell and Travelle Wharton to name a few, who all should and will affect the Bengals' draft plans.  
At the 17th selection, I still see the Bengals going with the best available player within the secondary. I believe this pick breaks down into one of three players: Mark Barron strong safety from Alabama, Dre Kirkpatrick corner from Alabama or Janoris Jenkins corner from North Alabama via The University of Florida.  
I believe Dre Kirkpatrick still holds a slight lead over the other two prospects.  
I do not buy into the argument that a safety's positional value is as high as a corners.  Plus, Kirkpatrick just fits the prototypical Cincinnati corner to a tee.  He is a big and physical corner that can step up and make a tackle against the run.  
I do not believe Janoris Jenkins' off-the-field concerns will scare off the Bengals.  I do believe though, that if they are both available the Bengals will select Kirkpatrick because of his size and body of work within the SEC.  
I have changed my opinion of what the Bengals are going to do with the 21st selection.  I originally had them shipping this pick to Pittsburgh as compensation for the signing of restricted free agent Mike Wallace (While I still do believe there is a slight chance that this still could happen, it is unlikely). 
I then changed this pick to the Bengals selecting versatile University of Georgia offensive lineman Cordy Glenn.  I believe this move is less likely to happen now because of the offensive guards brought in by Cincinnati-Jacob Bell and Travelle Wharton.  
Which leads me to my new prediction for the Bengals with the 21st selection in the upcoming NFL draft.  I believe the selection will come down to one of three players once again. Those three being: Devon Still defensive end/defensive tackle from Penn State, Kendall Wright wide receiver/kick returner from Baylor and Stephen Hill wide receiver from Georgia Tech.  
The Bengals desperately need a young No. 2 wide receiver to pair up with Andy Dalton and A.J. Green.  One that could stretch the field and take the top off the defense, which would even be an added bonus for the Bengals.  This is why, I see the Bengals being very interested in Mike Wallace-RFA, or Kendall Wright/Stephen Hill via the draft.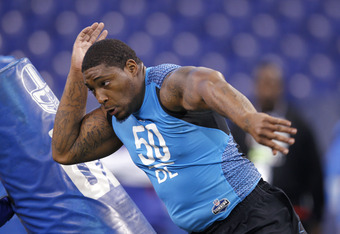 Joe Robbins/Getty Images
Devon Still on the other hand, is my dark horse candidate for this selection.  
The Bengals did just lose two rotational defensive ends via free agency.  Marvin Lewis and Mike Zimmer have proven to like more versatile defensive lineman that can play either end or tackle, and Devon Still fits the bill.  Depending on whose tea leaves you believe, Still's draft stock has fallen to the end of the first round.  So the Bengals selecting Devon Still at No. 21 is not completely out of the question.  
At 6'5'' and 310 pounds, Still possesses a large body with a ton of upside.  The reason for his sudden fall down the draft boards within round one is because of the emergence of other defensive tackles such as: Dontari Poe of Memphis, Michael Brockers of LSU and Fletcher Cox of Mississippi State.  There is also some question about Still's on-field game tape while at Penn State.  
The Bengals have the need for another big bodied and versatile defensive lineman.  If Marvin Lewis and Mike Zimmer believe they can get the potential out of Devon Still, then selecting him at No. 21 would be an absolute steal for the Bengals!