Best-Case Draft Scenario for the Tampa Buccaneers in the 2012 NFL Draft
April 12, 2012

Chris Graythen/Getty Images
Truthfully, the best case scenario would be for Andrew Luck, Trent Richardson, Morris Claiborne, Matt Kalil and Mark Barron all to fall to the Bucs in different rounds, without requiring Tampa Bay to trade up once. 
Of course, that will not happen. And if it does, I promise I will send every single reader a vial of my own tears. 
Even the realistic best case scenario probably won't happen. But this is the NFL, a magical league where a messiah can be traded for a fourth-round pick and perhaps the greatest quarterback of all time can be cut. 
Still, we can hope, dream and pray that the stars align and the fates smile upon the Buccaneers. At least for April 26-28. 
First Round: CB Morris Claiborne
Frankly, my dear, I don't give a damn about Claiborne's Wonderlic score. 
Claiborne's skills speak for themselves, no matter what a test says about him. He can play cover corner better than anyone else in the draft, and has the potential to be the next Ronde Barber. 
In recent memory, teams that draft cornerbacks early have generally seen better returns on their investments than those that draft running backs as early. Think about it: Darrelle Revis, currently the best corner in the NFL, was drafted at number 14.
How good could Claiborne be if he is projected at number five?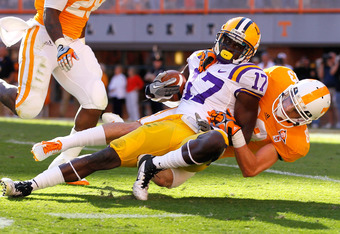 Kevin C. Cox/Getty Images
Sure, past trends do not guarantee future results, but the idea deserved a mention. 
I'm sure many of you will wail in the comments about how Trent Richardson would be the real best case scenario.
If, and only if, Claiborne had already been selected I could tolerate drafting a running back so early. 
Second Round: ILB Dont'a Hightower
I may be in the minority, but I am of the belief that linebacker is an even bigger need than cornerback. 
Last season, the Bucs had the worst rush defense and one of the worst pass defenses in the NFL. Truth be told, the defensive line was ravaged by injuries and the secondary was porous, yet the linebacker corps should hold the most blame for the team's defensive failures. Outside linebackers Geno Hayes and Quincy Black played like practice squad rejects, while Mason Foster, a rookie, found himself unable to read the offense before the snap, often looking uncomfortable playing inside. 
With Dont'a Hightower, Tampa Bay can move Foster to the outside and replace him with an instant-impact starter. 
Third Round: RB David Wilson
As the NFL becomes more and more aerially-oriented, the running back position suffers. Teams look to running backs less and less in critical situations, and the backs are accordingly drafted lower and lower.
David Wilson runs like a cheetah with rockets for feet but with better vision. He sees the holes open up and where his blocks will be. The ACC Player of the Year could rival LeGarrette Blount as the best running back in Tampa Bay. 
Fifth Round: TE Michael Egnew
Michael Egnew had lofty expectations for his senior season and failed to live up to them, only catching three touchdown passes. His speed seemed questionable, and it didn't help when he ran the 40-yard dash with a paltry 4.62 time at the Combine.
He will have a chance to play in Tampa, though. Kellen Winslow isn't getting any younger, and last year's fourth-round pick Luke Stocker has not been on the field enough to gauge his odds of starting in 2012.
Sixth Round: OT Levy Adcock
For such a big guy, Adcock does not seem to command a big reputation. He was not even invited to the NFL Combine last February. 
This lack of recognition does not effect his talent in any way, and if drafted by Tampa Bay, Adcock could replace Jeremy Trueblood at right tackle by the end of the 2012 season. 
Seventh Round: OLB Tank Carder
Personally, I think that a lot of Tank Carder's popularity stems from his name, rather than his on-field play. At the current moment, Carder has far more potential than actual ability. 
It is far more likely to see him fall off the board in the sixth round, but this is a best case scenario draft. 
Carder would give depth to a shallow linebacker unit, and would definitely help shut down the run. 
This draft does not address the safety position, and for a very specific reason. I firmly believe that Tampa Bay will sign a few more free agent DBs, and could move a cornerback to safety. Sean Jones could still be re-signed as well. There are plenty of options, so many that it would be counter-intuitive to suppose that the hole will be filled only in the draft.