WWE: Will Vince McMahon Ever Be Involved in a Major TV Angle Again?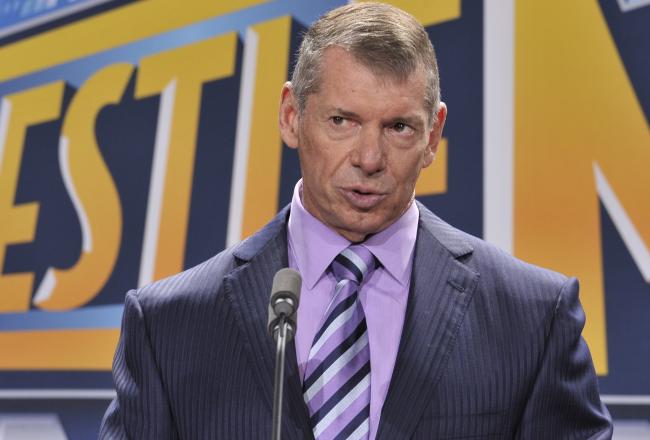 Michael N. Todaro/Getty Images
Vince McMahon, the owner and chairman of WWE, was last seen on WWE television on the risible 10/10/11 Raw. A gleeful Vince showed up to announce to Triple H that the mysterious Board of Directors had decided to strip him of all his power over Raw, due to some erratic decision-making on the part of "The Game."
Per the storyline, Vince himself had been ousted from WWE several months earlier in June. Why exactly the Board of Directors chose him, of all people, to deliver the bad news didn't make much sense—but then again, few things on Raw around this period made sense so this shouldn't have shocked anyone.
(In another perplexing move, HHH, whom, as noted, the Board of Directors fired due to his incompetence, would later be the one in charge of deciding whether or not Raw GM John Laurinaitis could remain in charge of WWE's flagship show. Why exactly the Board of Directors went from thinking HHH was too incompetent to run WWE's flagship show to suddenly placing him in charge of deciding if Laurinaitis was capable of it was never explained.)
The skit with HHH in October seemed to subtly position Vince as a heel, and rumours indicated that Vince was due to return to TV full-time as the mastermind behind the evil plot to sabotage HHH's run as COO. Of course, as we now know, nothing of the sort happened and the boss had steadily stayed off Raw and SmackDown ever since.
But will he ever be back?
One thing to consider is Vince's age and health.
From purely a vanity point-of-view, the 64-year-old owner has been known to be decidedly frosty towards older, less photogenic people being on television—this has often been cited as the reason Jim Ross is no longer a full-time with the company despite his superb skills as a commentator.
No doubt McMahon includes himself in this mind set too. Perhaps he feels, amongst all these young, good-looking people there is no place for him on Raw.
At his age, McMahon shouldn't really be taking bumps either. Considering wrestling fans have been trained to see their heels get their comeuppance, a bad guy who can't take bumps is a big no-no.
However, the younger John Laurinaitis, who has replaced Vince as the "heel boss" in WWE can get physical when necessary (Laurinaitis was also a fairly prominent pro wrestler before working in WWE management, which helps too).
In this respect, he is far more useful on-screen than Vince, which might be part of why McMahon had judged him a suitable replacement and allowed him to gain a more permanent role.
Another factor may be that, as an on-screen character, Vince truly has feuded with everyone. Triple H, HBK, Randy Orton, CM Punk, John Cena...McMahon has interacted with them all at some point or another. What else can he do? If he did return anything he did would have a seen-it-all-before approach.
Of course, some may claim that there is unfinished business between Hunter and McMahon on-screen, and maybe there is. Certainly there has to some creative potential in a reluctant Vince handing over control of his company to his son-in-law (on- and off-screen). It would be an interesting work/shoot angle that would smartly play off the real situation.
But do we really need to see another lengthy power struggle storyline on WWE screens? Not really.
Heck, we've just finished with one, in the GM feud with John Laurinaitis and Teddy Long. There's only so many times fans can see a version of the same storyline play out without growing bored and frustrated.
All things considered, the Mr McMahon character, while once a staple of WWE televison, looks to be retired and, for the time being, should probably stay that way. That's not to say McMahon couldn't return for the right storyline, but with John Laurinaitis filling in his heel role quite adequately a return at present would surely be a waste of time for all involved.
Take our advice, Vince. Stay off television.
This article is
What is the duplicate article?
Why is this article offensive?
Where is this article plagiarized from?
Why is this article poorly edited?