How Lance Briggs' Extension Will Impact Matt Forte's Future
April 11, 2012
Streeter Lecka/Getty Images
Will the one-year extension Lance Briggs signed with the Chicago Bears (news reported via Jeff Dickerson of ESPN Chicago) influence Matt Forte's troubling contract dispute?
Most definitely.
Although not as high-profile as Forte's, Briggs has been dealing with a contract disagreement of his own with the Bears since last season, when he demanded to be traded if he wasn't offered a new deal. 
Briggs began asking for a new contract as he entered the fourth year of the six-year, $36 million deal he signed in 2008 because it no longer had included any guaranteed money. 
I expect Chicago's front office and new general manager Phil Emery to handle these situations in a similar manner—and they should. 
Briggs got an extra year added onto his deal, and ESPN's NFC North blogger Kevin Seifert says it probably features an added bonus. 
The Pro Bowl linebacker got what he wanted—kind of. 
No, it wasn't a long-term mega contract, but did he really deserve that at this point, at age 31? 
Though he's a stellar linebacker who's been extremely productive—probably not. 
Briggs understood the position he was in and was content with a more reasonable renegotiation. 
Forte should do the same.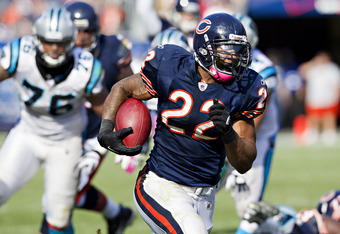 Wesley Hitt/Getty Images
Although Forte's been very consistent over the last few years, he was injured in 2010 and 2011. As B/R's Bears' Featured Columnist Bob Warja astutely points out, he's also worth more to Chicago than any other club and they aren't competing with anyone for his services. 
There's no need to pay him a ridiculous amount of money at this stage. 
Apparently, there's already a "strong offer" on the table and the Bears want their franchise running back to sign it.
Team CEO Ted Phillips said the following in a Chicago Sun-Times report:
I think not only do we appreciate him and have told him so, but I think the offer we've made him shows that, too. But we feel we've made a strong offer to him, and are still hopeful he accepts it. 
Mr. Forte, sign the new deal. 
Are you really willing to lose those valuable game-day checks?