John Isner, Milos Raonic and Ivo Karlovic: Comparing the Big Servers on Tour
April 11, 2012

Quinn Rooney/Getty Images
There's but one shot in tennis where you have absolute control: the serve.
Any other shot, you are forced to work with whatever your opponent feeds you.
For this reason, having a good serve is a massive advantage and feared by the opponents.
And having a gigantic serve can sometimes even seem unfair. 
The three players in this article are probably the three biggest servers on tour these days.
They all have the ability to take their opponents out of their service games and make them wonder what on earth they'll have to do to break them. 
John Isner towers at 6'9" and is usually a head taller than his opponent.
He's easily among the top three servers on the tour. So is the 21-year-old Milos Raonic, who's 'only' 6'5."
And 6'10" Dr. Ivo Karlovic, the tallest player ever on the ATP tour, is surely among the top three as well. 
The 6'10" Karlovic has, despite his massive serve, never really been able to battle the top guys. His movement, and conversely his return game, is simply too poor.
He's won but four ATP tournaments in his career and has one quarterfinal at Wimbledon as his best result in the slams.
And though he briefly got to 14th in 2008, he's spent the vast majority of his career outside the top 20 and often outside the top 50.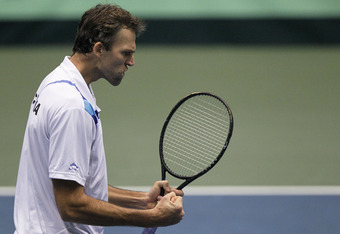 Kiyoshi Ota/Getty Images
There are reasons to believe that both Isner and Raonic can rise above this level—and in a way, Isner already has. 
When it comes to aces, the old Karlovic hovers above everyone else with 18 aces per match throughout his career.
Isner is just above 15 so far and Raonic is just above 13.
This year, Raonic leads the aces count in front of Isner with 324 in a mere 20 matches, while Isner has taken 23 matches to reach 305 aces. 
However, while an ace can discourage your opponent and make him feel he's not getting anywhere near your service games, what matters more is the ability to hold serve. 
And here, Raonic is,so far this year, in a league of his own.
He's won 94 percent of his service games, leading the list in front of Federer at 92 percent.
And Isner?
He's 'way down' at sixth holding 88 percent of his service games—not to mention Karlovic at eight holding 87 percent. 
The sample is admittedly a bit small.
If we compare with 2011, Isner is the overall service games leader with 91 percent and Raonic is down at third, winning 88 percent.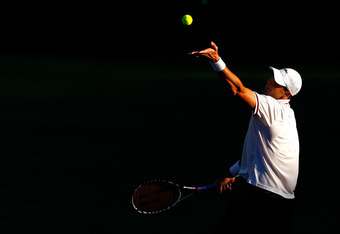 Mike Ehrmann/Getty Images
The reason for their difference is the clay courts. 
Raonic had never played on clay before last year and every match was a work in progress. As a result, he held a mere 80 percent of his serves on that surface.
If we compare them on hard last year, Isner leads by less than half a percent (90.6 versus 90.2).
In other words, they are dead even (and just behind Karlovic on hard). 
We'll leave Karlovic for now and focus on the potential of Raonic and Isner respectively.
Isner has already played a number of big matches and proven he's mentally strong enough to overcome such opponents as world No. 1 Novak Djokovic, Grand Slam leader Roger Federer and force Rafael Nadal to play five sets for the first time ever at his beloved Roland Garros. 
No doubt, the big-match potential is there, as is also evidenced by a very decent 8-20 against top-10 opposition (a player like Tomas Berdych is only mildly better at 28-63). 
Milos Raonic is much harder to judge given the fact that he's played so little on tour. But from what we've seen so far, the big-match temperament is certainly there.
He is an impressive 5-9 against top-10 opposition and has won three titles in five finals in his short career.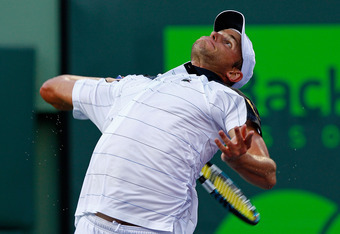 Mike Ehrmann/Getty Images
Really, he's only played 81 ATP matches and none before the fall of 2010. 
Still, I would venture to say that he's got more upside and potential than John Isner—despite the fact that Isner is the one who's being hyped as a possible Grand Slam champion at the moment. 
How come? 
Well, there are several reasons.
While Isner is certainly still improving, even as he's turning 27 this month, he's no longer a 'raw' player.
He hasn't hit his ceiling quite yet, but it's hard to imagine he'll develop into something completely different.
Raonic is still raw, he still needs to learn to play on clay and he still needs to work on his groundstrokes.
But he's got one massive advantage: 
He's smaller. In fact, he's even smaller than Juan Martin del Potro (6'6") and the same height as Tomas Berdych (6'5").
At least in theory, that should make him a better mover than 6'9 Isner (it can be disputed whether he is at this stage). 
Moreover, while a serve their size can win many matches and get them to many tiebreaks, ultimately you also need a decent return game if you are to win the matches against the top players.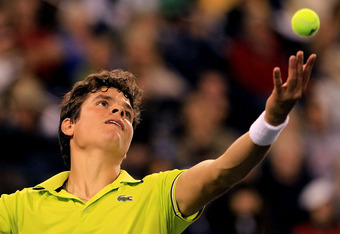 Matthew Stockman/Getty Images
Karlovic, and to a lesser extent Andy Roddick, are proof of that.
They are No. 1 and 2 in terms of holding serve on the list from 1991 onwards (Isner is third, Sampras is fourth, Federer is sixth and Raonic hasn't played enough yet to be on it). 
But, Karlovic is at the very bottom when it comes to return games won (9 percent) and Roddick is down at 185th (20 percent).
Sampras won 24 percent and Federer is at 27 percent.
Roddick's return game was good enough to keep him in the top ten for years and make him relevant.
But, it wasn't good enough to make him a great champion. And Karlovic's return game was poor enough to annihilate the advantage he had on his own serve.
So, where does that leave Isner and Raonic?
Unfortunately, they are still closer to the Karlovic than the Roddick category.
Isner is, career-wise, marginally better than Karlovic at 11 percent. While Raonic is at 14 percent (on hard as there are no results for overall).
Isner seems to be aware that he needs to work on this aspect and is trying to rip some return winners to put pressure on his opponents.
But,  the stats show he's still at 12 percent for 2012 (down from 13 in 2011) and he's even behind Karlovic this season. 
Raonic, on the other hand, is equal with Roddick at 19 percent and up from 16 percent from 2011.
Obviously, a bit of the difference can be explained in terms of who the two of them have been up against. 
Raonic has played seven of his 20 matches this year against players inside top 40.
Isner has played 11 of his 23 matches against players inside top 40 and more against top-notch opposition. 
In the end, the difference between their hold game is so little, that who'll be the most successful among the two big servers will be decided by who has the ability to develop his return game into, if not an actual weapon, then also not a liability.
And so far, Raonic seems to have the most upside in this respect. 
With a serve as big as Isner and Raonic, anything above 20 percent in return games won will get them a long way, possibly even to the late stages of the slams.
But 12, 14 or 15 percent won't cut it in the long run.
That said, the serve can still make them a nightmare for any opponent and give them opportunities in every tournament.
But in order for them to develop into consistent top-ten players—or even higher—and make them slam material, one trick isn't enough.
Especially in today's tennis, where the Big Four all have very complete games.