NFL Rumors: Latest Trade Talk from Around the League
April 11, 2012

Nick Laham/Getty Images
Free agency in the National Football League is just about a month old and the 2012 NFL draft is only two short weeks away, but that's not the only news concerning player movement that's floating around the NFL, so let's take a look at some of the latest trade speculation making the rounds Wednesday.
As has been the case for much of the last month, trade rumors continue to swirl around veteran cornerback Asante Samuel of the Philadelphia Eagles. As Les Bowen of the Philadelphia Daily News points out, the same hefty salary that has motivated the Eagles to shop the services of the 10-year pro may be the largest stumbling block to the team finding a taker for him, although Samuel has reportedly agreed to restructure his contract if it will help facilitate things.
Asante is on the trading block not because of tackling or poor performance in general, but because his cap number this year is more than $10 million, he's 31 years old, and most important, the Eagles are committed to playing pressure defense behind a wide-nine front. Asante, who uses his knowledge of QBs and routes to sit back and then swoop in, is a bad fit, not a bad player.
The Tennessee Titans, who were originally thought to be a potential suitor for Samuel, reportedly balked at the Eagles' asking price of a third-round draft pick. However, the Detroit Lions may still be in the running to make a play for Samuel under a couple of conditions, according to a report by Pro Football Talk.
For the Lions, a potential stumbling block is whether Samuel is willing to take a pay cut. Detroit doesn't have a lot of cap space, and Samuel's base salary of $9.9 million is not something the Lions would likely be willing to pay.

The Eagles are reportedly seeking a third-round pick for Samuel, although they may be willing to accept a 2013 third-rounder that would be conditioned on Samuel meeting certain playing time benchmarks.
The Lions certainly have a big hole at cornerback after being torched through the air in their final two games last season and losing Eric Wright in free agency. Samuel may tackle like an eight-year-old girl (he hasn't topped 40 tackles since 2007), but he's an excellent coverage player with 45 career interceptions, and if Detroit can get Samuel to take a pay cut, a mid-round pick would be a small price to pay for a badly needed upgrade in the defensive backfield.
Another trade rumor that may be a lot closer to actually coming to fruition is swirling around the Big Apple, as Mike Garafalo of the Newark Star-Ledger tweeted Wednesday that the team may be set to acquire linebacker Keith Rivers from the Cincinnati Bengals.
Sit tight. Might be some fire behind that smoke. RT @ttcheech: any truth to the rumors of the Giants trading for Keith Rivers? #nyg

— Mike Garafolo (@MikeGarafolo) April 11, 2012
Garafalo goes into more detail about the trade in a Wednesday article for the Star-Ledger, and as Garafalo points out, this is a deal that could make a good deal of sense for the Giants, who used a menagerie of linebackers last season en route to a victory in Super Bowl XLVI.
In some ways, a trade for Rivers would make sense for the Giants. They'd get a guy who has a lot of talent at a position of need and would be buying low because he missed all of last season with a wrist issue that required surgery. Sure, that would be a concern but it's not like it's, say, an ACL – the injury Jonathan Goff is trying to overcome.

And since the Bengals recently re-signed outside linebacker Manny Lawson to a one-year contract plus have Thomas Howard on the other side, Rivers would seemingly be expendable.

Then again, on the surface, the Giants' acquiring Rivers wouldn't seem to make sense because he's been a weak-side linebacker his entire career. The Giants pretty much have two of those already in Michael Boley and Jacquian Williams, who is coming off an impressive rookie season. Jerry Reese did mention Boley as a candidate to move into the middle, however, and there's always a chance Mathias Kiwanuka could bounce back to end should Osi Umenyiora head elsewhere. Or maybe it's as simple as the Giants' thinking the 6-2, 242-pound Rivers can play the middle.
If the Giants truly are interested in Rivers, it would seem to indicate that New York has no real interest in signing middle linebacker Jonathan Goff, who missed the entire 2011 season with a torn ACL and has visited a number of teams since free agency opened.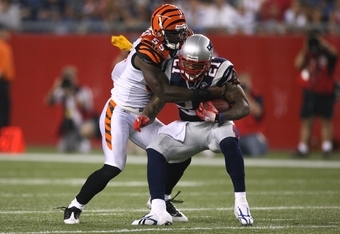 Jim Rogash/Getty Images
I'd also be inclined to expect that a trade for Rivers would portend a move to middle linebacker for Michael Boley, who posted his highest tackle total since 2007 last year and who is much more familiar with Perry Fewell's defensive scheme than Rivers would be.
Regardless of the Giants' plan for Rivers, if they acquire him, the fact remains that Rivers is a 25 year old former top 10 pick in the prime of his career that has shown some flashes of talent in the past. If New York can procure him for a reasonable price, it would be an excellent move for a team whose linebacker depth was sorely tested during their Super Bowl run last year.