2012 NBA Mock Draft: Underrated Scorers Who Will Make Instant Impact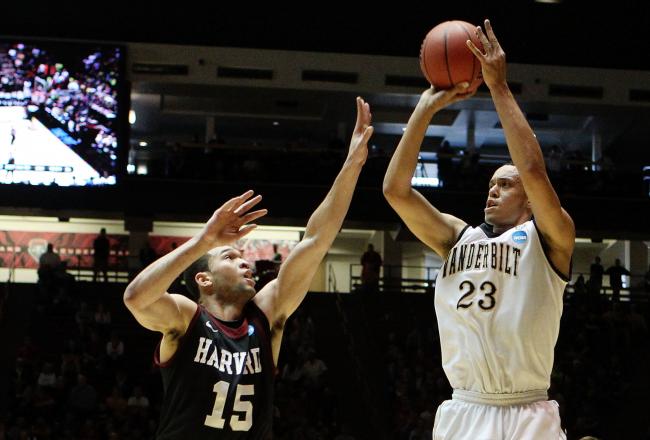 Christian Petersen/Getty Images
In the NBA, guys who can put the ball in the bucket get all the love.
This is not a bad thing, of course, and it bodes quite well for quite a few NBA draft prospects.
There are a lot of talented scorers in the 2012 draft class. Some of them already bear household names, and for good reason. Others are hoping to make household names for themselves.
And some of them will. In the form of a full first-round mock, here's a look at some unheralded scorers who are going to make an impact right away in the NBA.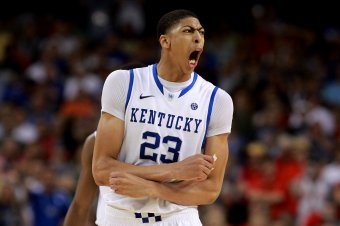 Ronald Martinez/Getty Images
1. Charlotte Bobcats (7-49): Anthony Davis, PF, Kentucky
Anthony Davis is a star because of his defensive versatility and his shot-blocking abilities, but his scoring abilities shouldn't be overlooked either. Davis' post game is already pretty good, and there's still room for it to improve. He's going to be a good one, and he'll help rescue the Bobcats from the abyss they find themselves in these days.
2. Washington Wizards (14-44): Michael Kidd-Gilchrist, SF, Kentucky
Michael Kidd-Gilchrist is going to be special once he develops a perimeter game. For the moment, he's an elite athlete who does a lot of things well out on the court. He'll fit in well alongside John Wall in Washington.
3. New Orleans Hornets (15-42): Thomas Robinson, PF, Kansas
Thomas Robinson is going to be a beast on the boards in the NBA, and he made a lot of strides offensively this season. The Hornets will gladly welcome his toughness in their frontcourt.
4. Sacramento Kings (19-39): Bradley Beal, SG, Florida
Bradley Beal is easily the best pure two guard in the NBA draft class. He's got the height to play in the NBA, and he can score by shooting or driving to the basket. His talents will play well on a Kings team that has a lot of young talent.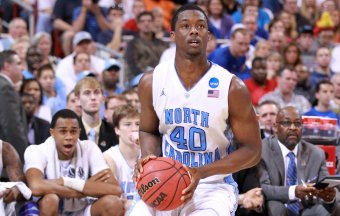 Andy Lyons/Getty Images
5. Toronto Raptors (20-38): Harrison Barnes, SF, North Carolina
I'm very much on the fence about Harrison Barnes, as I suspect we all are. Nevertheless, he's a smart player who does a lot of things well, and his game should play better in the NBA than it did in college. He'll fit in nicely on a Raptors team that could use a scorer.
6. Cleveland Cavaliers (19-36): Andre Drummond, C, UConn
The Cavs could use a true center. Andre Drummond needs a lot of work, but he's a guy who was born to be an NBA center. He has the talent to be a perennial all-star. All he needs is the drive to be a perennial all-star.
7. Portland Trail Blazers (from 21-38 New Jersey Nets): Tyler Zeller, C, North Carolina
The Trail Blazers are yet another team in need of a true center. I could have seen them taking Cody Zeller, but he's out of the picture now that he's returning to Indiana (see the Indianapolis Star). The Blazers will have to settle for Tyler Zeller, who is entering the NBA after a highly successful career at North Carolina.
8. Detroit Pistons (21-36): Jared Sullinger, PF, Ohio State
Imagine how dangerous the Pistons would be with Jared Sullinger and Greg Monroe out on the court at the same time. Sullinger won't wow anybody with his play, but he's a polished player who knows the game of basketball like the back of his hand.
9. Utah Jazz (from 22-34 Golden State Warriors): Kendall Marshall, PG, North Carolina
It is generally agreed that the Jazz will take a point guard on draft day. Kendall Marshall strikes me as the best fit for them, as he's an elite distributor who could step in and make plays for Utah's stars.
10. New Orleans Hornets (from 25-33 Minnesota Timberwolves): Damian Lillard, PG, Weber State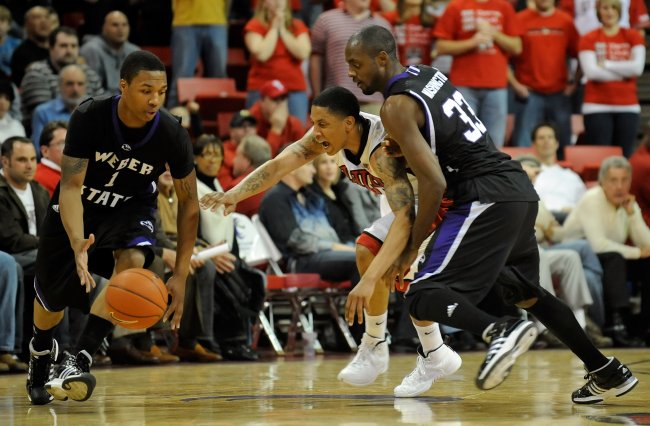 Ethan Miller/Getty Images
Damian Lillard isn't a superstar on the national landscape, but he soon will be. Hoops fans are going to find out that he's one of the most lethal scorers in the land.
Lillard can do it all. He's primarily known for his penetrating ability, but his perimeter game isn't bad either. These things led to a 24.5 PPG in 2011-2012, making him the second-leading scorer in the country.
Granted, Lillard succeeded primarily against subpar competition, and he'll have to improve his passing abilities to survive in the NBA. What we know for sure, however, is that scoring is not going to be a problem for Lillard in the NBA.
11. Portland Trail Blazers (27-31): Terrence Jones, F, Kentucky
The Blazers could go a variety of different avenues with this pick, but I like Terrence Jones for them because of his versatility. He didn't have a set position at Kentucky, but his skill set makes him a perfect fit for the three in the NBA. The Blazers could also use him elsewhere.
12. Milwaukee Bucks (28-29): John Henson, PF, North Carolina
The Bucks have a solid backcourt, but their frontcourt could use some depth. John Henson is already a talented player, but he has room to get better and better. The key for him will be to add some muscle, as he's skinny as a rail. Once he does, the Bucks could easily plug him in at the five.
13. Utah Jazz (30-28): Jeremy Lamb, SG, UConn
If the Jazz go for Marshall with their first pick, I doubt they would pass on Jeremy Lamb with their next pick. His ability to knock down shots would make him a great fit alongside Marshall.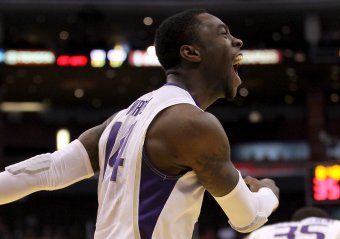 Stephen Dunn/Getty Images
14. Phoenix Suns (30-27): Tony Wroten, Jr., PG, Washington
In this year's draft, the thinking is that the Suns will look to find a replacement for Steve Nash. Pickings will be slim at No. 14, but Tony Wroten, Jr. is a guy they should be able to get. He underachieved at Washington, but he's got talent for days. His high ceiling makes him worth a gamble for the Suns.
15. Houston Rockets (from 29-28 New York Knicks): Perry Jones III, PF, Baylor
Perry Jones III is projected to go much higher than this because of his raw talent. But after watching him underperform in the NCAA tournament, I won't be surprised if Jones tumbles on draft day. If he is available at No. 15 for the Rockets, they won't pass up a chance to make a great value pick.
16. Philadelphia 76ers (30-27): Arnett Moultrie, PF, Mississippi State
The 76ers have some aging veterans in their frontcourt that will need to be replaced sooner or later. Arnett Moultrie will be in play for them because of his raw talent and high ceiling.
17. Denver Nuggets (31-26): Royce White, SF, Iowa State
There are some red flags when it comes to Royce White, but his deep bag of tricks make him a great fit for George Karl's Nuggets. White would be more valuable in Denver than he would anywhere else.
18. Dallas Mavericks (32-26): Austin Rivers, SG, Duke
The Mavs have a couple of geezers holding down the shooting guard spot. They need some youth, and I doubt they would pass on Austin Rivers here. Rivers is inconsistent, but he's a guy who can score in a variety of ways. If he develops a reliable jump shot, look out.
19. New Jersey Nets (from 32-25 Houston Rockets): Meyers Leonard, C, Illinois
The Nets have absolutely no clue what's going to happen this offseason. Until further notice, they're a team that should take the best player they can get on draft day, and that's Meyers Leonard. He's a true seven-footer, and he's a guy who could start or sit depending on what kind of moves the Nets make.
20. Boston Celtics (33-24): Terrence Ross, SG, Washington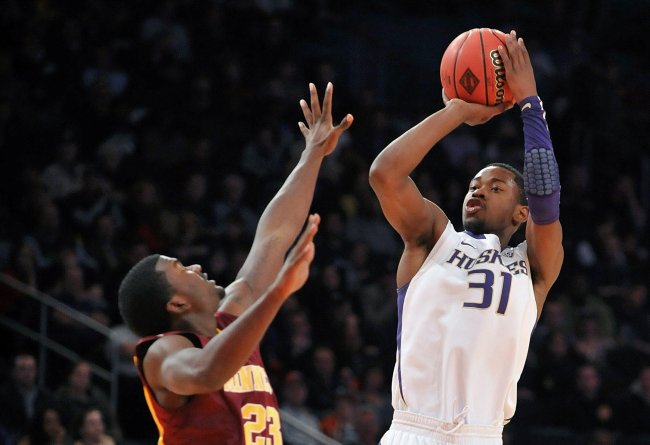 Jason Szenes/Getty Images
In large part because he was playing in a lousy Pac-12 conference this season, Terrence Ross was largely overlooked in the grand scheme of things.
However, Ross emerged as a star player late, as he was Washington's best player in the NIT tournament. He showed that he can score with the best of them.
Ross is an attractive prospect because of his shooting abilities. He doesn't always take the best shots, but he's going to make more shots than he misses.
The Celtics stand to lose Ray Allen and numerous other players this offseason. They need as much young talent as they can possibly get, and Ross would be a good get for them at No. 20.
21. Orlando Magic (34-24): Dion Waiters, SG, Syracuse
The Magic are another team that could use some young talent in the backcourt. Dion Waiters doesn't have a consistent jump shot, but he's a guy who can definitely score. His slashing abilities will play well in Orlando given the way the Magic spread the floor.
22. Memphis Grizzlies (33-23): Moe Harkless, SF, St. John's
The Grizzlies don't have many glaring holes, but they could use some frontcourt depth. Moe Harkless is an inconsistent player, but he'll at least succeed in providing energy off the bench.
23. Atlanta Hawks (34-23): Doron Lamb, SG, Kentucky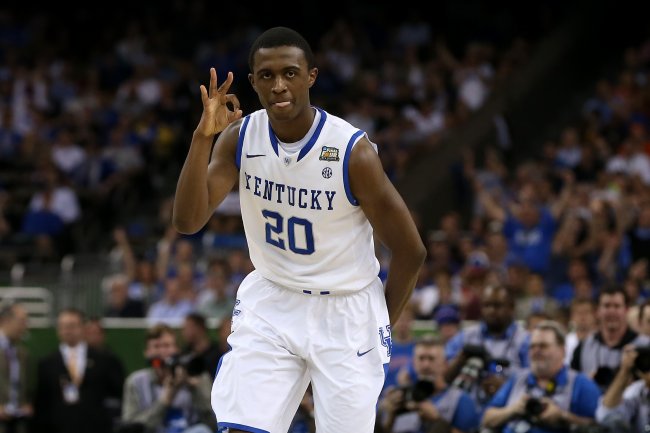 Jeff Gross/Getty Images
Doron Lamb will enter the NBA fresh from a championship-winning team. Despite that, he'll manage to enter the NBA as an underrated player.
Lamb is underrated because he got lost in the shuffle this year. All eyes were on Davis and MKG, and occasionally Jones. Lamb was merely a role player next to them.
But Lamb showed what he's capable of in the NCAA championship game against Kansas. He led all scorers with 22 points, knocking down a trio of threes.
The Hawks have Joe Johnson, but they stand to lose virtually all of their shooting guard depth. If they draft Lamb, there will be a role for him to play right away.
24. Boston Celtics (from 34-23 Los Angeles Clippers): Fab Melo, C, Syracuse
The Celtics have had trouble at the five ever since they traded Kendrick Perkins. Fab Melo will be on their radar because of his rebounding and shot-blocking abilities.
25. Indiana Pacers (35-22): Jeff Taylor, SF, Vanderbilt
The Pacers are another team that should take the best player available on draft day. Jeff Taylor's athleticism will come in handy off the bench, and his jump shot is trending in the right direction.
26. Cleveland Cavaliers (from 36-22 Los Angeles Lakers): John Jenkins, SG, Vanderbilt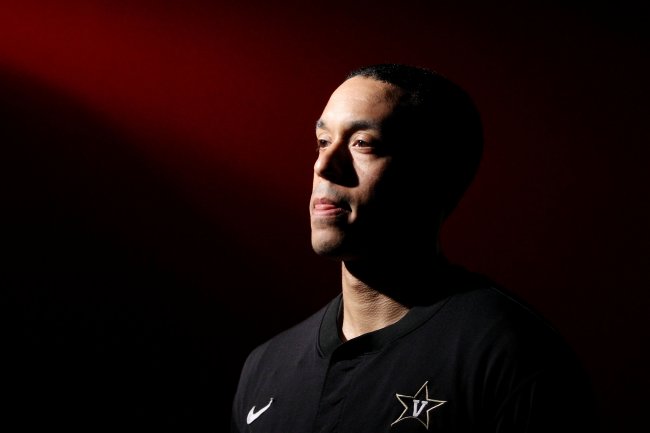 Christian Petersen/Getty Images
Taylor's Vanderbilt teammate could very well be the next player off the board. And in the short-term, John Jenkins should be able to make an impact.
Jenkins is not a great athlete. And unfortunately for him, he's a little undersized for the two spot in the NBA.
What Jenkins can do, however, is make shots. He's a killer shooter, and his range stretches well beyond the three-point line.
The Cavs could use a boost at the two, and Jenkins is the safest pick they'll be able to make.
27. Miami Heat (40-16): Festus Ezeli, C, Vanderbilt
Yet another Vanderbilt standout. Festus Ezeli barely qualifies as a first-round pick, but his defense and shot-blocking abilities make him a good fit for a Heat team that needs bigs.
28. Golden State Warriors (from 40-15 San Antonio Spurs): Andrew Nicholson, PF, St. Bonaventure
Andrew Nicholson has length and athleticism, and he's a very good defender. He's not the savior the Warriors are looking for, but he'll do as a backup for David Lee.
29. Oklahoma City Thunder (42-15): Marquis Teague, PG, Kentucky
The Thunder brought in Derek Fisher to provide some point guard depth, but he's gone after the season is over. Drafting Marquis Teague to back up Russell Westbrook would be a shrewd move. His assorted talents make him a natural fit for the Thunder.
30. Chicago Bulls (44-14): Draymond Green, SF, Michigan State
Draymond Green is too small to be a small forward in the NBA, and he's not athletic enough to play the two. What makes him attractive is the sheer completeness of his game, and the fact that he's a natural leader doesn't hurt. He strikes me as a great fit for the Bulls.
This article is
What is the duplicate article?
Why is this article offensive?
Where is this article plagiarized from?
Why is this article poorly edited?