Stephen Strasburg: Is the Washington Nationals Ace the Next Doc Gooden?
April 11, 2012

Jonathan Daniel/Getty Images
The New York Mets host the Washington Nationals in the rubber game of a three-game series today at 1:10 P.M.
The matchup promises to be a spectacle, as New York's Johan Santana and the Nationals' Stephen Strasburg will face off from the mound.
Talk about a pitchers duel.
Both men are coming off of surgeries that kept them off the diamond for months, but both have rebounded excellently.
Santana held the Atlanta Braves to two hits and gave up no runs in five innings on Opening Day, striking out five and issuing two walks.
Strasburg faced the Cubs in his first start in 2012, giving up one run through seven innings and five hits and a walk to five punchouts. Neither got the W, though, as both the Nats and Mets took the lead after the aces had departed from the mound.
Now hungry for the first tally mark on the left side, the men will battle at Citi Field.
The beauty of this matchup is that we have an established ace in Santana going up against a young star who still has a lot to show. Washington has never let Strasburg "loose," keeping him on a pitch limit when he wasn't under the knife. But they certainly have faith in him, or at least manager Davey Johnson seems to.
Johnson is familiar to Mets fans apart from being a rival manager, as he led the team to their most recent championship in 1986. But now Johnson is calling the shots in D.C., hoping to hand the Mets their second loss of the young season, and he's handing the ball to Strasburg to do it.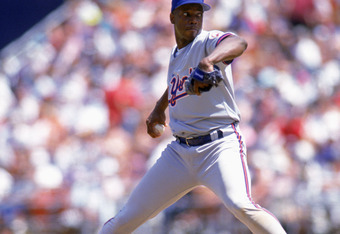 Stephen Dunn/Getty Images
"We've got a pretty good young pitcher that reminds me of Dwight Gooden in Steven Strasburg," Johnson was quoted in an ESPN article on Tuesday. "We've got some young players, a la [Darryl] Strawberry, [Lenny] Dykstra, [Wally] Backman. And we were always last place. And then we had a pretty good year, came in second, won 95 games. Then we got a little better and won 98. And then won 108. Basically, the young guys grew up. And I feel the same way here. If the young guys mature and play to their potential, it could be a similar scenario."
So, are the Nationals the next "86 Amazins?" I'm not ready to give them that just yet.
Washington is a young team, but the pieces aren't put together. This team cannot go toe-to-toe with the juggernaut that is the Philadelphia Phillies rotation (not many can) and claim an NL East title.
But the comparison that popped the most to me was Strasburg to Gooden.
Dwight "Doc" Gooden was an essential piece to the Mets' '86 championship run. He went 17-6 that year with 200 strikeouts, and while his playoff numbers were less impressive, he helped the Mets to a major-league best 108 wins in the regular season.
But it's no use comparing a man who pitched over a decade ago to a young gun without even a full season under his belt. Strasburg is making his 19th career start tonight, so let's look at the two pitchers' numbers after their first 18 games (stats courtesy of Baseball-Reference.com):
Strasburg:
6-4, 2.45 ERA, 99 IP, 76 H, 31 R (27 ER), 20 BB, 121 K
Gooden:
11-7, 3.05 ERA, 118 IP, 93 H, 46 R (40 ER), 48 BB, 143 K
Gooden was given more innings, but all aspects except strikeouts go Strasburg's way.
So maybe Johnson isn't so off with his assumption of his ace. In a few years' time, we might be looking at another Doc on the mound.
And not just the one Philly, either.