From Jim Tressel to Bobby Petrino: The Most Tumultuous 12 Months in CFB History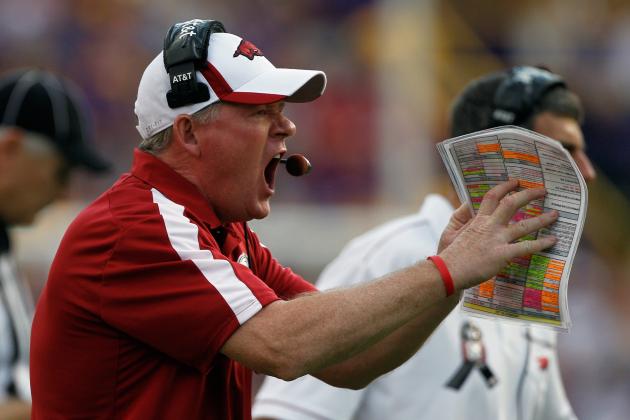 Chris Graythen/Getty Images

In what many would consider a surprising move, Arkansas has parted ways with head coach Bobby Petrino.
Petrino was involved in a motorcycle accident last weekend, and the scandal that followed eventually resulted in his demise.
While more news will certainly surface, this is a huge blow to an Arkansas football team that had its sights set on an SEC title and a BCS national championship.
The Petrino firing is the culmination of what has been a crazy 12 or so months in the college football world.
Dare we say the most tumultuous of all time?
Here is a recap.
Begin Slideshow

»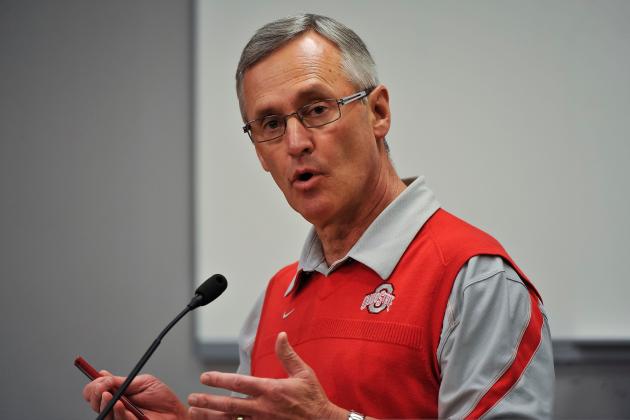 Jamie Sabau/Getty Images

While Jim Tressel officially resigned in May of 2011, he was forced out the door due to the tattoo scandal that surrounded the program.
Big-name players such as Terrelle Pryor and DeVier Posey were involved, causing turmoil within the program and an eventual one-year bowl ban for the Buckeyes.
Tressel was one of the most decorated coaches in college football history and had guided the Buckeyes to a national championship in 2002 and two other championship game appearances.
Ohio State had also won six straight Big Ten championships and been to eight BCS bowl games during his final nine seasons.
The Tressel firing rocked the college football world and brought the Ohio State program to its knees, something it is still trying to recover from, though it seems to be well on its way.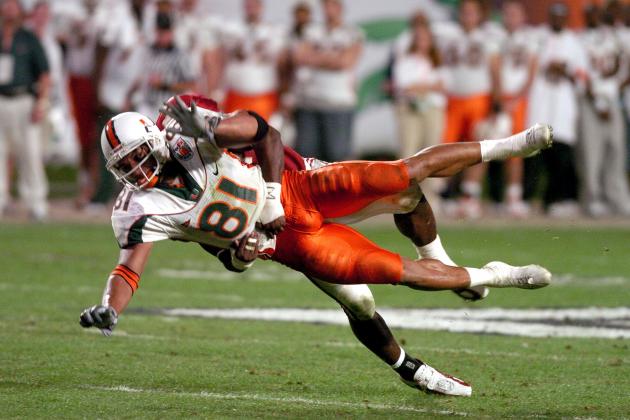 A. Messerschmidt/Getty Images

After an 11-month investigation, the Miami scandal involving booster Nevin Shapiro came out in August of 2011.
This investigation detailed an ongoing eight-year run of breaking multiple NCAA rules.
The man behind it all turned out to be a booster, but it was also discovered that multiple football and basketball coaches knew about what was going on.
Athletes at the university were granted benefits such as cash, prostitutes and other forms of entertainment in yachts and million-dollar homes.
Many of the big-name stars were involved, and the booster behind it all was Nevin Shapiro.
It is still not certain what will come of the Miami program, but it appears to have a lot of work to do to get back to where it once was.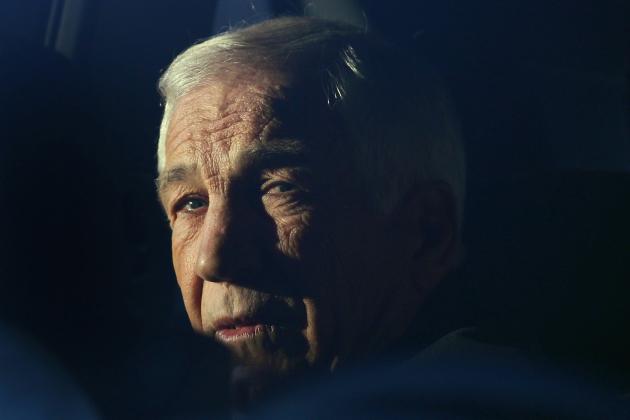 Mark Wilson/Getty Images

On November 5, 2011, former Penn State assistant coach Jerry Sandusky was arrested on "seven counts of involuntary deviate sexual intercourse and numerous other charges," according to CNN.
The arrest came a day after the grand jury report was released, and less than a week later, Joe Paterno was relieved of his duties at Penn State.
The firing of Paterno came with a lot of backlash from the Penn State community.
As quite possibly the greatest coach college football has ever seen, Paterno had a legacy many dream of but none have achieved.
The information he was aware of undoubtedly tarnished his legacy to some extent.
Assistant coach Mike McQueary was a witness to one of the allegations against Sandusky. He is also no longer with the program.
While the trial and sentencing of Jerry Sandusky is ongoing, what happened to the Penn State football program will take years and possibly decades to overcome.
Jamie Sabau/Getty Images

On November 28, 2011, as expected, Ohio State hired former assistant coach Urban Meyer to take over for interim head coach Luke Fickell.
Fickell ran the team for one year after Jim Tressel was forced out.
Meyer is one of the biggest names in college football and has had success as a head coach at three different programs.
He is an Ohio guy who was born and raised a Buckeye.
Ohio State fans and players can expect a lot of things to be done differently with Meyer in charge, and even though there is a one-year bowl ban, Ohio State is in good hands under Meyer.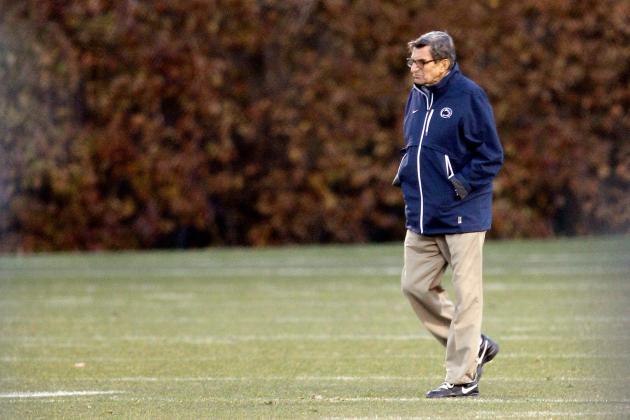 Rob Carr/Getty Images

On January 22, just over two months removed from the scandal that struck the Penn State program, Joe Paterno passed away due to complications from lung cancer treatment.
While many people believed Paterno lived to coach, it was never more evident than when he could no longer coach and did not have anything else to live for.
Paterno's funeral was televised nationally on the Big Ten Network.
Paterno is the greatest coach in college football history, had been on the Penn State coaching staff for 62 seasons and was a head coach for 46 years.
He was one of the most well-known figures in college football history.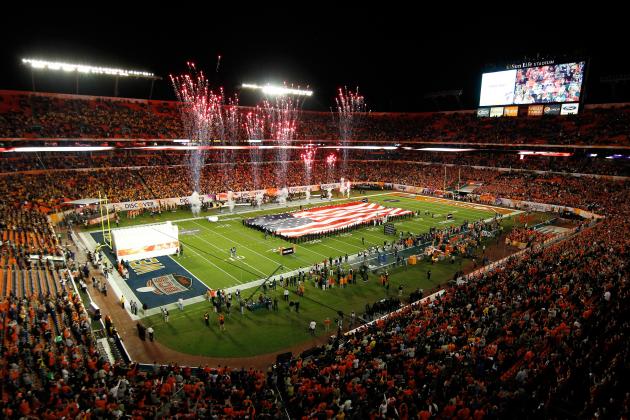 J. Meric/Getty Images

Conference realignment has been a long time coming in the college football world, and a lot of activity has taken place in the past 12 months.
In the past year, Pittsburgh and Syracuse have agreed to move to the ACC to create a 14-team conference.
West Virginia has also left the Big East to join the Big 12, effective in just a few months.
The Big 12 will also welcome TCU to the conference.
Missouri and Texas A&M have joined the SEC and will be playing football there in the fall, giving the conference 14 teams.
To replace the teams it lost, the Big East added Temple for football, starting in the fall. Also joining the conference in the coming years will be Memphis, Houston, SMU, Navy, Boise State, San Diego State and Central Florida.
The Mountain West and Conference USA have decided to form a new conference with somewhere around 18 to 24 schools.
Stay tuned—there may be more realignment to come.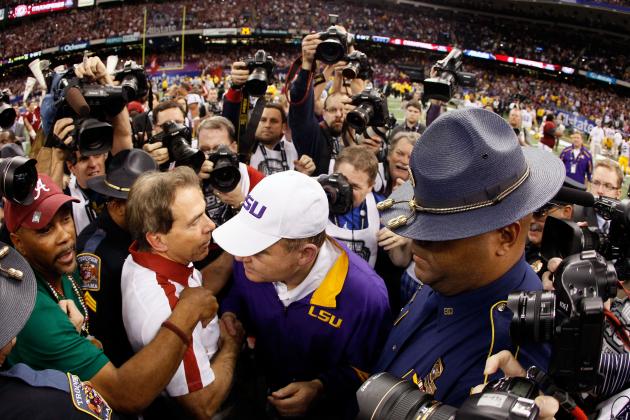 Kevin C. Cox/Getty Images

In a season full of controversy and scandal off the field, there was another type of controversy on it.
In an unprecedented move, LSU and Alabama were granted a rematch for the BCS National Championship Game.
While they may have been the two best teams, they had already played one boring game, and not many people wanted to see another boring game.
Well, that is what they got.
Alabama won the second boring game between the two and was crowned the national champion in January.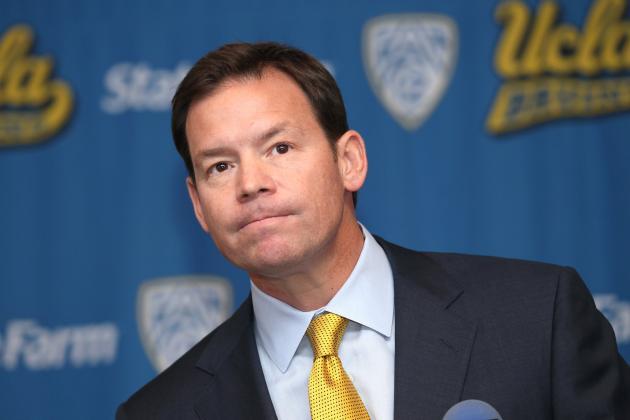 Stephen Dunn/Getty Images

No conference will be welcoming as many new head coaches as the Pac-12 will be in 2012.
For a conference that saw a lot of its teams struggle last season, it was expected that there would be some coaching changes.
Headlining those changes was the hiring of Jim L. Mora to take over at UCLA for Rick Neuheisel. Neuheisel struggled over the past few seasons at UCLA.
Washington State also made a coaching change with the hiring of former Texas Tech coach Mike Leach.
Former West Virginia and Michigan head coach Rich Rodriguez was hired on at Arizona, and former Pittsburgh head coach Todd Graham is taking over for Dennis Erickson at Arizona State.
With a third of its teams with new head coaches, 2012 could be a little different for the Pac-12.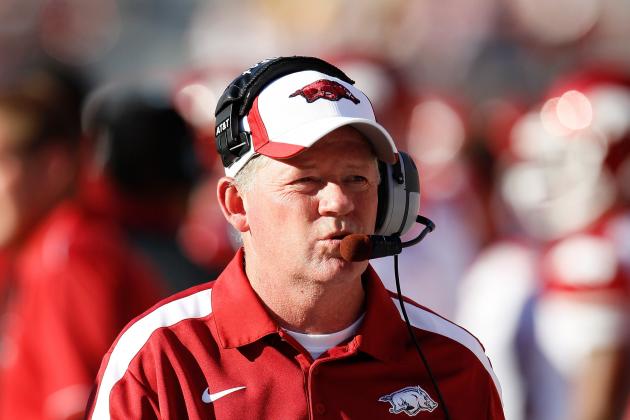 Kevin C. Cox/Getty Images

The latest of college football's scandals is the firing of Bobby Petrino.
Petrino was injured in a motorcycle accident, and it was later discovered that he was riding with a female passenger who was less than half his age.
Allegedly, Petrino had given her $20,000 and hired her onto the Arkansas football staff.
After being put on paid leave, Petrino has now been fired and is no longer with the Arkansas program.