MLB Free Agency 2012: Zack Greinke and 10 Players Who'll Now Be Grossly Overpaid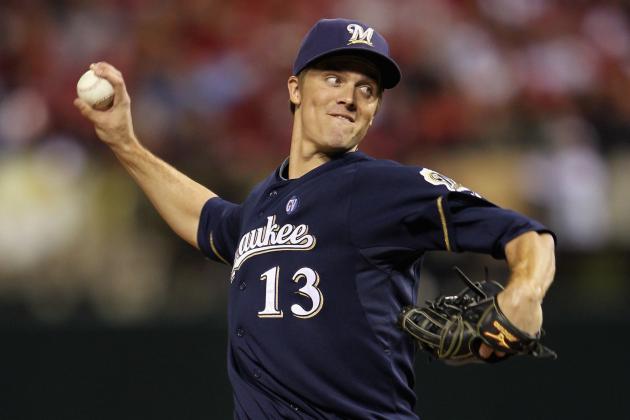 Jamie Squire/Getty Images

It was the Los Angeles Dodgers, not the New York Yankees, who handed out baseball's first $100 million contract in 1998.
Kevin Brown, who would eventually pitch for both teams, was signed to a deal that paid him $105 million over seven years—an average of $15 million per season.
In retrospect, it's hard to say that Brown earned his money for five of those seven years; the last two, spent in New York, were unmitigated disasters.
Since then, it happens every year. An owner decides that his team absolutely must have a certain player, price be damned. Case in point—the signings of Prince Fielder and Albert Pujols this past winter. Both are great players, but neither is worth in excess of $200 million.
That being said, I'd never begrudge a player for earning as much as he possibly can. If we were in their shoes, we'd do the exact same thing.
This coming winter will be no different—teams are going to throw money at free agents like it's going out of style.
Let's take a look at who is in line to get paid.
Begin Slideshow

»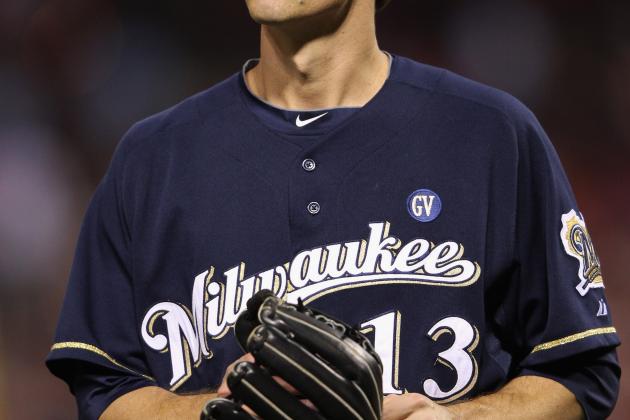 Jamie Squire/Getty Images

Over the past two seasons, Pitcher A has gone 26-20 with a 4.02 ERA, 1.23 WHIP and 382 strikeouts over 392.1 innings pitched.
Over the same time span, Pitcher B has gone 25-22 with a 3.01 ERA, 1.08 WHIP and 356 strikeouts over 445 innings pitched.
Pitcher A is Zack Greinke. Pitcher B is Matt Cain.
In comments made to MLB.com's Adam McCalvy, Greinke only smiled and said, "We'll see," when asked if Cain's five-year, $112.5 million extension would play a part in his next contract—a contract that is no longer being discussed between Team Greinke and the Brewers.
Greinke and his agent, Casey Close, surely expects Greinke to fetch top dollar on the open market, and rightfully so—a 28-year-old ace with a Cy Young Award on his resume doesn't hit the market very often.
Cain may not be the pitcher that Close looks to compare his client to. While not a lefty, Close is likely to point to C.C. Sabathia's seven-year, $161 million extension with the Yankees as what he believes Greinke's market value to be.
I think Zack Greinke is an excellent pitcher, but if I were starting a team and had to choose between the two, I'd take Cain every time. As for Greinke and Sabathia, it's not even close.
Regardless of what I think, whichever big spender misses out on Cole Hamels will pay Greinke whatever he wants to save face and improve their rotation.
Actual 2012 Salary: $13.5 million
Projected New Contract: $155 million over seven years, an average of $20.14 million per season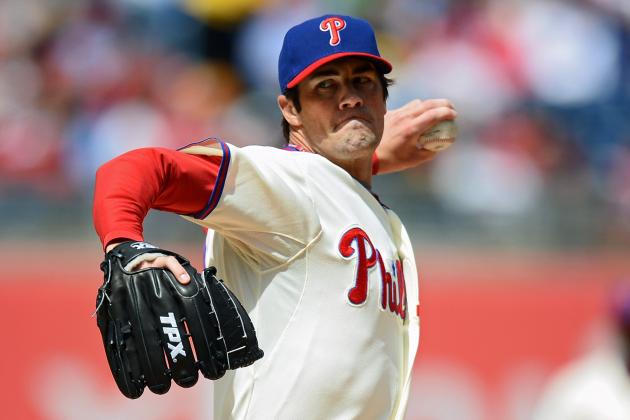 Drew Hallowell/Getty Images

If Cole Hamels' main priority is remaining in Philadelphia, GM Ruben Amaro Jr. told MLB.com's Todd Zolecki that he'll make Hamels a very wealthy man while keeping the 28-year-old lefty exactly where he wants to be:
MLB.COM: Can you have three $20 million a year pitchers in your rotation?

Amaro Jr.: Yes, we can.

MLB.COM: Why do you say that?

Amaro Jr.: Because I know we can.
Amaro and the Phillies offered Hamels an extension said to be close to the one Jered Weaver signed with the Los Angeles Angels last season—somewhere in the neighborhood of $85 million over five years, according to CBS Sports' Jon Heyman—but were rebuffed by John Boggs, the man who represents Hamels and dreams of the minute that his client hits the open market:
I don't think it's a parallel. That contract is great for Jered. I understand it. But he took a different path and left a lot of money on the table. He came up through the Angels system and grew up in their backyard. He's pitching where he grew up. That situation appeals to him. It's a similar situation to when I had Tony Gwynn.
So, after reading what Boggs said to Jim Salisbury of Comcast Sports, the real question is this—is $20 million a year enough to keep Hamels in Philadelphia?
Consider this: The Los Angeles Dodgers are under new ownership, ownership that is going to be looking to make a big move to get Dodgers fans riled up and out to the park. Can you imagine a one-two combination of Clayton Kershaw and Cole Hamels?
They'd arguably be even more dominant than Roy Halladay and Cliff Lee, the duo that would remain in Philadelphia.
While the New York Yankees have openly stated that they are under a budget—which I believe to be true—don't think for a second that they wouldn't go hard after Hamels if they felt they needed to.
The point is this: Cole Hamels is only going to become a free agent while under the age of 30 once. Teams will be throwing money at him left and right, luxury tax in 2014 be damned.
So, to answer the question, no, $20 million a season probably won't get it done.
Actual 2012 Salary: $13.5 million
Projected New Contract: $175 million over seven years, an average of $25 million per season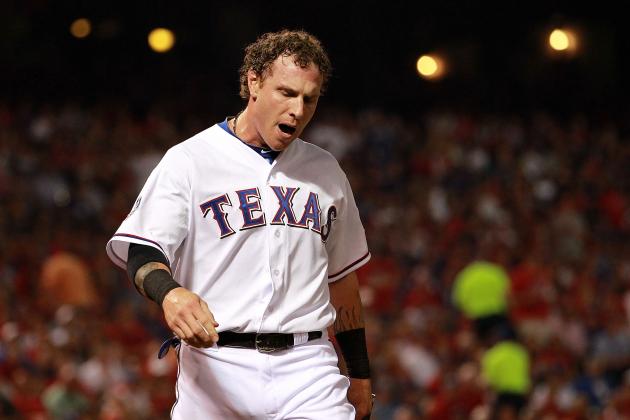 Ronald Martinez/Getty Images

Josh Hamilton is a tough player to value.
When he's healthy and has his head on straight, he's one of the best players in the game.
Unfortunately, that's not always the case.
Since his first season in Texas, 2009, in which he played 156 games, Hamilton has battled both his demons and his health, averaging 127 games played each of the past two seasons.
Hamilton wants to stay with the Rangers, telling ESPN's Jim Bowden that he'd sign for considerably less with the Rangers before he reaches free agency than he will when he hits the open market. Regardless, his loyalty lies in Texas, and he'd give the Rangers the first chance to sign him.
Richard Durrett of ESPN Dallas says that Hamilton is open to working out an extension during the season, but the Rangers don't seem to be in any rush to do so.
And who could blame them?
They have to weigh the pros and cons of keeping Hamilton around, but not signing him now opens up the door for someone else to swoop in and blow him away with an offer once free agency starts.
For someone who has averaged 28 home runs, 97 RBI and a batting line of .329/.379/.586 over the past two seasons, someone will most definitely blow Hamilton away with an offer.
2012 Salary: $13.75 million
Projected New Contract: $95 million over five years, an average of $19 million per season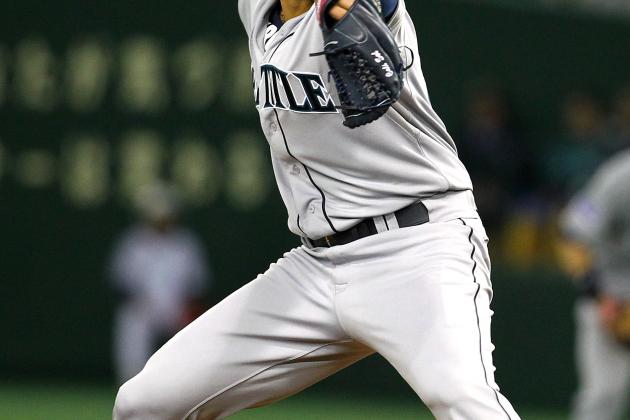 Koji Watanabe/Getty Images

Even with more established closers available in Jose Valverde and Kyle Farnsworth, Brandon League will be the top closer available on the open market following the 2012 season.
League came into his own last season for the Seattle Mariners, picking up 37 saves while posting a 2.79 ERA and 1.08 WHIP. He may not be a strikeout artist, but he is likely going to be too expensive for Seattle to consider keeping.
2012 Salary: $5 million
Projected New Contract: $27 million over three years, an average of $9 million per season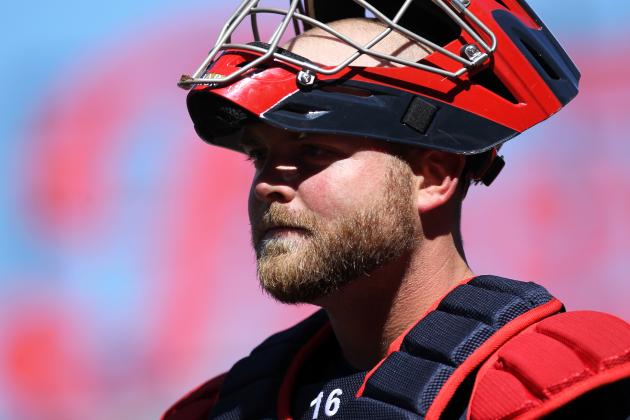 Nick Laham/Getty Images

The real question isn't whether Brian McCann will be overpaid, because he will be—it's who is going to overpay him, and when will that happen?
While the Atlanta Braves hold a $12 million team option on the 28-year-old catcher, there is no guarantee that they will exercise it.
Braves CEO Terry McGuirk, in an interview with Tim Tucker of The Atlanta Journal-Constitution, defended the Braves' $94 million payroll for 2012 and gave little hope that they will become big spenders in the years to come:
In a way, I almost relish when one of our competitors goes in the free-agent market because it's so inefficient and such a bad use of dollars. You almost never get the value out of a free-agent market expense. We all have limited dollars to spend, so if someone in wasting those dollars in a competitive situation, it helps us. I think that is part of what the quiet this winter reflects—a real confidence in our minor-league system. I wouldn't trade our young people for any team's youth corps. I think the state of the franchise is extremely positive.
With catching prospect Christian Bethancourt is likely still one or two years away from debuting in the majors, the Braves could very well decline to keep McCann, opting to sign an inexpensive veteran as a placeholder until Bethancourt is ready.
McCann, when he hits the market, will receive a more lucrative deal than the five-year, $75 million extension that Yadier Molina signed with the St. Louis Cardinals.
Actual 2012 Salary: $11.5 million
Projected New Contract: $105 million over six years, an average of $17.5 million per season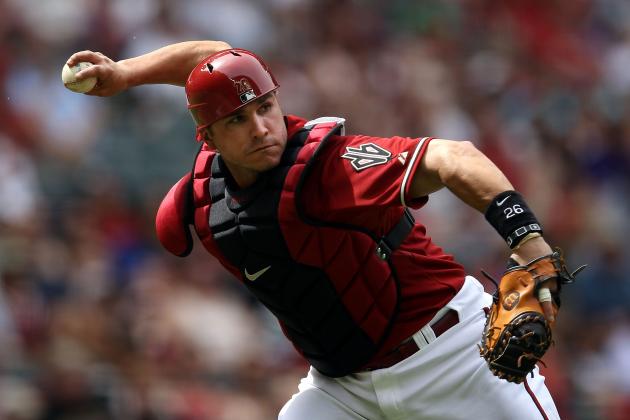 Christian Petersen/Getty Images

GM Kevin Towers and the Arizona Diamondbacks tried to sign Montero to a long-term deal this past winter, only to fall short. Which makes sense, as Montero was looking for a Victor Martinez-type deal: five years at $12-13 million a season, according to Fox Sports' Jack McGruder.
You have to think that Yadier Molina's five-year, $75 million extension with the Cardinals will come into play as well. If Brian McCann becomes a free agent, Montero will likely be the subject of a bidding war between those teams who lost out on McCann, regardless of whether Mike Napoli is also in play or not.
By the time the process is over, Montero will end up with Molina-type money, if not more.
2012 Salary: $5.9 million
Projected New Contract: $80 million over five years, an average of $16 million per season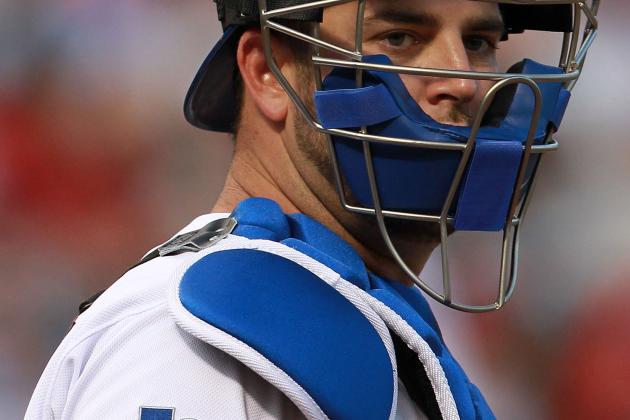 Ronald Martinez/Getty Images

Mike Napoli would like to stay with the Texas Rangers, according to ESPN's Jim Bowden, and chances are, that the feeling is mutual.
Napoli, who was considered to be nothing more than a decent catcher heading into the 2011 season, boosted his stock immensely with a torrid World Series performance that saw him post a .350/.464/.700 hitting line with two home runs and 10 RBI.
In the last year of his current deal, the 30-year-old Napoli is looking to capitalize on both his World Series performance and his consistency at the plate. Over the past four seasons, Napoli is averaging a .274 average with 24 home runs and 62 RBI.
With prospect Jorge Alfaro still years away from making an impact in the majors, the Rangers are going to be looking to keep Napoli in the fold. Assuming Napoli continues to produce at the plate, his agent will absolutely point to Yadier Molina's extension with the Cardinals as market value for his client.
I expect Napoli and the Rangers to come in near Molina's numbers.
Actual 2012 Salary: $9.4 million
Projected New Contract: $75 million over five years, an average of $15 million per season

Rob Carr/Getty Images

ESPN's Jim Bowden says that Nick Swisher will be the primary target for Frank Wren and the Atlanta Braves this winter. While I'm certain that Swisher will be a sought-after commodity on the open market, I have doubts that the Braves will be in the mix.
Given Braves CEO Terry McGuirk's aversion to spending big on free agents, the 31-year-old Swisher is likely to cost far more than the Braves are willing (or able) to spend.
Swisher, who has earned more than $30 million over the past four seasons, has been a bargain for the New York Yankees. Not only has he produced on the field, averaging 27 home runs, 85 RBI and a .267/.368/.486 hitting line with the Yankees, but he has developed into a very good defensive outfielder and is a positive influence on any clubhouse.
While I previously opined that the Yankees could conceivably throw their budget plans out the window in order to sign Cole Hamels, they won't break the bank to keep Swisher.
Swisher will generate a ton of interest and attention once he hits the open market, and the competition will only drive his price up.
Actual 2012 Salary: $10.25 million
Projected 2013 Salary: $77.5 million over five years, an average of $15.5 million per season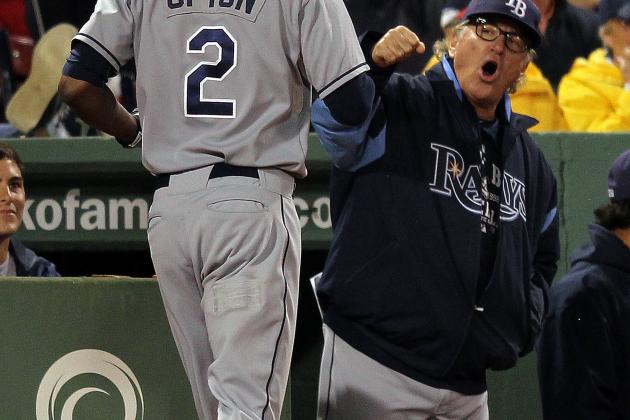 Jim Rogash/Getty Images

How much would you pay for a 27-year-old outfielder who plays excellent defense, hits .300 with 20 home runs, 80 RBI and 40 stolen bases?
A ton.
B.J. Upton has done all of those things, but the only problem is that he's yet to put them all together in the same season.
Currently on the disabled list, Upton is poised to put up big numbers upon his return as he plays for his next contract.
Fangraphs has Upton's most recent season valued at $18.6 million. Whether you agree with that number or not, considering that he made $4.825 million last year, Upton was a major bargain no matter how you look at it.
With the potential to put all of his tools to use in the same season, Upton will be too attractive for someone not to overpay for his services.
Actual 2012 Salary: $7 million
Projected 2013 Salary: $95 million over six years, an average of $15.83 per season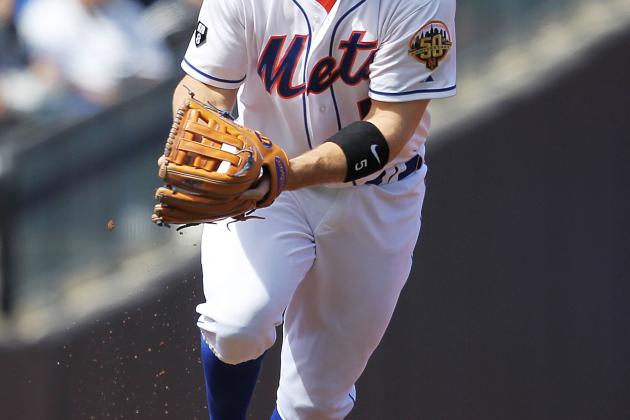 Nick Laham/Getty Images

Should the New York Mets keep David Wright past this season?
Of course, they should.
But even with the Bernie Madoff mess behind them, there is no guarantee that the team will exercise the $16 million option on its third baseman for 2013.
From 2005 through 2010, Wright averaged 156 games played a year. In 2011, he only played in 102 games. This year, Wright has played in a total of 11 games—parts of seven in spring training and four during the regular season.
Wright has gone from durable to injury-prone, and as GM Sandy Alderson intimates to Joel Sherman of the New York Post, health is going to play a big part in the Mets' decision-making process: "Is he part of the future? I hope the answer is yes. Let's see how he bounces back this season."
If you're a Mets fan, that can't fill you with confidence that Wright is in the team's long-term plans.
With third base seemingly always a position in flux around the league, even with his recent injury history, the 29-year-old is sure to attract multiple suitors if he hits the open market.
2012 Salary: $15 million
Projected New Contract: $100 million over five years, an average of $20 million per season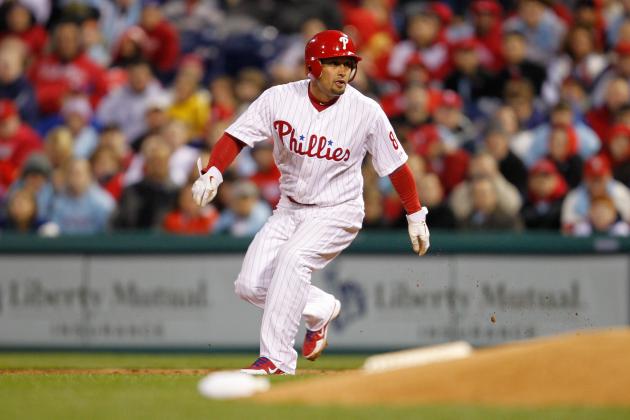 Brian Garfinkel/Getty Images

Shane Victorino isn't young and he isn't flashy; he just quietly goes about his business and has become one of the best center fielders in the game.
As we examined with Cole Hamels, Phillies GM Ruben Amaro Jr. has said that he can afford three starting pitchers making $20 million each. If Hamels should leave, much of that money may wind up going to Victorino, who is sure to attract a ton of interest, regardless of the fact that he celebrates his 32nd birthday in November.
2012 Salary: $9.5 million
Projected New Contract: $90 million over five years, an average of $18 million per season