Comparing Trajectory of Current Miami Heat Team to Last Year's Underachievers
April 12, 2012

Mike Ehrmann/Getty Images
Here we are just a dozen games from the playoffs, and the Miami Heat are once again wrapping up a season as one of the favorites going into late April. As the postseason approaches, many people may feel as if they're experiencing deja vu looking at the road the Heat are on.
They're manhandling the weaker teams, dropping winnable games with complacent play, leaving questions unanswered. They even have a matching late-season rough stretch that has people talking disaster.
Follow that logic far enough and some people might worry that they're once again on the road to catastrophic failure (i.e. no ring for LeBron James), but really, upon closer examination this club is a decent step ahead of its underachieving 2011 self. 
The synergy between Dwyane Wade and James is a mild step up from where it was a year ago, but it's not as though there was ever any dysfunction here aside from the occasional hiccup on final possessions. These two have always wanted to play together, and they continue to show it the way they combine their ridiculous talents on the floor. 
Personnel-wise, the Heat have some more talent at their disposal than they did last year in Shane Battier, Norris Cole and Ronny Turiaf. Battier, first and foremost, brings with him a basketball IQ to rival any of the team's stars. While Cole and Turiaf do little to completely plug the ever-present holes at the point and the pivot respectively, they each condense in one backup the production formerly scraped together by a committee of minimum-impact guys. 
On the minus side, past injuries once again deprive Erik Spoelstra of a fully-functioning Mike Miller and Udonis Haslem, who are again being dubbed as playoff X-factors on the wishful condition that they regain form in time. 
Of course, when you're the Miami Heat, the battle doesn't end on the court. Fortunately for them, the off-court distractions are fewer and further between this time around; the Three Banditos are obviously more mindful of their mouths in light of the deluge of public backlash and ridicule they endured last year for their various, grievously misplaced words. This can only serve to keep their minds on business. 
In terms of psychology, this year's team could not but have developed thicker hides from its experience in the Finals, and the hellish offseason that followed. How this might manifest has yet to be seen.
Also of note, while their season has unfolded largely the way it did last year—meaning they started out as favorites, hit a few speed bumps along the way and will likely concede home-court advantage to Chicago—people are now gauging their chances from a different perspective.
Last year around this time, the skinny on the Heat was that they had a great many question marks going into the playoffs, in light of their less-dominant-than-expected regular season. Purportedly, their main issues lay in roster holes, intensity and closing out elite teams such as the Celtics and Bulls.
Looking back, we all know—as do the Celtics and Bulls—that these issues all but disappeared by the following month of May, during which they ran roughshod over those same "nemeses." The latter seem to be back with a vengeance this year—witness the Celtics' resurgence, for example—but the onus is on them, not the Heat, to show they can translate that into a series win.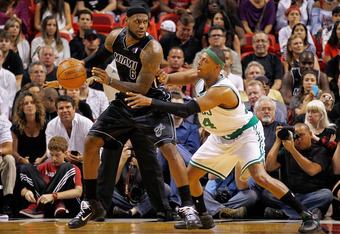 Mike Ehrmann/Getty Images
With its unique psychological makeup and abundance of talent, Miami possesses the ultimate on/off switch, only playing up to its true potential when the gold is on the line. The regular season is but a formality to LeBron and Co. before their little date with destiny; the intensity will come. 
Also, unless James suffers some serious head trauma between now and then, he doesn't have amnesia. Heart or no heart, he's going to be on a mission not to repeat the Finals, and let's face it: It won't be hard to top.
On the whole, while the Heat are running into some very familiar obstacles (i.e. the Celtics, Bulls and themselves) they've already set a precedent that compels this writer to downplay the way they look at this point in the season, which is to say beatable.
Logic Johnson is a featured columnist and syndicated writer, conscious rapper and host of the old-school funk show "Listen! You Smell Something?" on CKUT 90.3 FM, greater Montreal.