Calgary Flames: 6 Players Who Could Be on the Move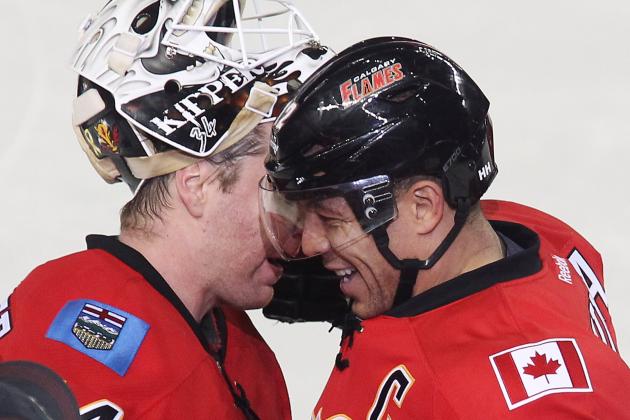 Mike Ridewood/Getty Images
Could both of these players be traded this offseason?
The Calgary Flames need to make big changes this offseason.
They have failed to make the playoffs three years in a row, and have made it past the first round of playoffs only once in the past 15 NHL seasons.
The Flames have had teams that have been very similar in the past few years that haven't gone through major changes in the offseason.
This summer should be different. No, it needs to be different.
Here's a look at the six players who could be sporting a different team's jersey via trade next season.
Begin Slideshow

»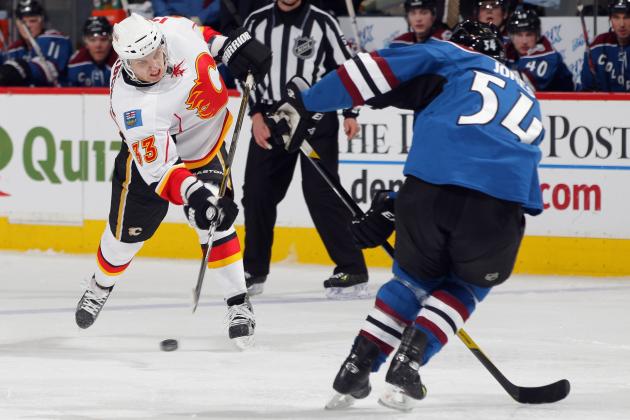 Doug Pensinger/Getty Images

Babchuk was re-signed by the Flames just last offseason, but he was used sparingly this season. Although he was injured a fair amount this past year, he was also a healthy scratch regularly earlier in the campaign.
With his limited paying time, Babchuk only registered two goals and 10 points in 32 games with the Flames.
He does have a no trade clause, but if the Flames approach him and ask him to waive it, I can see him accepting to go to somewhere where he'll get more ice time.
Other teams should be interested in his big shot from the point, so it wouldn't be a surprise if he's shipped elsewhere.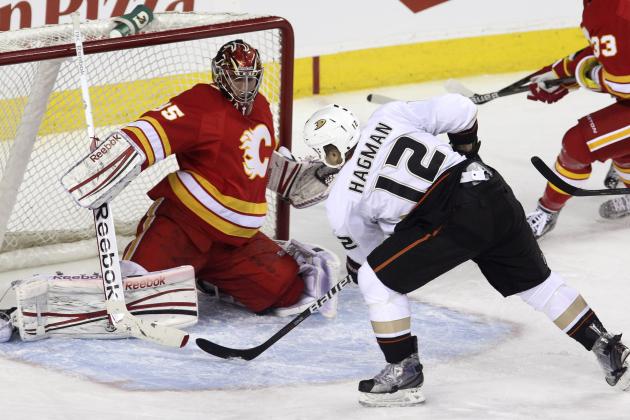 Mike Ridewood/Getty Images

Henrik Karlsson is another player that the Flames only re-signed last summer who saw his playing time cut down.
With AHL call-up Leland Irving playing his way into the backup goalie role while Karlsson was injured, he becomes more expendable.
Karlsson only tallied one win in his nine starts this year, and that win came in the team's last game of the season.
I expect the Flames to bring up Irving full-time next year and look for a buyer for the goalie once known as "The Calgary Tower."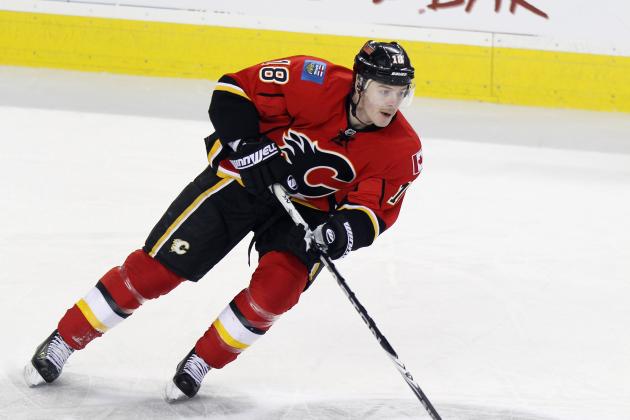 Bruce Bennett/Getty Images

Matt Stajan is the only remaining piece of the return package the Flames got in the Dion Phaneuf trade back in 2010.
This isn't because of his value; it's because with a $6 million contract, it's hard to find a buyer.
Stajan played well at times this season, mostly because he was given a lot of extra playing time. Still, his total of 18 points in 61 games is the lowest output of his career—even with the extra ice time.
If the Flames can find a team willing to take on his contract, he may be on his way out of Calgary before next season.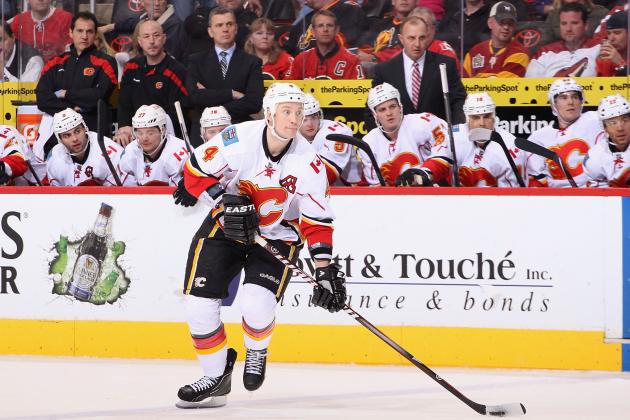 Christian Petersen/Getty Images

Bouwmeester was the biggest name available two seasons ago when the Flames traded for his rights and signed him to a $6.68 million contract.
Unfortunately, he hasn't lived up to the immensity of the contract, nor the hype.
The problem isn't his defensive play, but that the offensive upside that made him so desirable just hasn't been there with the Flames.
There's also the astounding fact that he has yet to play a single playoff game in the NHL, and has only played a mere 18 games postseason games in the past 14 years (dating back to his junior years). That's 717 career NHL games without playoffs for anyone who's counting.
His large contract may make some teams wary, but he could be a good pickup for any team looking to bolster its blue line.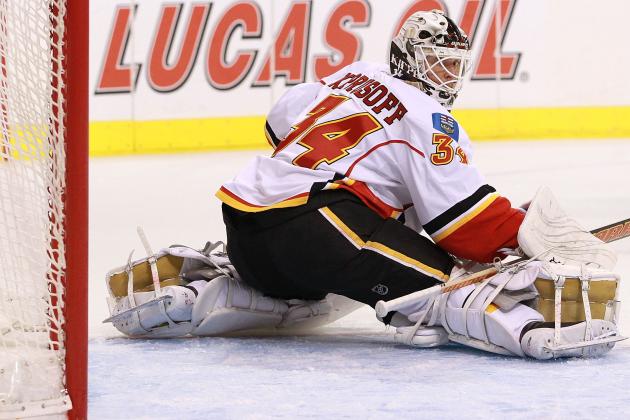 Ronald Martinez/Getty Images

Now this is where potential trades for the Flames can have a huge impact.
The Flames have to make a decision whether they should hang on to Kiprusoff and stick to the trend of him playing 70-plus games just to miss the playoffs, or trade him for a big return.
Trading a goalie like Kiprusoff can have a major impact on both of the teams involved. The Flames would get prospects/picks to start to look towards the future, and the team they trade with would get a player that steals games for you.
Kiprusoff still has some strong years ahead of him, so is it worth for the Flames to keep him and continue to be a team only on the verge of a playoff spot?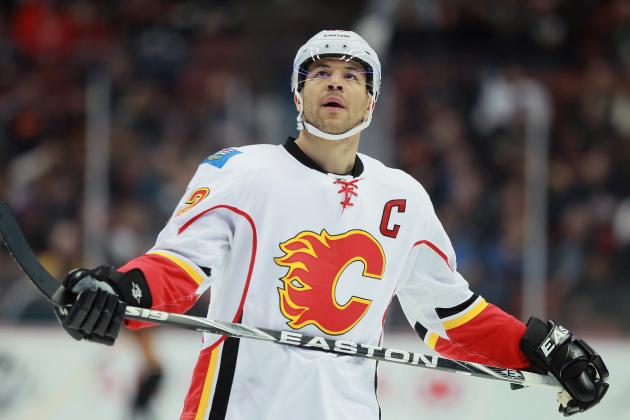 Jeff Gross/Getty Images

If trading Kiprusoff would be huge, then an Iginla trade would have to be classified as massive.
Iginla has served as the face of the Flames' franchise for as long as I can remember, and the 34-year-old has amassed 1,073 career NHL points, all with the Flames. An Iginla trade would have all the same implications as if Kiprusoff were traded, but this would mostly be in the interest of Iginla himself.
Iginla is still an effective player, but his time is running out. If traded to a contender, it would give him the best chance to finally hoist the Stanley Cup. The Flames won't be winning a championship soon and the return they'd get for Iginla would probably serve the franchise better in the long run.
In the end, the choice is ultimately in Iginla's hands.