Rafael Nadal vs. Cristiano Ronaldo: Is This Best Commercial in Tennis History?
April 11, 2012

Rafael Nadal and Cristiano Ronaldo are arguably the two greatest players in tennis and soccer respectively. (Roger Federer, Novak Djokovic, and Lionel Messi supporters would like to dissent right now, but that's another article.)
Fortunately, Nike's depiction of cross-sports superstars is an original creation, complete with visual and literary elements that make this an artistic and commercial success.
But is this the greatest commercial in tennis history?
It's a fascinating analysis, capped by the ultimate duel for tennis commercial supremacy versus reigning tennis commercial champion Roger Federer.
Guest Star: Cristiano Ronaldo
This is a tennis article examining a tennis commercial, so the co-star needs a brief introduction:
Standing 6'1" and weighing a solid 175 pounds, the 27-year-old striker from Portugal, Cristiano Ronaldo.
He currently plays for Spain's legendary Real Madrid. As captain of Portugal's squad he is hoping to lead them to the UEFA Euro title this summer.
Ronaldo possesses exceptional soccer skill and powerful grace, like some hybrid creature from a Greek myth.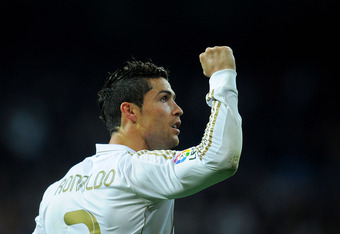 Denis Doyle/Getty Images
He is an excellent counterpart to Nadal in this commercial, expressing a broad smile and good-natured appeal.
The All-Natural Arena: Grass
Every epic has a rich setting, and this commercial provides the ideal field of dreams. Tennis's tradition was grown on grass and prestigious country clubs, so Nike got it right in creating a more pastoral setting. Nadal helps complete the image in his white Wimbledon attire.
The setting could not work on hard courts or clay. Ronaldo's spikes would skate on the former and cloud up the latter. Sometimes image IS everything.
Spain vs. Portugal: Iberian rivalry
Tennis and soccer are global sports, but this match-up represents a fierce regional rivalry. Spain, the reigning Euro and World Cup champion, has had great soccer games with Portugal.
This match-up could represent a cultural clash for bragging rights on the Iberian Peninsula. However, Nadal and Ronaldo quickly establish a friendly tone, which plays out to the end of the commercial. No rancor here.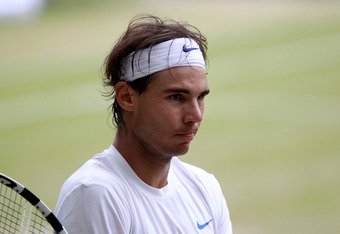 Julian Finney/Getty Images
Mano-a-Mano
Sports, scripted to its most basic element is a one-on-one duel. (Curiously, this commercial is technically a hand vs. foot conflict.) Even the ultimate team sport, soccer, will feature isolated match-ups at particular moments and spaces.
Rafa vs. Ronaldo is a clever duel showcasing several clips of stunts and editing to provide 21st century theatrics. There is plenty of footwork and diving to display their athleticism.
Ronaldo's dazzling footwork skill and dexterity would shame even the master hacky sack performer. Rafa's unsuccessful dive is the highlight, but his expressive bemusement is his greatest contribution.
There is no epic conquest, but Ronaldo is given more of a platform to win the judges in an Olympic-like judging: Ronaldo 9.5, Rafa 8.8.
Roger vs. Rafa
There's nothing more fitting than a showdown between Federer and Nadal for the best tennis commercial. The Federer Nike commercial in the box to the right will be the comparison. (There are obviously several other tennis commercials we could use, but this Federer commercial is featured as the best in the article link below.)
Both commercials are 90 seconds, and each features an epic duel as its centerpiece. However, the contrasts are more striking.
Setting: Nadal's commercial is outside, scenic, and sunlit. Federer's commercial is inside a home, more labyrinthine, and set at night.
Tone: Nadal's commercial is a showcase for stunts and skills to amaze the viewer. Federer's commercial is diabolically humorous with its good vs. comic evil appeal.
Conflict: Nadal's commercial features two appealing personalities with smiles and magician-like tricks. Federer's commercial presents a superstar's cool savvy versus the incompetent buffoon.
Creativity: Nadal's commercial certainly has more imagination in its shot-making, but Federer's commercial has a more original plot for a TV commercial, though common enough in stories.
Appeal: Nadal's commercial will certainly pull in the soccer crowd, and perhaps this would make it a more popular commercial. Federer's commercial may appeal more to the average viewer, or to non-sports people. Really, it's a matter of personal preference.
The Decision
Is Rafael Nadal vs. Cristiano Ronaldo the best commercial in tennis history?
Is it Federer's Nike shootout with the imposter coach?
Do you have another favorite you would like to voice?
Vote for the winner in the side poll.
CLICK HERE for Roger Federer's Top 10 Commercials.