Wolves vs. Arsenal: 6 Keys to a Crucial Gunners Victory at Molineux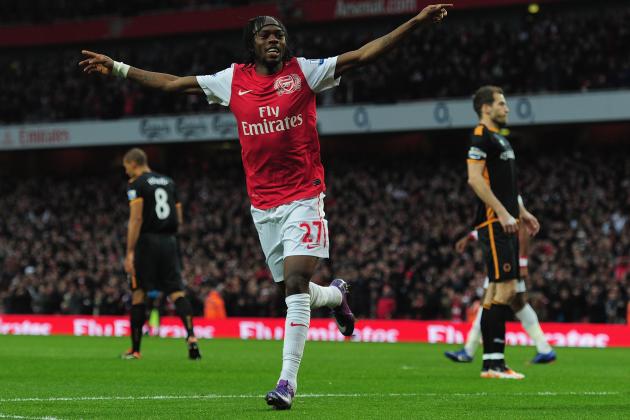 Shaun Botterill/Getty Images

I'm not a betting man, but if I was, Arsenal would have lost me a truckload of money this season.
The Gunners' season has veered from the sublime to the ridiculous and back again, many times over. Their form has displayed the consistency of a roller coaster.
Arsenal head into this evening's game against Wolverhampton Wanderers at Molineux on the back of seven wins, a loss and a win again. The last two games have yielded an abject 1-2 defeat at relegation strugglers QPR, followed by a clinical and emphatic (ignore the scoreline) 1-0 victory over championship hopefuls Manchester City.
Come to think of it, these two fixtures sum up Arsenal's season quite perfectly. Brilliant one day, shocking the next.
More on the here and now, though.
With Arsenal's nearest rivals for the Champions League places, Tottenham Hotspur and Chelsea, having just dropped points against Norwich and Fulham, respectively, this game gives Arsenal the opportunity to grab a fairly decent hold of third place.
Arsenal had that chance two weeks ago at Loftus Road and blew it. No slip-ups can be afforded against Wolves.
Quite contrary to all expectations, Newcastle have stayed the course and now see themselves very much in the mix for Champions League qualification. Allan Pardew is not my favourite person; I may not hand him the other end of a stick were he drowning in my vicinity. But I will doff my hat to what he has achieved this season.
Back in August, I couldn't have envisaged Newcastle making it to 50 points by May. That they have 59 with five games to go is quite a phenomenal achievement. The Geordies have just six points from seven games against the top four, but they have been remarkably consistent against the lesser teams.
So with three tangible rivals to contend with, Arsenal must take their A-game to the Black Country.
Wolves are comfortably in last place in the Premier League table, six points below Wigan Athletic, who are 19th. They have lost six games on the bounce and seven of their last eight. They are manager-less, and have been so for quite some time.
Put simply, they are favourites for the drop.
However, it is pertinent to note that one of the 22 points they have garnered this season was earned at the Emirates Stadium in December, when Arsenal faced an inspired Wayne Hennessey in the Wolves goal and could only draw 1-1.
No room for complacency, then.
And as we have seen a million times before, there are few teams more dangerous to come up against during the run-in than those facing the drop. QPR did Arsenal in two weeks ago; Wolves will be dying to do likewise tonight.
All said and done, this is very much a winnable game. Here are my keys for a Gunners victory.
Begin Slideshow

»
Richard Heathcote/Getty Images

No fixture can be regarded as a formality in the Premier League, especially one against a team battling to avoid the drop.
The more physical teams–and I do not say this condescendingly–always relish a battle against perceived softies Arsenal, especially on their own turf. The pitch will not be like a snooker table; the crowd will be hostile, and the players will be up for it.
Arsenal have been guilty of dropping their intensity against lower ranked teams this season. Losses against Blackburn, Swansea, Fulham, QPR and Liverpool (sorry, couldn't resist!) bear witness to that.
By their own admission, they have gone into games against such teams with the expectation that they just have to show up to get the three points.
Hopefully, the lessons learned at QPR will be fresh in the players' minds, and they will be inspired, as they were against Manchester City on Sunday.
Anything less, and it might be a forgettable return journey to London tonight.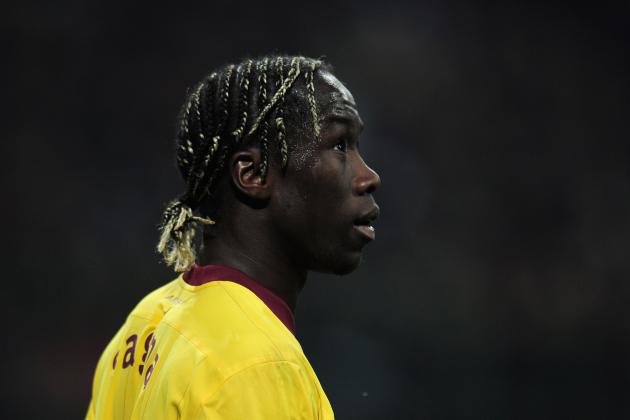 Shaun Botterill/Getty Images

The early team news for Arsenal is not the most encouraging.
Laurent Koscielny will miss the first of two games for collecting his 10th yellow card of the season against Manchester City. Johan Djourou should replace him. Kieran Gibbs will also sit out, after starting nine consecutive games since he came back from injury. Is that a record for the left-back?
A third member of the back four also looks like he might miss out on the trip to Molineux, with Bacary Sagna being listed as doubtful.
This is a worry.
Sagna is undoubtedly the best right-back in the Premier League, and he's been one of the main reasons behind Arsenal's recent resurgence. He was greatly missed during his three-month absence due to injury, and I believe that if there is any chance that he can play today, he must play.
Bruising or fatigue are just not good enough excuses at the moment.
There are just five games to go after tonight, and no more midweek games. There will be enough time to rest later.
Likewise, across the team, the best available XI must play. This is not the time to experiment. This is a fantastic opportunity to nail down third place.
More on the lineup on the next slide...
Ian Walton/Getty Images

OK, this topic has been beaten to death over the past few weeks, so I'm not going to over-elaborate. I just want to make my point using an example.
Here's how Arsenal could line up tonight:
Szczesny; Djourou, Song, Vermaelen, Santos; Arteta, Rosicky; Walcott, Benayoun, Ramsey; Van Persie
Shock? Horror? Not beyond the realms of imagination.
Here, however, is how they should line up:
Szczesny; Sagna, Djourou, Vermaelen, Santos; Song, Arteta; Walcott, Rosicky, Oxlade-Chamberlain; Van Persie.
As I said earlier, Arsene Wenger must play his strongest XI, and he must allow his players to do what they do best. That means Song in midfield, Djourou at centre-half, Ramsey in the centre (or on the bench) and Oxlade-Chamberlain out wide.
I've vented my frustration about the manager's reluctance to use the Ox in recent times, and I'll do it again if he doesn't start tonight.
Benayoun did well against City, but this is not the time for a negative mindset. Taking the attack to Wolves is the way I'd go about it.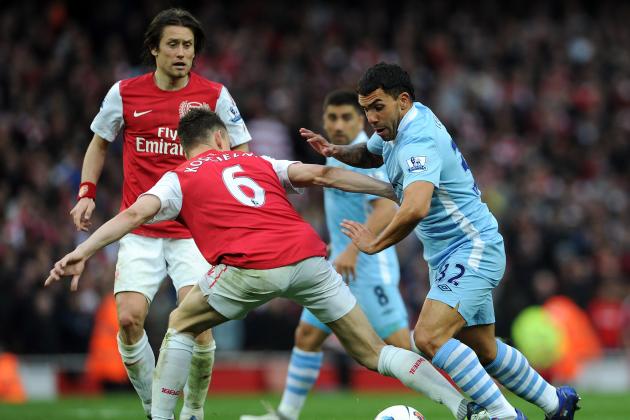 Michael Regan/Getty Images

In my opinion, the following four games should be used as the blueprint for every Arsenal performance:
Chelsea vs. Arsenal: 3-5
Arsenal vs. Spurs: 5-2
Arsenal vs. AC Milan: 3-0
Arsenal vs. Manchester City: 1-0
High-tempo, aggressive, incisive, ambitious, hungry characteristics were abundantly on display in these fine wins.
Arsenal wanted the ball, chased it down, kept it well and made the most of their possession, scoring 14 and conceding just five in these great victories. The Gunners averaged close to 60 percent possession and aggregated 58 shots on goal in these four games.
And they were hardly up against minnows.
Barcelona do very much the same thing in every game. For all of their silken skills, they work harder when they don't have the ball. and once they win it back, they don't let it go again.
Why Arsenal don't do this all the time truly bewilders me. They have youth on their side, and it is recognised that they are one of the fittest teams around. Hence the plethora of late goals.
So why can't Arsenal use that energy to harry the opposition? Why can't they work their socks off in every game as they so often do in home games?
Arsenal are good on the ball, meaning that they can retain possession for extended periods. And they have shown that they can play this game when they choose to. Why Arsenal don't do it against all opposition, especially weaker teams, is something the manager must answer.
I know there's a counter-attacking explanation in there somewhere, as well as a difference in playing-surface quality, but that's not good enough for me.
High-pressing game tonight, please, Mr. Wenger.
Shaun Botterill/Getty Images

Wolves are going to have a real go at Arsenal tonight. With players like Roger Johnson, Ronald Zubar, Richard Stearman and Kevin Doyle in the mix, I'm not expecting tiki-taka.
Arsenal are going to face a battle tonight, make no mistake about it. They must stand firm, hold their ground and not shy away from putting their bodies on the line.
But the last thing they need to do is react (see picture), retaliate or moan after every strong challenge.
Here too, it's down to manager Arsene Wenger to set his stall. He must protect his players, yes, but the more he whines to the fourth official, the more he moans from the sidelines, the worse his team will play.
Chin up, Gunners. You're all big boys. It's a man's game. Seize the day.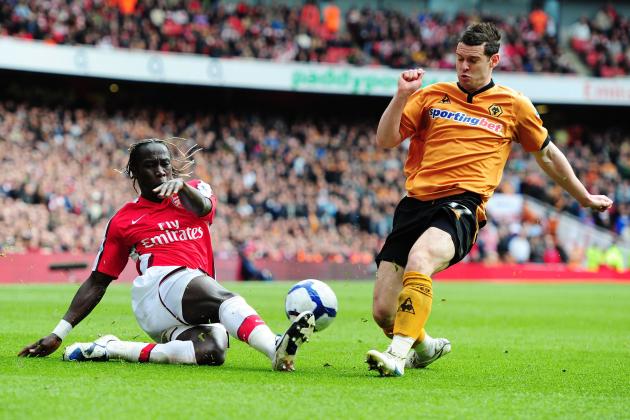 Mike Hewitt/Getty Images

Wolves have scored 34 goals in the Premier League this season. In 32 games. Only Stoke and Wigan have scored fewer.
It will come as no surprise that most of their attacking threat will come via the aerial route, either directly from the back or from the wings.
In Matt Jarvis and Michael Kightly, Wolves possess two wingers who know a thing or two about pinging in crosses. And in Steven Fletcher and Kevin Doyle, they have two strikers who know how to use their heads.
Arsenal will have a new centre-back pairing tonight in Johan Djourou and Thomas Vermaelen, and one or two changes in the full-back positions.
If the two full-backs do not stop the service coming in from Jarvis and Kightly, then Vermaelen, Djourou and Wojciech Szczesny are in for a rough night.
Follow me on Twitter @ratanpostwalla.