Texas Rangers: What to Do with Slugger Josh Hamilton
April 11, 2012

Ronald Martinez/Getty Images
The Texas Rangers have a lot on their plate.
Will Yu Darvish be able to live up to the hype? 
Can the reloaded Los Angeles Angels give Texas a run for their money? 
Will they make it back to their third consecutive World Series and, if they do, can they finally win it?
But there is one issue that is the largest elephant in the room: What to do with Josh Hamilton?
In a perfect baseball world, the Rangers would already have signed the 2010 American League MVP to a nice six-year, $100 million deal and this past winter, it seemed like that was on the verge of happening until an early February evening. But nothing is perfect and the situation the Rangers find themselves in is far from it.
We're all familiar with Hamilton's struggle with substance abuse as are the Rangers, but that didn't stop them from taking a chance on the former No. 1 draft pick. And on the field, their gamble has paid off, but when Hamilton isn't on the field, he's a constant worry for the organization. 
Hamilton has had a myriad of injuries during his time with Texas, which has kept him on the disabled list for extended periods of time, not to mention the countless games he's played while injured. No one will question his heart or toughness, but let us not forget that he's no spring chicken. Hamilton will turn 31 this season with the body of a 40-year-old.
His contract uncertainty will follow the Rangers until a decision is made so the question becomes what will the Rangers do?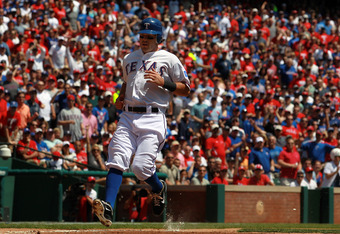 Ronald Martinez/Getty Images
Hamilton has made it known that he's looking for a long-term deal, think Albert Pujols. That's a lot of time and money for a player who has a storied injury history. Realistically, how many more productive years does Hamilton have left in him?
But there's much more at stake for Texas if it decides to extend Hamilton.
The Rangers recently gave second baseman Ian Kinsler a five-year, $75 million deal and this extension could be an indication of the Rangers' strategy. With Michael Young aging and slowly taking a backseat to the young stars on the team, it looks as if Kinsler is becoming this team's front man.
It must also be noted that at the end of the 2012 season, starting pitchers Colby Lewis, Matt Harrison and Neftali Feliz are all up for free agency as well as relievers Alexi Ogando, Mike Adams, David Murphy, Mitch Moreland and Mike Napoli.
Lewis, Harrison and Feliz (three pitchers in the starting rotation) will each require a hefty pay raise and the others listed won't be cheap to bring back. If the Rangers want to sign five or six of the players listed, is there a five-year, $85 million deal (conservative estimate) for Hamilton? I'm not sure.
Top center field prospect Leonys Martin will be MLB-ready soon and don't forget that Nelson Cruz's contract runs out after the 2013 season. I don't think I'm alone in thinking that Cruz won't cost at least $15 million per year.
The Rangers certainly have the money to spend, but as they've shown over the last few seasons, they're not stupid with it.
That's not to say spending money on Hamilton is stupid, but it appears that the situation will develop into keeping one amazing player or several key players.
Don't get me wrong, I, as a Ranger homer, want to see Hamilton in a Texas uniform for the rest of his career. It truly is a pleasure to watch a player of his quality game after game, but the Rangers win as a team and it's not unreasonable to believe that letting Hamilton walk is the best move for the team.
But it's still the first week of the season and as baseball has shown us, a lot can change over the course of 162 games.