Toronto Blue Jays: 5 Early Signs They're Better Than the Red Sox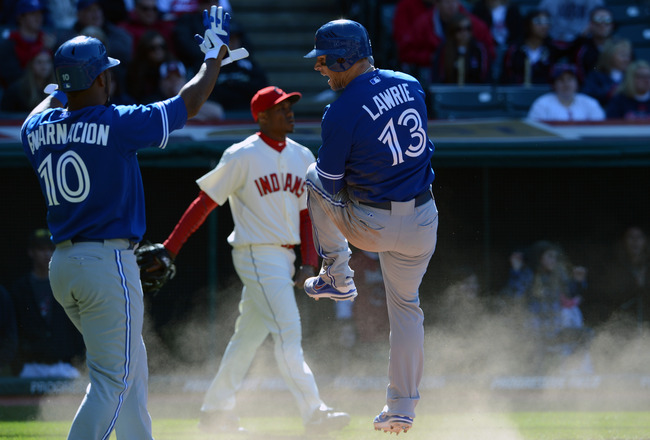 Jason Miller/Getty Images
Five games of a young MLB season represents a grand total of three percent of the entire year.
However, the first five games can often tell fans and players how the makeup of a team will shake out as the season goes on. Through five games teams see all five starting pitchers, all relievers and give a first glimpse at new additions.
One of the sobering realities going into the 2012 season for the Toronto Blue Jays was that they would need to leapfrog one of New York, Tampa Bay or Boston in order to qualify for the postseason. That thorn in the Jays side has kept them out of the playoffs since 1993 but early signs show the team is ready to re-invent themselves as a perennial contender.
Here's a look at the reasons why, after these first few games, it's become clear that the Red Sox are the team the Jays can overtake in the AL East:
The Jays Will Have a Balanced, Clutch Offense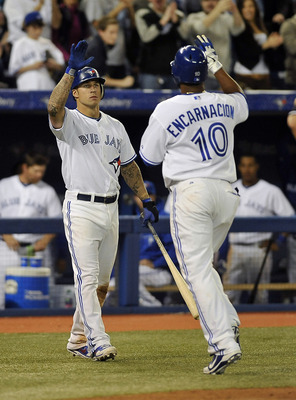 Brad White/Getty Images
Over the first five games, the Jays offense has not been good.
A .213 team batting average is good for 12th in the American League. However, the team possesses a winning record at 3-2. That is due, in large part, to outstanding pitching, but the Jays have had timely and balanced offense.
For example, JP Arencibia has only two hits, but one of them was a 16th-inning three-run home run.
In terms of clutch hitting, the Jays are at the top of the league. Clutch hitting is, by definition, more important than any other type of hitting and in that sense, the Jays have taken a page out of the Red Sox book.
The Jays are getting production out of Kelly Johnson, Edwin Encarnacion and Brett Lawrie. Jose Bautista and Yunel Escobar will turn it around eventually providing Toronto with a well-balanced attack.
The Jays Have a Superior Bullpen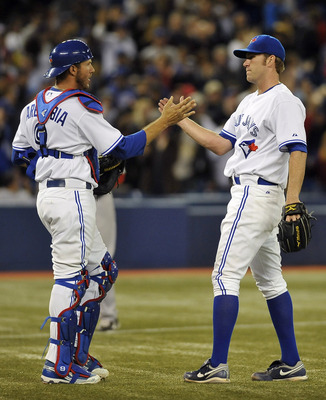 Brad White/Getty Images
Ok, so Monday night's game wasn't exactly a good example to support this argument.
However, over the course of the first five games, the Red Sox have had major headaches with important relievers Alfredo Aceves, Mark Melancon, and Matt Albers. They were playing the powerful Tigers, but there's no defending their ERAs of 27.00, 36.00, and 13.50.
The Jays, on the other hand, have had only one reliever struggle. It just happens to be their new closer, Sergio Santos. Despite Santos' issues, it's clear the Jays have a much more reliable bullpen posting a .200 opposing batting average through a whopping 24.2 innings.
The Red Sox Rotation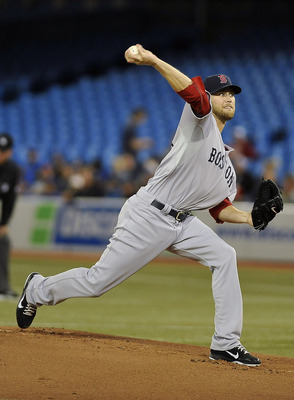 Brad White/Getty Images
Again, we've only seen each starter once so far, but Red Sox fans have got to be nervous with how things have gone early on.
Boston is 30th in starter ERA with a 7.71 mark, 29th in opponent's average and 28th in WHIP.
John Lester and Felix Doubront were both excellent in their starts. However, the bigger question marks of Clay Buchholz and Daniel Bard have both looked uncomfortable. Buchholz lasted only four innings, allowing seven runs in the process.
Perhaps more alarmingly, Bard gave up eight hits in only five innings against the Blue Jays. Moving him back to the bullpen is a sentiment lingering in Red Sox nation which would place a big question mark at the end of Boston's rotation.
The Blue Jays Rotation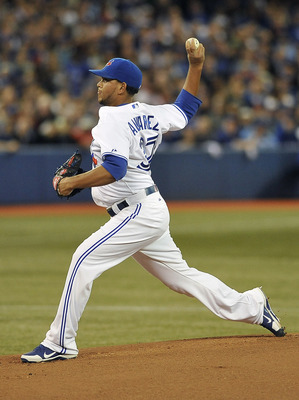 Brad White/Getty Images
On the other hand, Toronto's rotation has been superb.
Ricky Romero pitched one bad inning on Thursday. Brandon Morrow threw seven innings without an earned run, allowing one hit in the process. Joel Carreno was good enough in the only start he'll make in April. And Henderson Alvarez and Kyle Drabek were excellent on Monday and Tuesday.
The back-end of the Jays' starting rotation was—and is—a huge question mark but with Toronto rolling a four-man rotation for the next couple of weeks, everything looks positive through week one.
If Dustin McGowan can recover to limit the spot-starts the Jays have to dish out to long relievers, the Jays will have a solid, confident rotation.
Through 17 Innings, the Jays Are the Better Team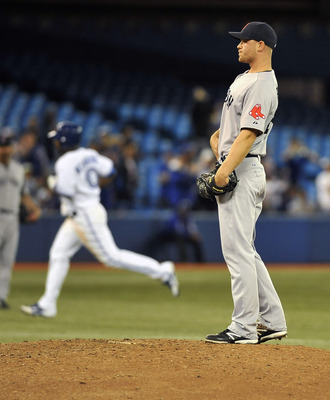 Brad White/Getty Images
Throw out Sergio Santos' adventures in the ninth inning of Monday night's ball game and the Jays have out-played the Red Sox in every way.
For the young Blue Jays, showing that they can play with the Red Sox is a hugely important development. It's only two games, but both should have gone to Toronto which is never a bad thing, especially for a team growing in their development.
To put it simply, the Jays have out-hit, out-pitched and out-played the Sox over their first two matchups.
Do I dare say that John Farrell has out-managed Bobby Valentine as well?
No wonder the Sox wanted to pluck him away from Toronto this summer.
Keep Reading

Toronto Blue Jays: Like this team?