2012 NFL Mock Draft: Two-Round Projection Two Weeks Before Draft Day
April 12, 2012

Here we are. Exactly two weeks away from the first round of the 2012 NFL draft. Not much has changed at the top of my projection, but there has been some shuffling toward the middle of Round 1.
1. Indianapolis Colts: QB Andrew Luck, Stanford
New mock draft, and nothing has changed for Indy at the top. Luckily (sorry, the joke is old by now) for the Colts, the best rookie quarterback prospect in recent memory is available and Indianapolis has the rights to draft him due to Peyton Manning missing the entire 2011 season.
I firmly believe Luck and Griffin will both go on to have great NFL careers, but the Colts can't get cute. The decision is easy—take Luck and roll with it.
2. Washington Redskins: QB Robert Griffin III, Baylor (From St. Louis)
The Redskins started "RG3-and-out" last year (Rex Grossman), and they'll start the Heisman Trophy winner, RG3, this season.
Griffin is a former track star and an incredible overall athlete, but his skills in the pocket can't be understated either. Griffin would likely be the first overall pick in most years, but with the golden boy Andrew Luck at the top, Griffin will have to settle to be the second pick.
3. Minnesota Vikings: OT Matt Kalil, Southern California
Three picks in, and nothing has changed for my projection. Despite Kalil being perhaps the "safest" pick in the draft, I personally believe Minnesota would be better off trading down and grabbing Morris Claiborne with its first pick. That way, the Vikings could draft Stanford OT Jonathan Martin at the top of Round 2 if he falls, or perhaps Mississippi OT Bobby Massie.
If they grab Kalil here, the Vikings could focus on the defensive backfield at the top of Round 2—perhaps with a guy like safety Harrison Smith if he's there, or maybe they take a chance on cornerback Janoris Jenkins.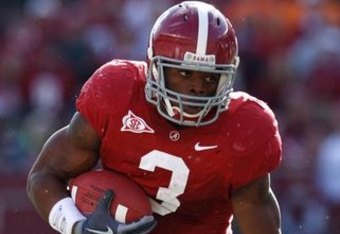 4. Cleveland Browns: RB Trent Richardson, Alabama
No change for the Browns. Cleveland just doesn't have much direction right now. Basically, it's never a good sign when your most popular player is an offensive lineman.
I think they'll address the QB position in Round 2, perhaps with Brandon Weeden. Morris Claiborne would give the Browns a great cornerback tandem along with Joe Haden, but this pick will likely come down to either Richardson or Blackmon.
I think they'll take Richardson because they're more likely to succeed with a "ground and pound" philosophy, as they're so far away from becoming a legit air attack on the arm of Colt McCoy.
5. Tampa Bay Buccaneers: CB Morris Claiborne, Louisiana State
Ideally for the Bucs, Cleveland would grab Justin Blackmon and leave Tampa the luxury of choosing between Morris Claiborne and Trent Richardson.  I'd be willing to bet that Tampa would grab Richardson if he falls to them with the fifth pick. However, that's not the case in this projection.
Claiborne's former position coach at LSU, Ron Cooper, is currently on the Buccaneers coaching staff. Tampa will do well no matter whom it picks at No. 5—it'll be getting a good player who will make an impact as a rookie.
6. St. Louis Rams: WR Justin Blackmon, Oklahoma State (From Washington)
Yawn, another pick remains the same. This situation plays out perfectly for the Rams, who likely would have drafted Blackmon had they stayed at No. 2 overall instead of trading the pick to Washington in the blockbuster Robert Griffin trade.
In this scenario, Sam Bradford gets a legitimate No. 1 receiver in Justin Blackmon. Watching the several nationally televised Rams games last year, it was alarming how bad the St. Louis receivers were (Greg Salas, I'm looking right at you.)
I'm not sure who has a higher ceiling between Blackmon and Notre Dame's Michael Floyd, but I think the Rams will go with Blackmon because he's a safer bet.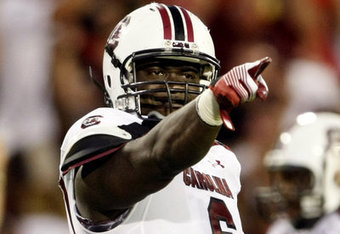 7. Jacksonville Jaguars: DE Melvin Ingram, South Carolina
Despite limited success in recent years, Jacksonville has built a pretty solid defense. Adding a legitimate pass-rusher like Melvin Ingram would boost the Jaguar defense from a solid unit to a potentially elite one.
At first glance, it's apparent that JAX's biggest needs are on offense. One might question selecting a defensive player with a top-10 pick by saying, "You have Blaine Gabbert; he needs help." Exactly, there is no better way to help a young, developing quarterback than building a great defense.
8. Miami Dolphins: QB Ryan Tannehill, Texas A&M
Miami seems like the perfect fit for Tannehill. Not only is Tannehill's head coach at Texas A&M, Mike Sherman, the current offensive coordinator in Miami, but being a rookie Tannehill won't have the option to reject the Dolphins like several other players have recently.
After being spurned by Jim Harbaugh last year and Jeff Fisher this year regarding their head coaching position, the Dolphins also had both Matt Flynn and Peyton Manning turn them down in favor of other teams. All the Dolphins have to do is hand a card to the commissioner with Tannehill's name on it, and he has to pack his bags for Miami.
9. Carolina Panthers: DE Quinton Coples, North Carolina
Here's the first change in my mock—this one is tough for me. Carolina's biggest need is defensive tackle, no question. However, as much as I like Fletcher Cox and Dontari Poe, I don't think there's a defensive tackle worthy of a top-10 selection this year.
I think this could be the first surprise pick in the draft; Stephon Gilmore is the "safest" pick at cornerback after Claiborne. He could sneak into the top 10 if the board falls a certain way, or the Panthers could go offense and grab Notre Dame's Michael Floyd.
I had Floyd going here in my last mock, but I think Coples is a better overall talent, although both players have very high ceilings. Carolina, with the ninth pick, could be where all draft projections go out the window.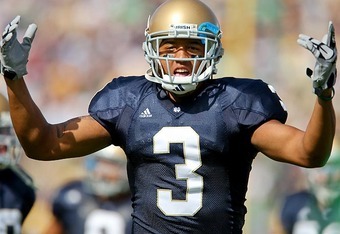 10. Buffalo Bills: WR Michael Floyd, Notre Dame
Another pick that has changed from my previous projection. If Michael Floyd is off the board, I'm nearly certain that Buffalo would select Riley Reiff from Iowa to bolster its offensive line.
The Bills may even select Reiff over Floyd if both players are available; however, I think the Bills will be able to add a capable offense lineman in Round 2, but they won't have the chance to add an elite wide receiver talent like Michael Floyd later in the draft. Floyd would team up with Stevie Johnson to give Buffalo a scary set of receivers on the perimeter.
11. Kansas City Chiefs: LB Luke Kuechly, Boston College
Kuechly to Kansas City has been my projection for several weeks now, and it seems like an ideal fit for both. Along with Derrick Johnson, adding Kuechly would give the Chiefs a pair of talented sideline-to-sideline inside linebackers.
I think the only way Kansas City goes offense with this pick is if it thinks offensive guard David DeCastro is worth the 11th selection. When KC is on the clock, I think the pick will come down to Kuechly or NT Dontari Poe. Both players were impressive at the combine, but Kuechly's game film is far more impressive than Poe's.
12. Seattle Seahawks: S Mark Barron, Alabama
Seattle's defense had an impressive finish to the 2011 season, and DT Jason Jones was added this offseason to bolster the pass rush in the middle of its front four. The Seahawks would love to see Michael Floyd on the board here, as they'd then have the option to give new QB Matt Flynn a fresh new weapon on the perimeter.
Since that's not the case in this scenario, Seattle looks to add another piece to its defense.
A pass-rushing defensive end would be nice and Luke Kuechly would be great if he's available, but the best value at this spot is Mark Barron. This way, Seattle could move Kam Chancellor to weak-side linebacker and throw Barron next to Earl Thomas in the defensive backfield. This defense would go from good to better than good.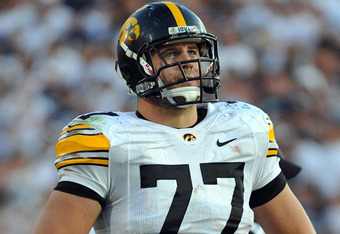 13. Arizona Cardinals: OT Riley Reiff, Iowa
The Cardinals brought back LT Levi Jones despite his below-average play. There are holes all over Arizona's offensive line, and it must be improved. If Iowa OT Riley Reiff is available, he's a Cardinal. Period.
Arizona benefits from a short draft-day fall by Reiff, and he's the selection in this projection. David DeCastro could come off the board here, but another player to watch is Cordy Glenn. Glenn played left tackle in college, but he best translates to offensive guard as a professional. There's a chance Arizona covets Glenn's versatility enough to merit the 13th pick.
14. Dallas Cowboys: DT Dontari Poe, Memphis
David DeCastro will certainly be considered here, but Dallas has already added two offensive guards in the offseason: Mackenzy Bernadeau from Carolina and Nate Livings from Cincinnati. The Cowboys may be in a perfect position to move down and acquire more picks, while still getting a player capable of playing early with their first selection.
If they stay put, I think they'll target Mark Barron, Dontari Poe and David DeCastro—in that order. This is about the place where Poe should come off the board, and Dallas will feel like it's getting a good value if he's the pick at 14.
15. Philadelphia Eagles: DT Fletcher Cox, Mississippi State
To me, this is looking more and more like one of the most obvious projections in Round 1. Behind starters Cullen Jenkins and Mike Patterson, the Eagles are thin at defensive tackle. The middle of Philadelphia's defense was abused last season, as it got little to no production from its linebackers, and the defensive line was constantly pushed around.
Cox isn't only a run-stuffer at the defensive tackle position; he also gives you some pass-rushing ability. To me, a good comparison for Cox is Cullen Jenkins. Cox could join Jenkins in Philadelphia if this scenario plays out.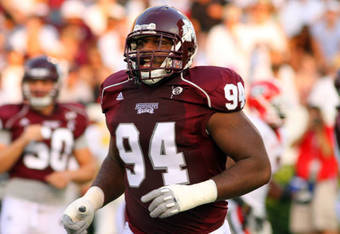 16. New York Jets: OG David DeCastro, Stanford
The Jets would love to add Alabama's Mark Barron with their first pick, but he's off the board in this projection. David DeCastro is one of the safest picks in the first half of Round 1, and selecting him would help New York get back to its ground-and-pound offensive philosophy.
Unless DeCastro, Barron or Michael Floyd were to fall to the Jets, I think their pick would come down to the top-rated 3-4 OLB on their board. DeCastro is the best value for New York at this position, and I think he's a better value than taking a chance on one of the top-rated edge-rushers.
17. Cincinnati Bengals: OG Cordy Glenn, Georgia (From Oakland)
Draft day will be fun if you're a Bengals fan this year. Armed with two first-round picks, Cincinnati will have the opportunity to add a couple difference-makers to a young team that enjoyed a lot of success last year. I sound like a broken record saying, "If Mark Barron is here, he'll be heavily considered," but he would get a look from the Bengals if he were available.
I had the Bengals grabbing Stephon Gilmore at this spot before they signed Terence Newman on Wednesday. With Newman joining Jason Allen, Pacman Jones, Nate Clements and Leon Hall, the Bengals have numerous cornerbacks. Cordy Glenn could be plugged in at guard and instantly upgrade Cincinnati's running game.
18. San Diego Chargers: CB Stephon Gilmore, South Carolina
After adding Jarrett Johnson to play on the opposite side of Shaun Phillips, outside linebacker isn't the glaring need that it was immediately following the 2011 season. In my opinion, Courtney Upshaw is worth a top-15 pick, but an unimpressive offseason will push him down draft boards.
San Diego needs help on the offensive line and in the defensive backfield, and either position could be addressed with the 18th pick. I think the Chargers would be wise to grab either Georgia's Cordy Glenn or Stephon Gimore with their first pick if either one is available. Gilmore would be a great value at 18.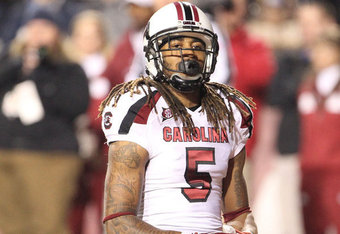 19. Chicago Bears: DE Whitney Mercilus, Illinois
Mercilus to the Bears has been my projection for some time now. Chicago needs to add a relentless rusher off the edge on the opposite side from Julius Peppers; it would benefit every level of the defense. Whether the Bears prefer Mercilus or Nick Perry in their scheme, adding either player would immediately improve their pass rush.
Courtney Upshaw could be an option here as well if Chicago views him as a natural 4-3 defensive end. If the Bears look to address the offense, OT Mike Adams could be the pick because I don't think there's any chance Michael Floyd will be there at 19.
20. Tennessee Titans: C Peter Konz, Wisconsin
Tennessee's running game got off to an extremely slow start in 2011, and the offensive line needs to be put under a microscope. The Titans flirted with former Packers center Scott Wells in free agency, but Wells ultimately signed with the St. Louis Rams.
Incumbent starting center Eugene Amano was one of the worst centers in the league last season, so you can bet former lineman and current head coach Mike Munchak will be looking to improve the center position in the draft. If Peter Konz is here, I think he'd be the pick. However, in the unlikely event that Konz goes before pick No. 20, Cordy Glenn could be the guy.
21. Cincinnati Bengals: DE Courtney Upshaw, Alabama
The Bengals have needs at the No. 2 wide receiver spot, cornerback, the interior offensive line and safety. While selecting Upshaw wouldn't fill a glaring need, he'd be a great value at 21 overall. If this situation plays out, Cincinnati will have hit a home run with its first two picks.
Cordy Glenn and Courtney Upshaw would instantly upgrade the front line for the Bengals on both sides of the ball. Upshaw will likely fall a bit in the draft due to being relatively unimpressive in offseason workouts, but the dude can play football. He's one of the best 15 players in the draft, in my opinion.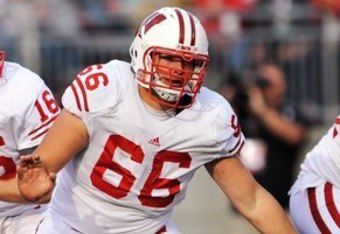 22. Cleveland Browns: WR Kendall Wright, Baylor (From Atlanta)
The Browns have a chance to add the best receiver in the draft with the fourth pick; however, I think they'll grab Trent Richardson with that pick, so they'll look to add a wide receiver later in Round 1 or early in Round 2. This team needs playmakers. Badly.
Kendall Wright had a disappointing combine, but his pro day was more indicative of how he played at Baylor. Wright consistently beat Big 12 defenses deep, and Cleveland will hope for more of the same at the professional level. The Browns clearly need a quarterback, but I think they can wait until Round 2 and add Brandon Weeden there.
23. Detroit Lions: OT Jonathan Martin, Stanford
Unless an elite talent falls to them at 23, I think the Lions will focus on either cornerback or offensive tackle with their first selection. After losing Eric Wright, the Lions are desperate for a cornerback. I have Stephon Gilmore as my second-rated cornerback, but some prefer Dre Kirkpatrick and he could be in play for Detroit at this spot.
However, unless Gilmore falls to them, I think the Lions would be wise to wait until later to address the cornerback position and instead grab the best offensive lineman available. Jonathan Martin wouldn't be forced into playing early, but he has a chance to develop into a very good player if he can get stronger and stay motivated.
24. Pittsburgh Steelers: LB Dont'a Hightower, Alabama
As much as I like Courtney Upshaw, I may like his teammate, Dont'a Hightower, even more. After battling back from a knee injury, Hightower has boosted his stock back up to first-round status. He has a tough, rugged Pittsburgh Steeler mentality.
Alabama head coach Nick Saban occasionally used Hightower in a three-point stance to rush the passer on third downs this year, so teams may give him a look as a 3-4 outside linebacker. However, his most natural position is inside linebacker, and that's where he'd play for the Steelers. Hightower would be a great value at No. 24.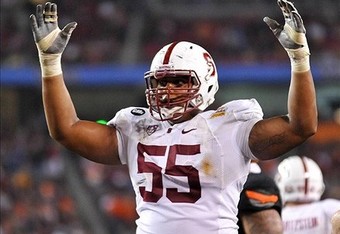 25. Denver Broncos: DT Michael Brockers, Louisiana State
I'd be surprised if Denver looked to address anything other than its defensive line with the 25th pick. If any of the top three tackles are available, I think the Broncos would run to the podium and take one.
Brockers is a young player who only started one season at LSU, but he has one of the highest ceilings of anyone in the draft. While the defense carried the Broncos for much of the 2011 season, the magic ran out in the playoffs against New England. One of the bright spots on Denver's defense last year was Brodrick Bunkley, who has since departed to New Orleans; Brockers would fill that void.
26. Houston Texans:  WR Stephen Hill, Georgia Tech 
Either Hill or Mike Adams would make a lot of sense and both would make an instant impact, but the Texans simply can't ignore the upside of Georgia Tech's Stephen Hill. Andre Johnson may very well be the best receiver in the NFL, but the Texans need to find another stud to pair with him.
I think they'll consider Mike Adams to fill in at right tackle for cap casualty Eric Winston, but if he's gone, I'd be pretty confident in saying Hill will be the guy for Houston. Although he only caught 49 balls in his three-year collegiate career, Hill's 4.34-second 40-yard dash and 39.5" vertical have catapulted him into first-round consideration.
27. New England Patriots: CB Dre Kirkpatrick, Alabama (From New Orleans)
The Patriots need help on defense. Not just at one level of the defense, but on every level of the defense. They could use an interior defensive lineman or a defensive end, they could use a linebacker, and they could use a defensive back. They need help.
Dre Kirkpatrick has been projected all over Round 1, but he has fallen a bit in this projection. If he gets to 27, New England will likely find his value too hard to ignore. Devin McCourty is a great athlete and I think he'll bounce back from a disappointing year, but the Patriots need to add another cover man regardless of McCourty's improvement.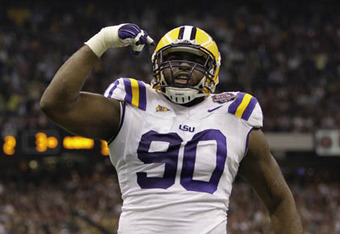 28. Green Bay Packers: OLB Shea McClellin, Boise State
I get the feeling that Ted Thompson may be a little more active in trading up than he has been historically. If Courtney Upshaw falls into the 20s, I wouldn't be shocked at all if the Packers moved up using one of their league-high 12 draft picks to select him.
If they stay at 28, Shea McClellin is a late riser in the draft process who seems like a great fit for the Packers. Green Bay outside linebackers coach Kevin Greene loves to work with guys who give you 110 percent effort on every play, and McClellin is a lot like Clay Matthews in that respect.
"Shea and Clay" sounds like a damn good combination at outside linebacker for the Packers, and he'd help improve a pass rush unit that struggled mightily in 2011.
29. Baltimore Ravens:  S Harrison Smith, Notre Dame
If Peter Konz and Dont'a Hightower are both gone, I think it'll be the best player available for Baltimore, and that could be Notre Dame's Harrison Smith.
The Ravens are always creative with their defense, and they'd definitely benefit from having another talented and intelligent safety. Smith would benefit greatly from being in the same building as Ed Reed, who has the reputation as being a savvy veteran between the ears as well as a tremendous athlete.
30. San Francisco 49ers: DE Nick Perry, USC
After adding Mario Manningham and Randy Moss, the 49ers are in better shape on offense heading into 2012 compared to when they were headed into 2011. I had Stephen Hill penciled in for San Francisco until the 49ers signed those two veteran receivers, but now I think San Francisco will have the benefit of drafting the best player available on the board.
While I remain skeptical regarding what Alex Smith can really do with all these weapons, it wouldn't shock me if Harbaugh pushed for one of his former Stanford players, TE Coby Fleener. After striking gold with Missouri's Aldon Smith last year, San Fran could add a pass-rusher across from him if a guy like Nick Perry or Whitney Mercilus falls to the 30th pick.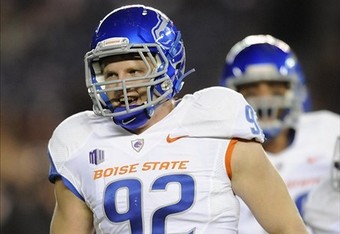 31. New England Patriots: DT Kendall Reyes, Connecticut
I'd be surprised if the Patriots picked 27th and 31st come draft day since they so often trade down and acquire picks in 2013 or 2040.
Kirkpatrick and Reyes would fill two big holes for New England, and both would see the field in their rookie season. Reyes was a captain at Connecticut, and he's considered to be a "high-character guy." Belichick loves to add players who fit into a locker room, and Reyes would add another leader to the locker room as well as a damn good football player.
32. New York Giants: OT Mike Adams, Ohio State
As the Super Bowl champs without many glaring needs, the Giants are in position to take the best player available. It wouldn't even shock me if they took Reyes, Devon Still or Jerel Worthy, and added to the best defensive line in football since the team is concerned about the future of DT Marvin Austin.
A sleeper at the 32nd pick could be Boise State RB Doug Martin. Brandon Jacobs has left for San Fran, and Ahmad Bradshaw has battled nagging injuries for the past couple years. There is a wide variety of opinion on Mike Adams, but he'd be a good value for the Giants at pick 32.
ROUND 2 (projected previous picks in parentheses)

33. St. Louis: RB Doug Martin, Boise State (WR Blackmon)
34. Indianapolis: TE Coby Fleener, Stanford (QB Luck)
35. Minnesota: CB Janoris Jenkins, North Alabama (OT Kalil)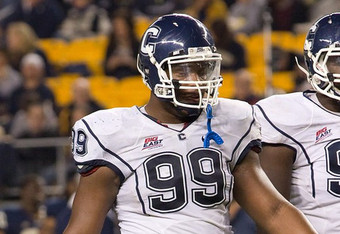 36. Tampa Bay: LB Lavonte David, Nebraska (From Washington) (CB Claiborne)
37. Cleveland: QB Brandon Weeden, Oklahoma State (RB Richardson, WR Wright)
38. Jacksonville: OT Bobby Massie, Ole Miss (DE Ingram)
39. St. Louis: DT Jerel Worthy, Michigan State (WR Blackmon, RB Martin)
40. Carolina: CB Brandon Boykin, Georgia (DE Coples)
41. Buffalo: OG Kevin Zeitler, Wisconsin (WR Floyd)
42. Miami: DE Chandler Jones, Syracuse (QB Tannehill
43. Seattle: WR Reuben Randle, Louisiana State (DB Barron)
44. Kansas City: OG Amini Silatolu, Midwestern State (ILB Kuechly)
45. Dallas: OLB Andre Branch, Clemson (DT Poe)
46. Philadelphia: LB Zach Brown, North Carolina (From Arizona) (DT Cox)
47. New York Jets: WR Alshon Jeffery, South Carolina (OG DeCastro)
48. New England: LB Bobby Wagner, Utah State (From Oakland) (CB Kirkpatrick, DT Reyes)
49. San Diego: OT Zebrie Sanders, Florida State (CB Kirkpatrick)
50 Chicago: DT Devon Still, Penn State (DE Mercilus)
51 Philadelphia: S Brandon Taylor, Louisiana State (DT Cox, LB Brown)
52. Tennessee: CB Josh Robinson, Central Florida (C Konz)
53. Cincinnati: RB David Wilson, Virginia Tech (OG Glenn, DE Upshaw)
54. Detroit: CB Trumaine Johnson, Montana (OT Martin)
55. Atlanta: DE Vinny Curry, Marshall
56. Pittsburgh: RB Lamar Miller, Miami (LB Hightower)
57. Denver: LB Mychal Kendricks, California (DT Brockers)
58. Houston: DE Derek Wolfe, Cincinnati (WR Hill)
59. Green Bay: RB Chris Polk, Washington (OLB McClellin)
60. Baltimore: OG Jeff Allen, Illinois (DB Smith)
61. San Francisco: TE Dwayne Allen, Clemson (OLB Perry)
62. New England: RB LaMichael James, Oregon (CB Kirkpatrick, DT Reyes, LB Wagner)
63. New York Giants: WR Brian Quick, Appalachian State (OT Adams)