Bryce Harper: 10 Hottest Updates, Stats and Notes from the Minors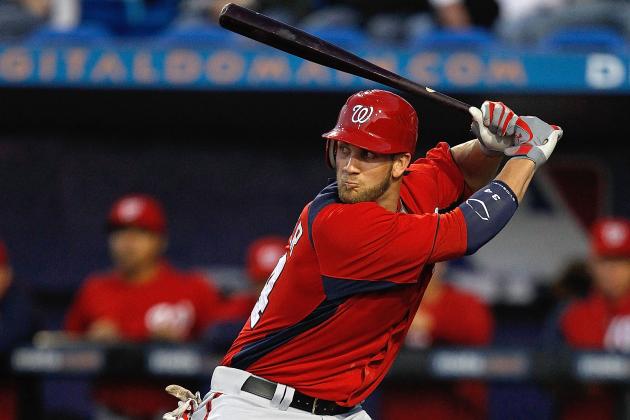 Sarah Glenn/Getty Images

Bryce Harper knows it is only a matter of time before he finds himself as a part of the 25-man roster for the Washington Nationals.
Harper has to work his way through Triple-A Syracuse before he takes on the task of trying to succeed at the major league level. His journey through Triple-A began on April 5.
Although he has not played for Syracuse for very long there is already a buzz throughout the organization and fanbase. Stories are produced daily on Harper's every move in Syracuse and fans are responding to every pitch that he sees on social media websites.
Harper was able to remain focused and did not become distracted by playing for Syracuse rather than Washington on Opening Day.
Begin Slideshow

»
Harper was 2-for-2 in his first two at-bats at Triple-A. He finished the game with those two hits, going 2-for-4 with a double, single, and a stolen base.
It was a good start to his minor league season but most importantly showed that he would not be distracted or demotivated by starting the year in the minor leagues. In fact, Harper is using the stint in Triple-A as a way to relax as he gets accustomed to playing every day.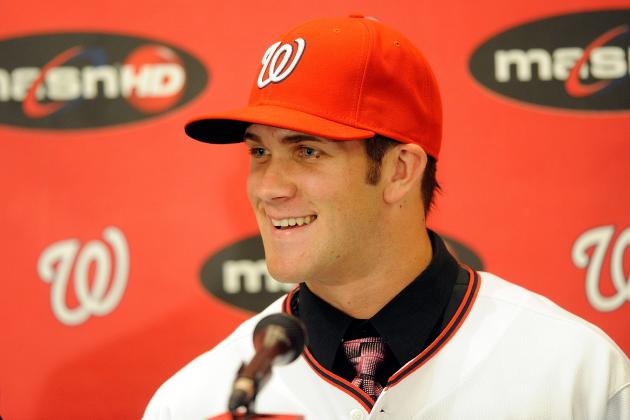 Greg Fiume/Getty Images

Harper is using the Triple-A experience as a lesson in relaxing and not trying to do too much. Harper told the Washington Post,
I think the best thing was me getting sent down to Triple-A and getting into that grind of playing everyday, and working in the cage and getting my routine back. When I was up [with the Nationals] I tried to work as hard as I could every single day, but I was still trying to...do way too much. Getting sent down made me calm down and stay within myself.
Although his numbers are not mind blowing, it is apparent that Harper is using this experience to grow and mature. He will be asked to do a lot once he is in the MLB so this experience will at least help him prepare mentally for playing every day.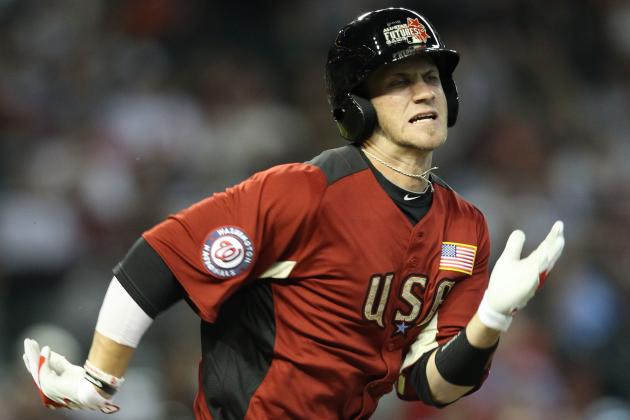 Christian Petersen/Getty Images

Harper has had decent numbers through his first six games for Syracuse.
He is hitting only .227 after a 1-for-4 night Wednesday. He has four singles, a double, and a triple so far on the season. He has knocked in one run, stolen one base, struck out six times while walking twice.
One trend that seems to continue is the lack of power since being promoted to Double-A and Triple-A. Perhaps it is the more complex pitches that he faces, but this is going to have to improve in the weeks and months to come.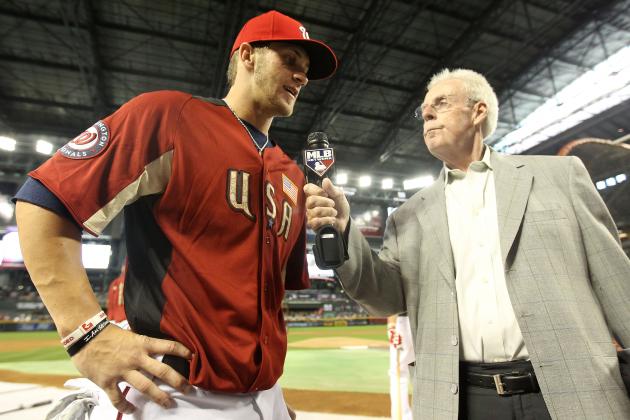 Christian Petersen/Getty Images

It did not take long for Nats fans to call for Harper's help. Washington came out with a win on Opening Day but their offense took a while to get going. This ignited Twitter as fans inexplicably grew impatient without Harper in the Nats' lineup.
A look at Twitter revealed their displeasure, here are a couple of tweets from Opening Day,
This offense looks pathetic. Bring #bryceharper up now! #nats#mlb#openingday

Between Werth and LaRoche, 10 LOB for the day. #bryceharper
Fans might be ready to see Harper in D.C. but for now he has to learn center field in Syracuse while keeping his corner outfield skills sharp.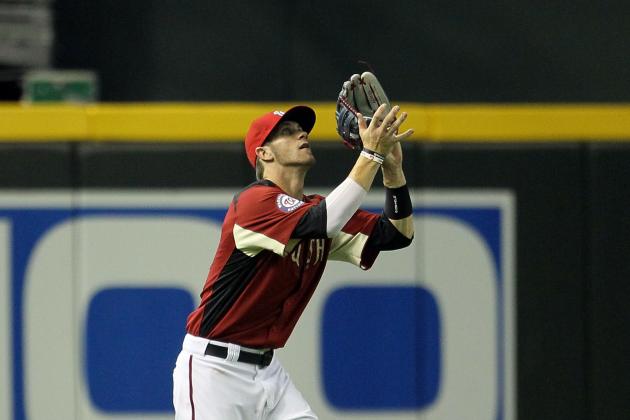 Jeff Gross/Getty Images

Gaining experience in center field was a reason for Harper being optioned to Syracuse. He began the first two games of the season in center but then switched to right for the following two games. It is interesting to note that the Nats are still interested in him playing the corner outfield as well as center.
Nationals Director of Player Development Doug Harris told the Washington Post, "He's going to play both...We play all of our guys all around the outfield."
GM Mike Rizzo spoke about the plan for Harper to play anywhere in the outfield, "We had it in the back of our minds all along that he was going to perform in all three outfield positions and we've done so since we've drafted him. He's played left, center and right."
The Nats are going to keep their options open for Harper to have the ability to have him play all over the outfield. The more versatile a player he becomes, the more valuable he will be to the Nationals in the long run.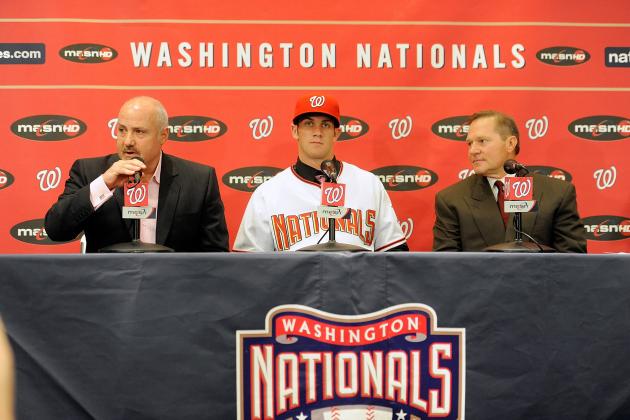 Greg Fiume/Getty Images

General Manager Mike Rizzo was asked if there was a chance that Harper would not make it to the big leagues this year. His response was lengthy as he covered all the possibilities,
Well, I mean, if he's not ready developmentally to come to the big leagues then he won't. We don't feel that that's the case. We feel that he's far enough along in his development where a few tweaks here and there, more at bats, log more games in center field that we feel that he will be major league ready, but yeah, I guess there's a chance that he won't get to the big leagues this year, I wouldn't go to Vegas and bet on it. But this guy's talent is so above and beyond that he's not your normal developmental schedule and the normal developmental player.
It appears that Rizzo is almost certain that he will be called up at some point this year but did not want to commit 100 percent. His answer made it clear that he would not be surprised if for some reason he did not adjust to Triple-A but is hopeful that he will become a well rounded player in Syracuse.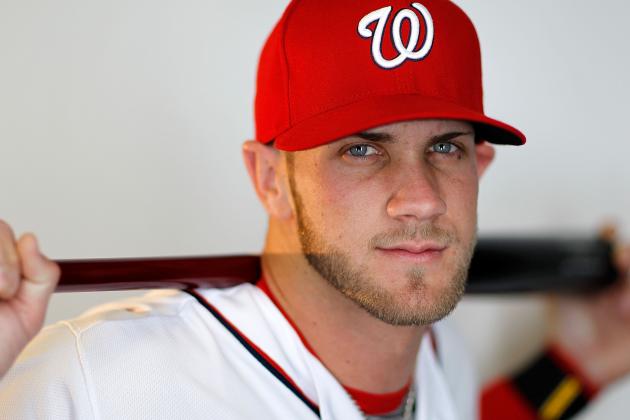 Mike Ehrmann/Getty Images

The Nationals were rumored to be interested in Chicago Cubs outfielder Marlon Byrd and the Cubs were supposedly interested in Nats' John Lannan. The similar contracts made a trade seem like a possibility. Washington seemed adamant that they were not going to make a deal and have held true to their words thus far.
This should leave fans hopeful that Bryce Harper will grace the Nationals at some point this season. If he was not expected to, a deal would have likely gotten done.
A Nats executive commented on the potential of a deal saying, "That one is ridiculous. We don't need another outfielder. We have Bryce Harper."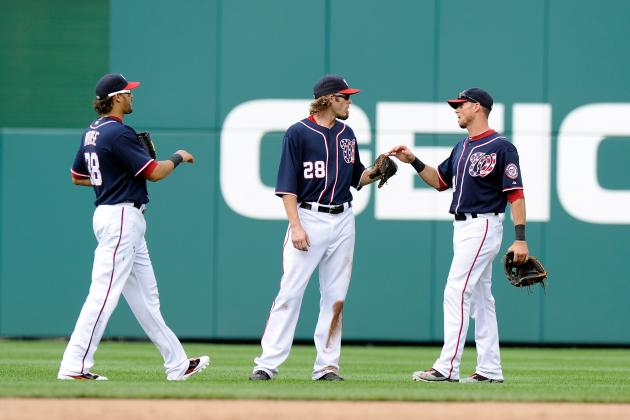 Greg Fiume/Getty Images
Morse and Ankiel have not been able to play any games for the Nats in the first week of the season.
The Nationals outfield is badly injured as the season begins to pick up steam. Michael Morse suffered a setback with his strained right lat and Rick Ankiel is still rehabbing in the minors.
With all of the injuries in the outfield it would seem that if the Nats had any intentions on bringing him up before the Super Two deadline, this what be a good time to do so.
They have not and presumably will not bring him up before the deadline in May or June. This tells us that the extra year of contract rights is more valuable than the beginning of this season for the Nats.
It certainly helps that while Washington is fighting through the injuries they are atop the NL East after the first week of the season.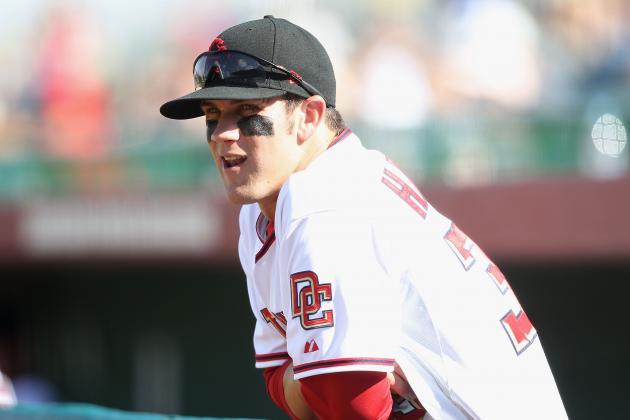 Christian Petersen/Getty Images

In a small sample against left-handed pitching going into Wednesday's game, Harper was only 1-for-7 with three strikeouts. This should be an area that Harper tries to work on in Syracuse. Major league lefties will destroy Harper if he can not handle them.
The Nationals will continue to monitor his struggles against lefties in the minors. It should be noted that the other side of this results in Harper tearing apart right-handed pitchers. He is hitting .417 against righties so far and has yet to strikeout.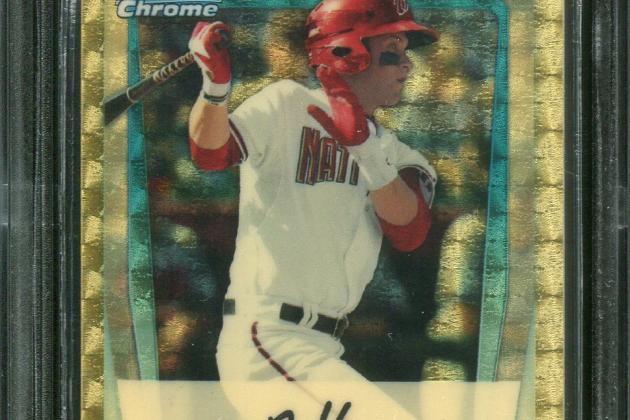 It's a nice looking card but is it worth $25,000?
Even though he is still in the minors, he will always be "The Phenom" and people will pay to have his memorabilia. There are two baseball cards on ebay.com that someone is hoping to make a ridiculous amount of money on.
The asking price for the first card is $15,000. The second one? That seller is looking for $25,000. I guess some Harper fans are going to have to weigh whether or not a baseball card or a new car is more valuable in their eyes.
The Nationals and their fans seem to know deep down that it is only a matter of time this season before "The Natural" is playing center field in D.C. For now we will keep an eye on him to watch his progress in Syracuse.
Nevertheless the hype will continue and fans will grow restless not seeing the future of the franchise in the MLB.