NHL Playoffs 2012: Stars Who Must Step Up in Pursuit of Stanley Cup
April 11, 2012

Christian Petersen/Getty Images
It's put-up-or-shut-up time in the NHL. The regular season accomplishments of every player and team are irrelevant now that the Stanley Cup is officially at stake.
These three stars, in particular, must take their respective games to the next level in the coming weeks if their teams are going to challenge for the most famous piece of hardware in professional sports.
Marian Gaborik, New York Rangers
The New York Rangers may be the top seed in the Eastern Conference, but they're not a perfect team by any stretch of the imagination.
Their defensive prowess and dominance in goal is complemented only by a shallow collection of forwards, among whom Marian Gaborik is easily the most prolific. The speedy Czech had a sensational bounce-back season for the Blueshirts, during which he piled up 41 goals and 35 assists.
Now comes the hard part—translating that success to the postseason. Gabby's managed 24 points in 34 career playoff games, 17 of which came amidst a run to the Western Conference Finals with the Minnesota Wild in 2003.
The Rangers will need Gabby to perform more like he did nine years ago, and less like he has in the 16 playoff skates since, if they're to bring Lord Stanley's silverware back to Madison Square Garden.
Ilya Kovalchuk, New Jersey Devils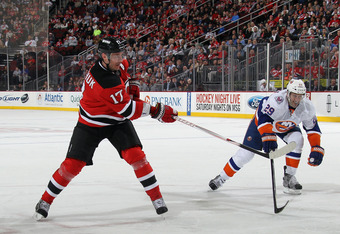 Bruce Bennett/Getty Images
Across the Hudson, the Devils could use a similar step up in performance from their own star, Ilya Kovalchuk. The temperamental 28-year-old has played with a newfound commitment to unselfishness of late in what's been his most productive campaign since the 2008-09 season.
Whether that uptick carries over to the playoffs is anybody's best guess. The rowdy Russian's played in all of nine postseason games in his career, though he's scrounged up eight points along the way. New Jersey's series against the Florida Panthers is a winnable one, though the Devils will need Kovalchuk to continue to contribute as he has if they're to help Martin Brodeur score another etching on the Stanley Cup.
Alexander Radulov, Nashville Predators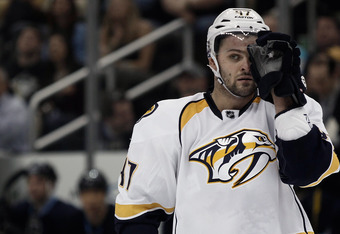 Jared Wickerham/Getty Images
Speaking of ostentatious sons of the former USSR, Alexander Radulov returned to the NHL this season with a reputation predicated on selfishness and a desire to do only what was most expedient for himself.
Not that professional athletes don't (or shouldn't) normally pursue whichever avenue is best for themselves, but there remains some question as to whether Radulov's repatriation was at all aimed at helping the Predators, to whom he returned, and not solely at boosting his own ego.
In any case, the former KHL star will have a golden opportunity to prove his doubters wrong by boosting Nashville to new heights and convincing star defensemen Ryan Suter and Shea Weber to stay in the Music City along the way.