MLB Trade Rumors: 10 Players Being Auditioned for Summer Deals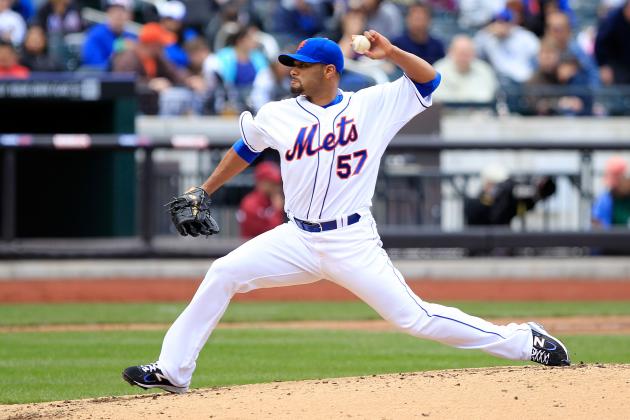 Chris Trotman/Getty Images
Johan Santana
The 10 players on this list are not necessarily bad players, they just need time to rebuild their trade value for potential summer deals.
Some are coming off injury-plagued 2011's, while others simply under-performed last season, but every player on this list has question marks and their value is not where it should be.
Whether they are on a team that will not be in the playoff race or they no longer have a prominent role on a contending team, here are 10 players that are being auditioned for summer deals.
Begin Slideshow

»
J. Meric/Getty Images
Phil Hughes
For Phil Hughes and his career on the New York Yankees, this is a make or break year.
With C.C. Sabathia, Hiroki Kuroda, Ivan Nova, Phil Hughes, Freddy Garcia already in the rotation and Michael Pineda and Andy Pettitte on the way, the Bombers have seven quality starters who would fit in the top three of most rotations throughout baseball when healthy.
Since Pettitte is rumored to be ready by May, the Yankees are showcasing Hughes for a month to regain his value from 2010. Just two years ago, he won 18 games and looked like a fixture in the Yanks rotation. However, after a dead-arm period in 2011, his value plummeted.
The injury to Pineda made the decision to start Hughes an easy one for the Yanks, but until both he and Pettitte are ready, he will likely stay in the rotation ahead of Garcia and Nova because the Yankees know he could be the centerpiece of a big deal if he resurrects his value.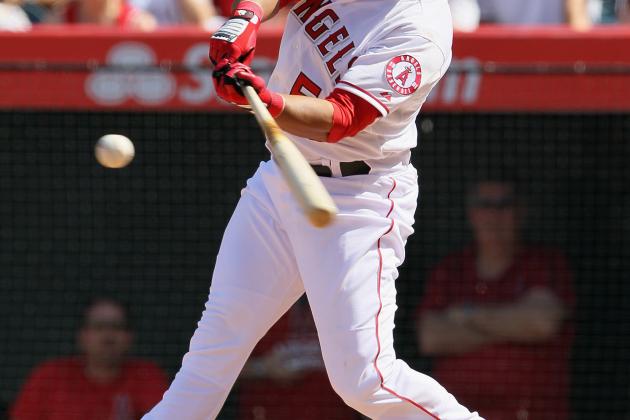 Jeff Gross/Getty Images
Bobby Abreu
Throughout spring training the Angels tried and failed to trade Abreu both because he was unhappy and his salary was too much.
With Mike Trout major-league ready at Triple-A and Peter Bourjos, Torii Hunter and Vernon Wells already in a crowded Angels outfield, the organization no longer needed Abreu's services and did everything they could do to get rid of him.
Abreu slugged only .365 last season, by far the worst mark of his career, but he was still a great on-base player with an OBP above .350 each of last 15 seasons.
Half the battle is already over for the Angels because teams have already expressed interest. With a little extra playing time, if Abreu can return to 2010 form for a little over two months, there will be more teams willing to pay that price.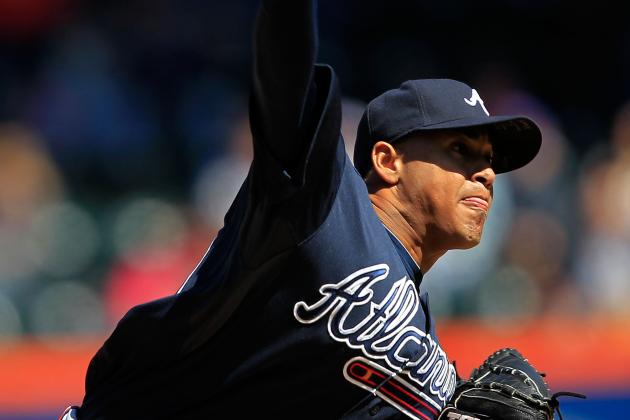 Chris Trotman/Getty Images
Jair Jurrjens
Jair Jurrjens had a great 2011 season in which he went 13-6 with a 2.96 ERA.
Why would a pitcher who has pitched so well be on the trade market and need three months to prove his value?
Injury concerns, injury concerns, and some more injury concerns.
With his health in question and the Braves' top pitching prospects in Triple-A, Jurrjens is a question mark. However, if he can prove his health and pitch with the same success that he had last season, Jurrjens would re-establish his value and the Braves would be able to deal him for a bat.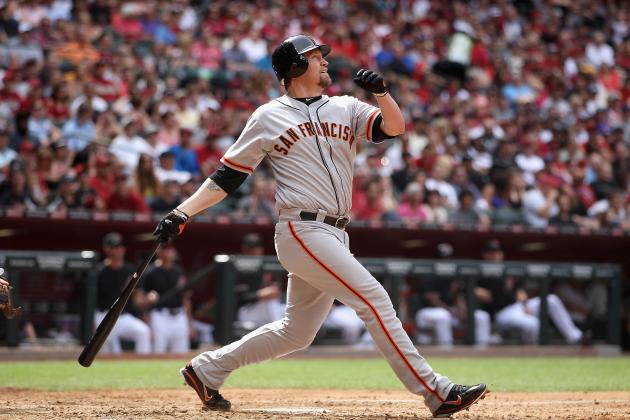 Christian Petersen/Getty Images
Aubrey Huff
After dominating Triple-A and essentially wasting a year of development bouncing between the minors and the Giants last season, Brandon Belt is finally the everyday first baseman in San Francisco.
The problem now becomes, what to do with Aubrey Huff.
Huff was not a good defensive first baseman to begin with, but as an outfielder he is an even bigger defensive liability. On top of that, last season as the Giants' regular first baseman Huff was terrible, hitting .246 which is the second lowest mark of his career.
However, throughout Huff's career, he has only been good every other season.
It does not make any sense, but if Huff can bounce back one final time, he can become a player the Giants use to help their lineup for the long-term.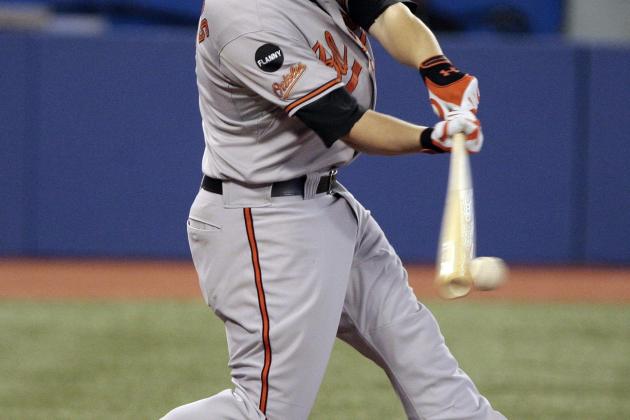 Abelimages/Getty Images
Mark Reynolds
According to CBSSports.com, as of March 23 the Orioles were trying to trade Mark Reynolds but could not find any takers.
However, even though he only hit .221 last season with 196 strikeouts, he still provided value with 37 home runs, drove in 86 and scored 84.
And there is hope for more.
Reynolds' career BABIP is .310 but last year it was down to .266. By letting him play, this trend will likely work itself out and with a little bit of luck, his batting average should jump 20-50 points.
For a team looking for a solid DH to add some pop in their lineup, Reynolds is already available.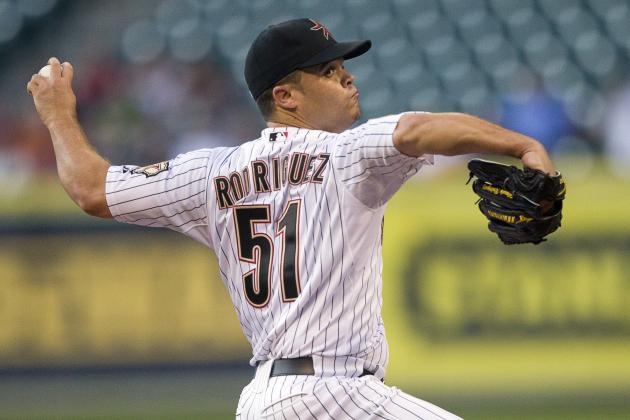 Bob Levey/Getty Images
Wandy Rodriguez
Wandy Rodriguez is the Astros' greatest movable asset heading into the summer.
A starting pitcher that can consistently provide 200 innings, double-digit wins and close to 200 strikeouts is incredibly valuable, it just so happens he has a contract that nobody wants.
According to FOXSports, the Red Sox monitored Rodriguez throughout the offseason but the Astros could not strike a deal with anyone because they were not willing to absorb a lot of his remaining $25.5million.
Every year there are contending teams that look to add starting pitching. As of now, it does not appear Rodriguez has a lot of value on the market, but with a couple of good months for Houston, he would become a pitcher other teams pursue.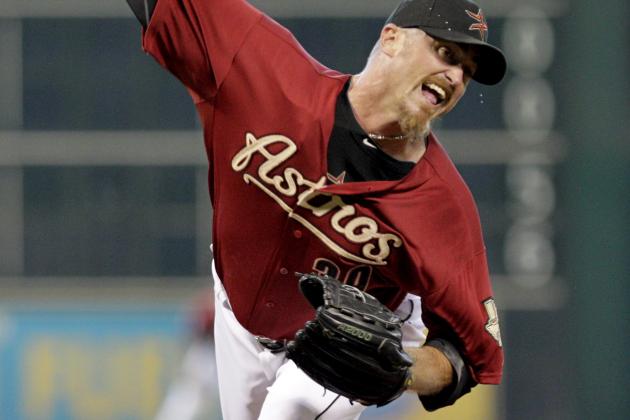 Thomas B. Shea/Getty Images
Brett Myers
I am not quite sure why the Astros made Brett Myers their closer.
Realistically, they had to know they were not going to win a lot of games this year so why would they limit Myers' trade value and cap his innings by making him their closer?
Some things we may never know.
While his value will not be as high as it should be, Myers still has value and Jayson Stark reported he was made available. With a couple of good months, his value will only go up.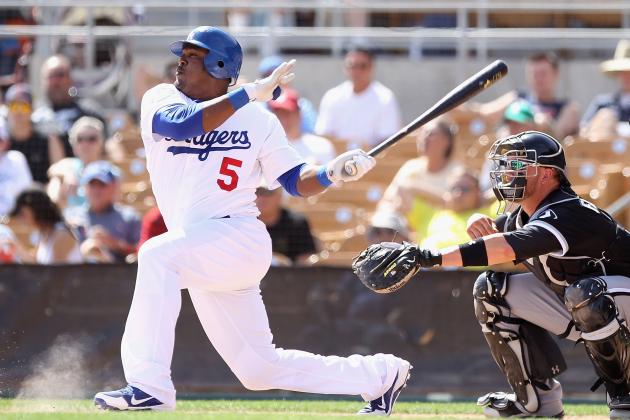 Christian Petersen/Getty Images
Juan Uribe
The Dodgers are hoping that with a little bit of playing time, Uribe can find himself again.
After a terrible 2011 where he hit .204 in 270 at-bats, Uribe snapped out of his 1-13 start in 2012 with a 3-3 effort on Tuesday. Even with that, he still has a long way to go before he regains his value from 2009-2010 when he was a pivotal role-player for the World Series winning Giants.
The odds are against the Dodgers competing into October this season, so while I will never count a team out, they would probably like to get out from under Uribe's contract. With $16 million owed to Uribe over the next two years, LA is going to give him as much playing time as possible hoping they can salvage this contract and deal him this summer.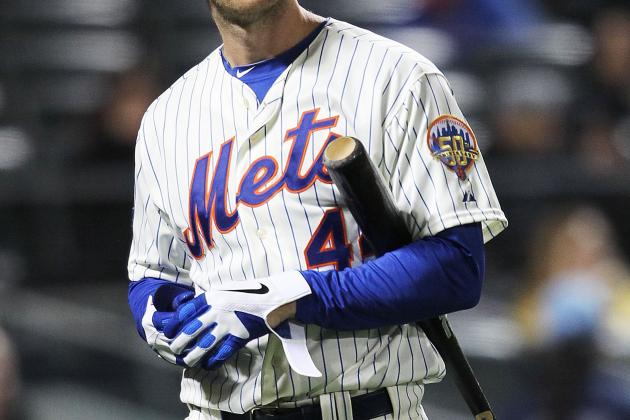 Nick Laham/Getty Images
Jason Bay
If Jason Bay continues to hit the way he has, if we can call that "hitting", even the Mets and their financial troubles may have to simply eat his contract and sit him on the bench.
With a .250 batting average to go with 18 total home runs in two-plus seasons as a Met, after seven straight years of 20 or more homers mind you, the Mets are going to do everything they can to help Bay find himself to build his value up by July.
At this point in his career a platoon may be best, but with the Mets looking to go young, they will look to sell high on Bay if he can find his swing.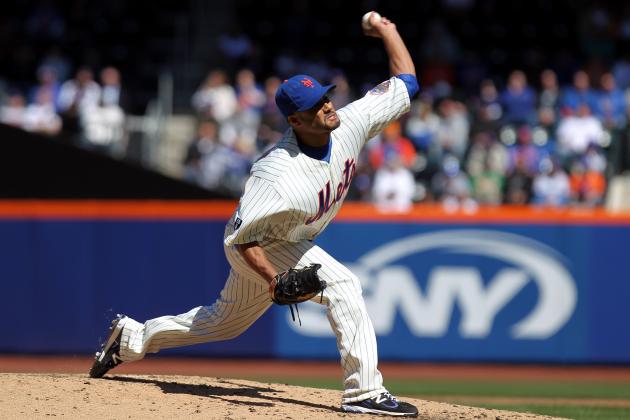 Nick Laham/Getty Images
Johan Santana
Santana is the perfect player for this list.
Before the year, Santana had an albatross contract with an even worse looking shoulder that no organization would even think about going near. However, after a solid spring and two pain-free starts to start the 2012 season, it looks as if he may have some value after all.
Santana and his troublesome shoulder is guaranteed $55M over the next two seasons. If Santana even comes close to the dominant pitcher he was from 2004-2008 and there are teams that inquire about his services, I believe Sandy Alderson and his staff would jump at the chance to trade him and sell-high on his value.