Nerlens Noel Continues to Grapple with Tremendous Decision Ahead of Judgment Day
April 11, 2012

Nerlens Noel is giving us a look at the anatomy of the biggest decision in his young life. 
The high school star from Tilton Prep is deciding where he will take his immense talent next year, and the world is waiting with bated breath. 
Say what you want about recruitment coverage, just know that it's not going anywhere. In fact, it will only get more intrusive and far more in depth. 
There is no bigger sign of this than the blog that this center phenom is keeping on ESPN. Noel is letting us all in on his thought process heading into Wednesday's start to the spring signing period. 
In a word, he is stumped.
Noel is a big man that can score and will haunt anyone that dare come easy through the paint. He is drawing comparisons to Anthony Davis, so it's fitting that Kentucky is one of the schools he is interested in attending. 
The Wildcats join Georgetown and Syracuse in the realm of consideration for Noel. 
In a perfect sign of the times, Noel gives a near up-to-date account of his thoughts before a day that is no doubt tremendous for this young man, and crucial to shaping the college basketball landscape next year.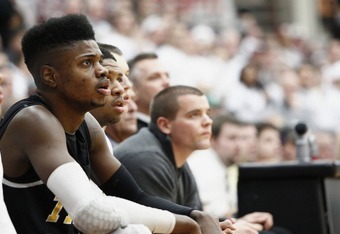 Here is some of what he had to write on his ESPN blog: 
On Syracuse: 
I look at Syracuse and I love the way that the coaches say they'll use me in their offense. I really like the family atmosphere there and I feel really comfortable there. Syracuse has been on me the longest of all three schools and that is big for me. 
On Georgetown: 
Then you've got Georgetown, and I really just like everything about them...I have to factor in what a school like that can do for me, even away from being a basketball player. It's just a great school and they have a history of developing big men. Georgetown is definitely a great option for me. 
On Kentucky: 
Of course they're coming off the national championship, but I'd look more at how I'd be able to fit in and how I'd be used there. I'd factor in what my role would be offensively, like Anthony Davis with a lot of lobs and catching it at the high post and things like that. Defensively, I think it'll take care of itself. 
You would have to try hard to find three more prestigious programs from both a basketball and academic standpoint. 
Wherever Nerlens Noel decides to go, he will be in good hands. 
This only goes to show how exhausting a decision like this might be. Each campus must pull at various aspects of his character in some way. 
For fans, he will have a huge say in how the next season pans out. Noel is that good of a player. 
If he signs for Kentucky, they are a contender to repeat with a national championship, and with a similar formula of a big man in the middle that can dominate each and every game. 
One team is about to get a whole lot richer in terms of talent, but first comes the biggest decision of a young man's life.