Here's 1 Key for Los Angeles to Beat Vancouver, and It's a Quick One!
April 10, 2012
The 2005 NHL Draft is one that will be remembered mostly for Sid the Kid, who has done everything we knew he was capable of. Most people know about No. 87 and his accomplishments. Seventy-one spots later in that same draft came someone who is really starting to make a name for himself in a market where nothing freezes naturally for the most part. People are more likely to die from over-tanning than from frost bite. 
That franchise is the Los Angeles Kings. Most residents in Los Angeles didn't realize there was a hockey team prior to August 9th, 1988 (Gretzky traded to LA). Not only was there a team, they had a decent but not so storied history with some bright spots (Triple Crown Line, Miracle on Manchester, etc.) .
In the history of the Kings, the goalie position has been filled by numerous players. The only real significant man to don the Crown on his chest is the same one whose sweater is retired and hanging in the rafters of Staples Center, No. 30, Rogie Vachon. There have been some other good goaltenders— Kelly Hrudey, Felix Potvin, Jamie Storr, etc— but the Kings found greatness when they drafted Mr. Quick. 
To say they knew what they had when they drafted Quick would be a bit of a reach. There were a total of four goaltenders taken ahead of him in that year's draft. I believe it's safe to say if the draft was held today, none of the others would have been drafted ahead of him. Not even Carey Price in Montreal.   
I think it's fair to say Quick is the best goalie playing in the western half of North America at this point in time. He just finished the year leading the NHL in shutouts with 10, and recorded a .929 save percentage on a team that was close to dead last in scoring for most of the year. That means he won a lot of games on his own. 
Prior to Quick, the Kings historically won in spite of poor goaltending.  Based on numbers alone, Quick will be a finalist for the Vezina (best goaltender) this year and should be in the discussion for the Hart considering that Henrik Lundqvist is a name being mentioned for that award (Lundqvist plays on a team that is better at scoring in front of him).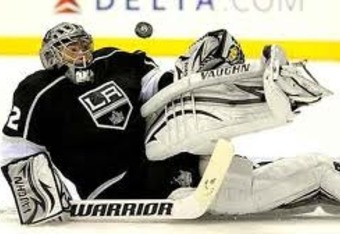 It's been said that Quick is a humble, competitive guy. He gives credit to his teammates when they win and takes the blame when they lose. Quick is actually a goaltender that is one of the normal guys on the team. Most goalies are like kickers on football teams. They are an important part and are needed to win, but they don't always fit in (See the HBO show 24/7 and watch the segment about Brz if you want evidence). Quick fits in and is loved by his teammates. 
Quick is still young and has a potentially long career ahead of him. He has already represented his country on the 2010 Olympic team even though he was overshadowed by Tim Thomas and Ryan Miller that year. If the NHL players go to Russia in 2014, I would wager a bet that Quick will be starting between the pipes for the Red, White and Blue. Quick was an All-Star for the first time this season and was selected early in the team-selection process.
The Kings draw the President's Trophy Winner in the first round this year. That is the same team that was one game short of drinking from the Cup last year, the Vancouver Canucks. 
What is the key to the Kings and Quick to make it out of the first round? That's an easy one: Quick to be Quick. When he's on, he's almost unbeatable. Yes, Quick will need to stand on his head behind his team to get the Kings out of the first round. 
The Kings have never won a Cup in their history. Heck they have only been past the second round once in their history, 1993. Since Rogie, the Kings have not had a goalie that could carry the team, until now.  Can Quick do it? Yes he can. 
The first step that he needs to take is Wednesday night in Vancouver. Shut out the Canucks and quiet the fans in the Pacific Northwest.
As a lifelong Kings fan I have one thing to say about Quick. I've said this to my hockey loving friends: When it is all said and done and Quick is rocking his grand kids on his knee, I think he will be referred to as one of, if not the greatest, American-born goaltender of all time.