10 Biggest Panic Moves in NFL History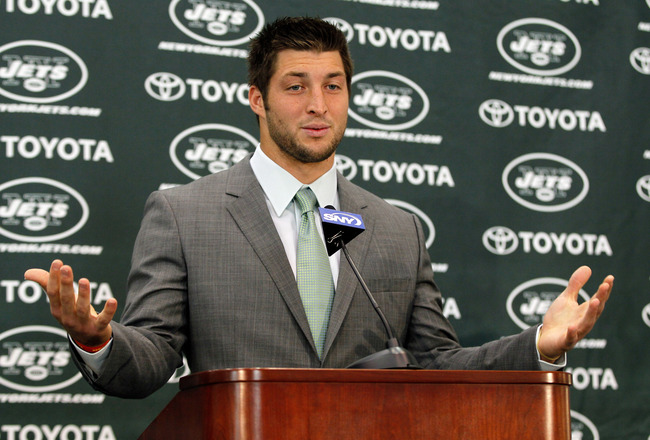 Mike Stobe/Getty Images
In sports, perhaps the worst thing that can be said about a team, a coach or a player is that they panicked.
The word itself conjures up the image of fear, or nerves or uneasiness—three things no team wants to admit to when so much is on the line.
But panic certainly does creep into sports teams and throughout NFL history (especially recent NFL history) teams have succumbed to the ugly "p-word."
And while panic has created bad moves in all phases of the sport—such as on the field decisions or the firing of head coaches—the worst such instances come via player personnel.
Whether it's free agency, trades or cuts, these are the 10 worst cases of front office roster panic.
No. 10: Denver Broncos Trade Tim Tebow
Mike Stobe/Getty Images
When: March 2012
In the modern NFL—let's quantify that as the last ten years—the media, public reaction and the mythical "locker room distraction" have forced a handful of panicked front office decisions. Between Twitter, Facebook and the internet in general, the general public's imagination can run wild and cause nightmares for teams.
The recent Peyton Manning/Tim Tebow/Mark Sanchez game of musical chairs is the best example.
Obviously Tim Tebow can't hold a candle to Peyton Manning in terms of pure quarterback play; even a Manning of questionably health is a far better bet than Tebow. But that doesn't mean the two couldn't coexist, and Tebow couldn't have learned from Manning.
But John Elway, John Fox and the entire Broncos organization knew that keeping Tebow on the bench could be a major headache and unloaded him to the first team willing to pony up a decent draft pick. In the end, I think it's a move that they will regret, regardless of whether or not Manning returns to top form and leads Denver to the promised land; how much more time does Manning have even if he wasn't injured all last year?
And in case that's not a good enough argument for you, we can always flip to the other side of the deal. The Jets very well may have panicked—following a bad season in 2011 and under-production from Mark Sanchez—in acquiring Tebow from Denver.
No. 9: Dallas Cowboys Trade for Roy Williams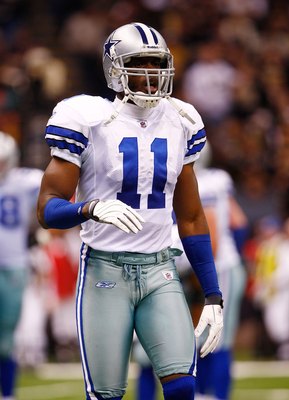 Scott Halleran/Getty Images
When: October 2008
With Terrell Owens approaching 35 years of age and T.O.'s penchant for wearing out his welcome, the Cowboys were probably right to seek out a young wide receiver who Tony Romo could trust and depend on.
Based on one fine season in woeful Detroit, great size and tremendous speed, Roy Williams became the ideal candidate for Jerry Jones in 2008.
So rather than wait and risk him hitting the open market as a free agent, Dallas panicked and gave the Lions four draft choices (a first, third, sixth and seventh) in exchange for Williams.
That move (nor the enormous extension they gave him after the trade) didn't work out; his productivity dipped and was released after two-and-a-half seasons.
No. 8: Minnesota Vikings Draft Troy Williamson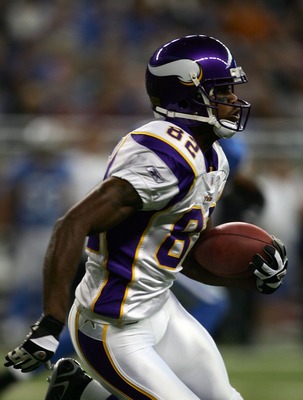 Harry How/Getty Images
When: April 2005
Maybe unloading the disgruntled, recently-admitted lazy and unmotivated Randy Moss was a good decision for Minnesota in the spring of 2005. Maybe it wasn't considering the career resurgence he enjoyed in New England a few years later. But regardless, the Vikings front office blew all their capital that spring when they showed no patience in finding Moss's successor.
For Moss, the Raiders gave Minnesota linebacker Napolean Harris and a seventh overall choice, which they promptly used to take South Carolina's speedy wide receiver Troy Williamson.
The transition from Moss to Williamson was hardly seamless. Williamson lasted just three seasons and caught only 79 passes in 39 games.
Just because the Vikings needed a wide receiver to replace Moss doesn't mean they had to spend their first choice on the first one to come through.
No. 7: Los Angeles Rams Trade Eric Dickerson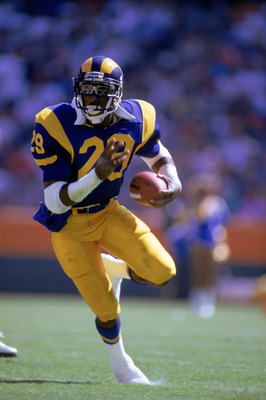 Mike Powell/Getty Images
When: November 1987
Although the one involving another tremendous running back (Herschel Walker) is better remembered, the three-way move between Buffalo, Indianapolis and the Rams was arguably the most momentous trade in NFL history.
The Rams had a disgruntled (yet historic) running back in Eric Dickerson, the Colts had an unhappy second-overall draft choice in Cornelius Bennett and the Bills had a reasonably unhappy running back in Greg Bell.
The solution: musical chairs.
Dickerson wound up in Indy, Bennett wound up in Buffalo and Bell (along with several draft picks) wound up in LA.
But the Rams ultimately got the short end of the deal: They gave up one of the greatest players in team history and a running back who repeatedly rewrote the record books for comparatively little.
Maybe Dickerson and the Rams would never have come to an agreement on a contract, the reason Dickerson was so unhappy in LA. But they panicked as the trade deadline approached in 1987 and both Indy and Buffalo knew they were desperate. And they ended up getting the short end of the deal.
No. 6: Baltimore Ravens Sign Elvis Grbac
Eliot J. Schechter/Getty Images
When: March 2001
It's not terrible logic: If you win the Super Bowl with a subpar offense—one that features (at best) an average quarterback in Trent Dilfer—then by adding a pro bowl quarterback in Elvis Grbac a dynasty should ensue.
Baltimore's front office panicked by letting Dilfer walk, signing Grbac to a huge deal and expecting the instant switch would lead to even greater success.
It didn't quite work out that way: Grbac only played one more season in which he threw more picks than touchdowns, and despite that historic defense coming back for another season Baltimore was bounced from the postseason in the divisional round.
Sometimes, panic manifests itself by not keeping the status quo.
No. 5: Oakland Raiders Trade for Carson Palmer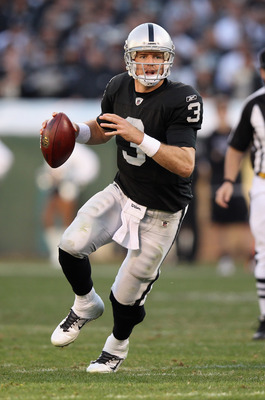 Ezra Shaw/Getty Images
When: October 2011
Jason Campbell was never considered a savior, a franchise centerpiece or even a "good" quarterback in Oakland. Yet when he went down with a broken collarbone in Week 6 of the 2011 season the Raiders front office panicked.
They saw they had a good team capable of winning a mediocre division and did what they do best: Deal away first-round draft choices.
With Carson Palmer unhappy in Cincinnati and sitting out the entire 2011 season, the Raiders sent the Bengals a first rounder (with the possibility of another first rounder the following spring) in exchange for the former USC star.
Only time will tell whether or not this was a "bad" move by Oakland: One-half season isn't enough of a measuring stick. But considering the fact that Campbell was declared out for the entire season on a Monday and the Raiders ponied up a ransom for Palmer on that Wednesday does suggest it was a panic move.
No. 4: San Francisco 49ers Draft Jim Druckenmiller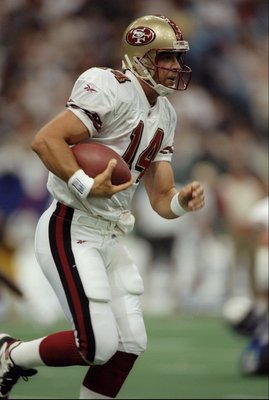 Otto Greule Jr/Getty Images
When: April 1997
Given the fact that for over 15 consecutive seasons the 49ers had truly great, even historic play at quarterback (Steve Young and Joe Montana producing five Super Bowl titles, four NFL MVPs and 13 pro bowl selections between 1981 and 1997) it's understandable that San Francisco's front office panicked on draft day in 1997.
With Montana long since out of the Bay Area and Steve Young approaching 36 years of age (not to mention his concussion concerns), San Francisco needed to prepare for the future.
And despite a very weak crop of quarterbacks, they chose to find that future in the 1997 NFL Draft via Jim Druckenmiller.
The former Virginia Tech Hokie had great strength and size, but he lacked any of the ideal attributes of a West Coast offense quarterback.
Druckenmiller was gone after just two seasons.
No. 3: Los Angeles Rams Trade Norm Van Brocklin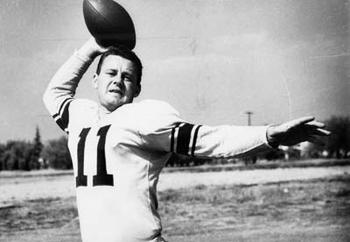 When: May 1958
Van Brocklin was a legend in Los Angeles: a perennial Pro Bowler and the man who threw the winning touchdown pass in the 1951 NFL Championship game.
But his numbers and production started to dip in the later part of the decade. He threw six picks in the team's embarrassing 1955 playoff loss to Cleveland, failed to lead the Rams to even a winning record the next two years and led the NFL in interceptions in 1957.
So in May of 1958 the Rams traded away the 32-year-old Dutchman in order to pave the way for their former first overall draft choice, Billy Wade.
The results of that panicked move? Van Brocklin returned to top form, ultimately leading the Philadelphia Eagles to the 1960 NFL Championship.
The Rams—eager and impatient to begin a "new era"—panicked when they made this trade that clearly did nothing to improve the club.
No. 2: Minnesota Vikings Trade for Herschel Walker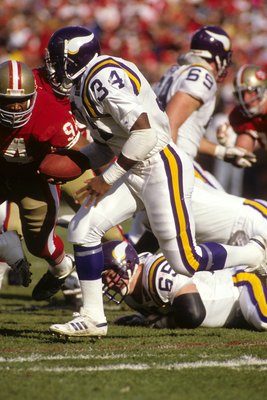 George Rose/Getty Images
When: October 1989
When this trade—the most famous and impactful in NFL history—happened critics pointed to the Cowboys as the side that panicked. At 0-8, they were in a tail spin following the firing of Tom Landry when rookie head coach Jimmy Johnson took inventory of his team and dealt away his best player, running back Herschel Walker.
But in truth, it was the Vikings who panicked.
Minnesota had a fantastic defense, one of the best in the NFL. And with Anthony Carter they had a tremendous playmaker. All they seemingly needed to be a Super Bowl threat—amidst an absolutely stacked NFC—was a great running back. They thought they found one in Walker and agreed to give away a handful of NFL players and a boatload of high draft choices.
You know the rest. Dallas used that ransom to build a dynasty that won three Super Bowls in four years, while Minnesota failed to win a single playoff game for the next eight years.
But that's not how Minnesota panicked. Giving up tons of players and/or draft picks essentially for one player—putting all your eggs in one basket—is a desperate move that doesn't work out.
Too bad Mike Ditka didn't learn that lesson.....
No. 1: New Orleans Saints Trade for Ricky Williams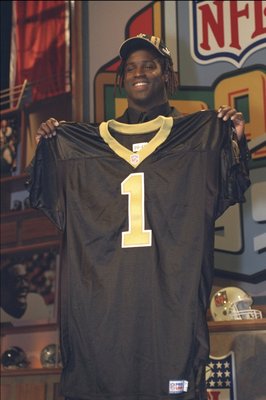 Ezra Shaw/Getty Images
When: April 1999
Ten years after the Vikings gave up an unthinkable amount for a top notch, historic college star, the Saints did the same thing. With similarly mediocre results.
In 1999, Mike Ditka and the Saints traded the Washington Redskins their entire draft class to move up seven places and select the Heisman Trophy-winning running back, Ricky Williams.
The move didn't save Ditka's job—he was fired the following winter—and the Saints didn't show any improvement.
But—as I've tried to explain throughout this list—losses, turnovers and poor play in general don't necessarily mean a "panicked decision."
Nevertheless, this move certainly was one and not just because Ditka and general manger Bil Kuharich were fighting for their jobs.
No, instead this was a panicked decision because it was made right before the draft, when it became clear that the Colts would take the "other" star runner in the draft, Miami's Edgerrin James and unless the Saints moved up from the 12th spot, they might miss out on a running back.
That fear prompted the Saints to mortgage the future to avoid that avoid being left empty-handed: That's panic.
Keep Reading