2012 NFL Draft: Protecting Eli Must Be No. 1 Priority for the Giants
April 12, 2012

Andy Lyons/Getty Images
During the 2011 season, the Super Bowl-winning New York Giants boasted a top 10 offense that was eighth in the league in yards per game and ninth in points scored per game.
However, that does not mean life was easy for Eli Manning.
Tackles David Diehl and Kareem McKenzie were some of the worst in the league at pass blocking, and Manning spent most of his time scrambling to avoid the pass rush.
Center David Baas also struggled in pass protection, and though Chris Snee maintained his solid play at right guard, the left guard position was shared by Diehl, Mitch Petrus and Kevin Boothe. None being particularly commendable in pass blocking.
Despite all the line woes, Manning still managed to have a career year, due to his ability to scramble and get the ball out of his hands quickly.
But he took many unnecessary hits, and it is clear that the offensive line must be upgraded. Jerry Reese and the Giants must go into the 2012 NFL draft with the intent to shore up Eli's protection. Luckily, there are many prospects that may help them address that need.
Bobby Massie, Ole Miss
Bobby Massie played right tackle at Ole Miss, even though he was a better player than left tackle Bradley Sowell.
And he looks like he will be a solid right tackle in the NFL as well. The Giants have already made it clear that they will not retain Kareem McKenzie, so if Massie falls to New York in the second round, they would have a hard time not taking him.
Massie is an all-around prospect, with no elite skills in any areas but also no glaring flaws. While he doesn't look like he will be a top-notch starter in the NFL, he will certainly be a serviceable right tackle who can step in right away and protect Manning.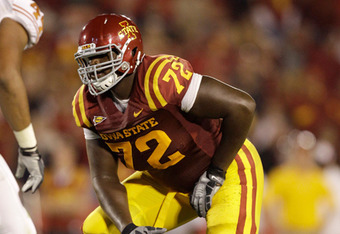 Kelechi Osemele, Iowa State
Kelechi Osemele played left tackle, but he is one of the best athletes at offensive line in the draft.
His athleticism allows him to be able to play tackle, center or guard, and he is exactly the kind of prospect Jerry Reese would like—one with physical ability and no obvious flaws in his game.
He blocks for the run and the pass extremely well, and he looks like he could start at center, guard or right tackle for the Giants. They would almost surely have to use their first-round pick to get him, but he could be well worth the selection.
Riley Reiff, Iowa
To take Riley Reiff, the second best offensive lineman in the draft, the Giants would have to trade up.
And while GM Jerry Reese generally doesn't like to do that, trying to secure Reiff makes more sense than one might think. According to an unnamed NFL executive, half of the top 10 are considering trading down.
Obviously, the opportunity to trade up exists, and with five teams looking to trade down, the price may not be that bad.
The Giants addressed a need at linebacker by trading for Keith Rivers, and that move frees them up to look for offensive linemen early in the draft. They desperately need a solid left tackle, and Reiff is an exceptional pass and run blocker.
Jerry Reese certainly should consider the idea of reaching for Reiff.