Ohio State Football: Grading Each Unit, Spring Edition
Two weeks of practice are in the books for the Ohio State football team as the Buckeyes transition to a new coaching staff and their philosophies. Early observations from the practices show that the defense is far ahead of the offense, as they are still trying to learn the new offensive style.
This should not surprise anyone as the defense is running a similar system that has been used in years past. Meanwhile, a complete overhaul of the offensive playbook is currently taking place, which is giving the offensive players a bit of a struggle. The offense still has a number of practices to help digest the new system and are improving after the completion of each practice.
With the spring game a little more than a week away, here are the grades for each unit since the 2012 practice season began.
Begin Slideshow

»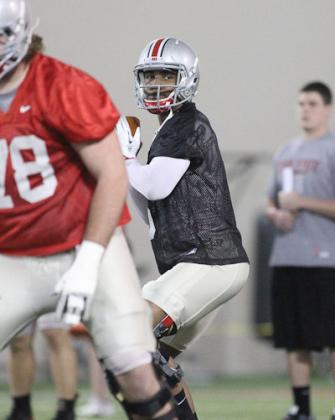 The quarterbacks have had an intense learning curve this spring as their roles have drastically changed from previous years. Learning the new playbook has been a little bit of a struggle as the coaches have had to slow down the installation of the new offense.
Braxton Miller is the clear No. 1 quarterback on the depth chart and has shown an improvement in his throwing accuracy. The sophomore has also gained some weight, adding 10 pounds from the end of last season. He still has the agility and speed he displayed last year with the weight gain, which is actually a welcoming sight as Miller will likely take more hits as he will be expected to run more in this offense. Miller has also been seen a lot more vocal with his teammates, proving he can become a leader on this team.
Offensive coordinator Tom Herman has been impressed with Miller so far, but has stressed he still has some work to do. Herman stated, "He throws the ball better than maybe I had anticipated. But I think he's got some definite refinement to do in terms of his lower body mechanics. I think his feet are all over the place at times, but the ball comes out nice and smooth and his delivery is actually better than I had anticipated."
The Buckeye quarterbacks will continue to struggle at times while they learn the new offense but the coaching staff will help speed up that process. They are very talented quarterbacks and once they learn the system, will become very dangerous weapons.
Grade: C+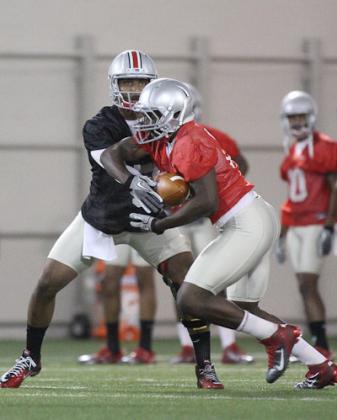 The running backs have been impressive so far this spring and the group has shown to be the strength on the offensive side of the ball in the practices.
Carlos Hyde has seen the most time with the first-team offense with Jordan Hall seeing a lot of time as well. Hyde has been very aggressive when the pads are put on and has been the toughest guy to bring down. Hall has been used in the slot in some formations, which can utilize his receiving skills.
Both Rod Smith and Brionte Dunn are showing improvement and will add some depth to the position. Hyde and Hall are expected to be the rushing two-headed monster once the season begins and fullback Zach Boren will be a key component for the offense.
Grade: B+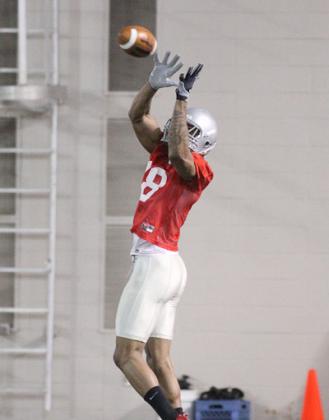 The receiving corps is a young, yet talented, group that will have to show great improvements from what fans saw last year. Urban Meyer will also be looking for the dynamic playmaker out of this group.
Tight end Jake Stoneburner has been the most impressive this spring and is catching everything that comes near him. With the tight ends being used a lot more in the receiving game in this system, this is a great sign for the Buckeyes. In fact, Stoneburner has been noted working out with the wide receivers instead of the tight ends in practice.
Another impressive wideout that came out of nowhere is Tyrone (T.Y.) Williams. The redshirt sophomore had a difficult time last year holding on to the ball but has been fantastic so far in practice snatching balls out of the air with almost no drops.
Urban Meyer has said that Evan Spencer has been the most consistent receiver so far. There were rumors that WR Chris Fields had quit the team after a shouting match with a coach in practice, but that seems to be a past incident as Fields has returned to the team.
Grade: B-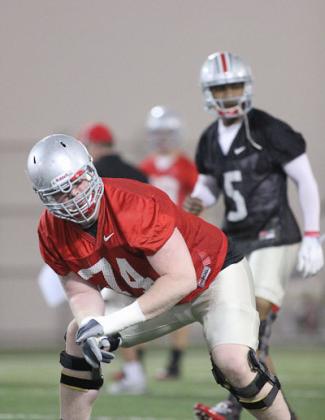 A lot of new faces will be seen this year on the offensive line as Ohio State lost three starters from the O-line from 2011. This unit is the biggest weakness so far this spring and Urban Meyer has shown some concern. Meyer has said that they do not have any tackles at this point and the second-string players are a "problem."
Right now the first-team offensive line consists of Jack Mewhort at left tackle, Andrew Norwell at left guard, Corey Lindsay at center, Marcus Hall at right guard and Reid Fragel at right tackle.
This group has been man-handled by OSU's defensive line in each practice and scrimmage. The offensive line is obviously very inexperienced and will need to improve drastically before the season begins in order to keep Braxton Miller upright.
One positive note is that they face perhaps one of the best defensive lines in the nation. So if they can block them, they can block just about anybody.
Grade: D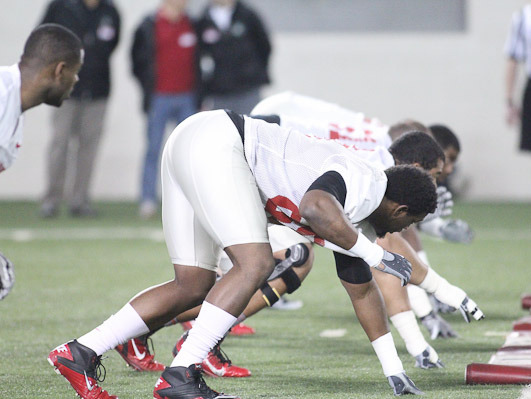 The Buckeye defensive line has been setting the standard of excellence in spring practice. They have been giving the offensive unit fits by constantly breaking into the backfield. They are going up against an inexperienced and limited offensive line, but do not let that mislead your perception of how good this unit actually is.
The defensive line will be the anchor of the defense this year with senior John Simon and junior Johnathon Hankins leading the way. These two players have impressed Urban Meyer in every practice so far. Meyer stated, "There are two guys really disrupting things, and they are Simon and Hankins."
The defensive line will only become stronger once Nathan Williams returns from his injury that resulted in him getting a medical redshirt last year. He has been limited in practices so far and should be 100 percent before the season starts.
Grade: A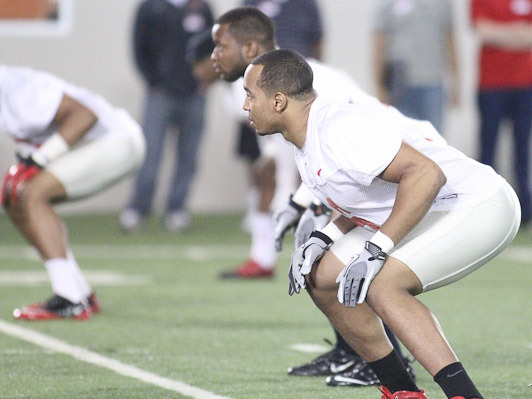 Luke Fickell has control of the linebacker corps and has been impressed with what he has seen this spring. The projected starters all saw a lot of playing time last season and can build off that to continue to improve in 2012. Seniors Storm Klein and Etienne Sabino are expected to be lined up with sophomore Ryan Shazier in the starting lineup with sophomore Curtis Grant as a solid backup.
The linebacker does not have a lot of depth, but Fickell believes that the extra repetitions will help the current players. Fickell stated, "We don't have a ton of guys, so guys are going to get a lot of reps. But that's good. That's what they need."
Shazier and Sabino have been displaying great speed on the outside and Grant has been stopping the runs up the middle. This group should be much-improved from last year and along with the defensive line will form a phenomenal front seven.
Grade: B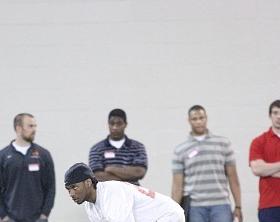 The secondary at Ohio State has its third coach since Urban Meyer was hired last fall. Taver Johnson was going to be retained on Meyer's staff, but he decided to go to Arkansas. After Johnson's departure, Meyer hired Bill Sheridan as the secondary coach. This move was short-lived as Sheridan left to take the defensive coordinator position for the Tampa Bay Buccaneers.
Now the reins have been handed to Kerry Coombs, who was hired from Cincinnati. Coombs has been the loudest coach in practices and is not afraid to raise his voice at the players.
Travis Howard and Bradley Roby are expected to be the starters at both corners while C.J. Barnett, Orhian Johnson and Christian Bryant will see a lot of time at the safety positions. This group has been consistent and fast, rarely getting beat deep. They have been tackling well and are very physical upfront against the receivers. The Ohio State coaches are still trying to figure out who will be the third cornerback, but it seems Doran Grant may have locked that position up.
Grade: B+