10 Keys for the OKC Thunder Heading into the Playoffs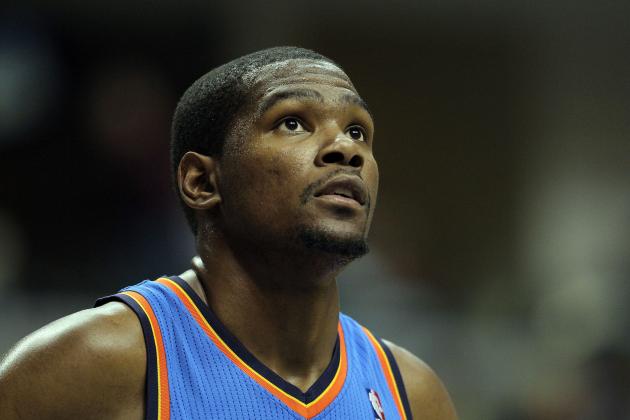 Andy Lyons/Getty Images

The Oklahoma City Thunder have regained the edge in the Western Conference for the No. 1 seed over the San Antonio Spurs. After a three-game losing streak, they are now back to playing some of the best basketball in the NBA.
With just 10 games left in the season, every NBA playoff team, including the Thunder, is fine-tuning itself in preparation for the first round of the playoffs. That first round isn't far away.
Here are 10 keys for the Thunder to focus on leading up to the playoffs.
Begin Slideshow

»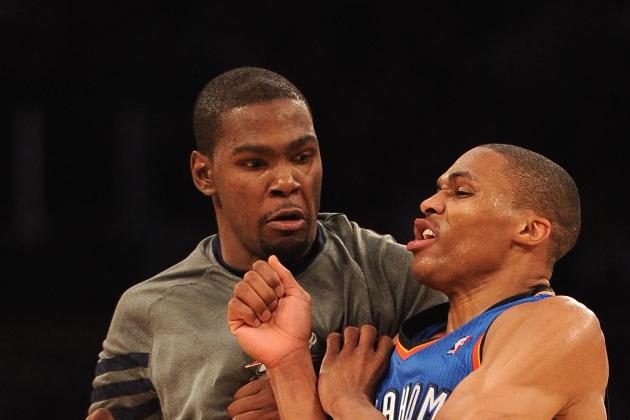 Harry How/Getty Images

When you have a team that depends so much on two players, it is extremely important to keep those two players healthy.
Kevin Durant and Russell Westbrook are both obvious superstars, and each has to carry the team on its back at times when others' shots aren't falling. Losing even one of them to injury would be a disaster that the Thunder might not be able to recover from.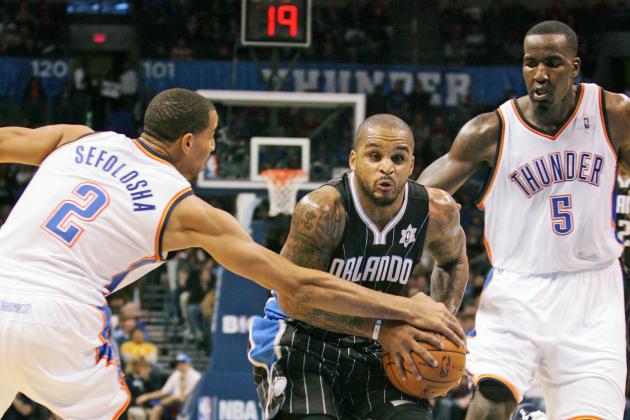 Brett Deering/Getty Images

In the playoffs, defense is the key to winning. The Thunder have shown the ability at times to play championship-caliber defense.
In their first matchup against the Miami Heat, they played tremendous defense and shut down a team that has LeBron James, Dwyane Wade and Chris Bosh. That alone shows that this team can be an elite defensive team when it wants to be.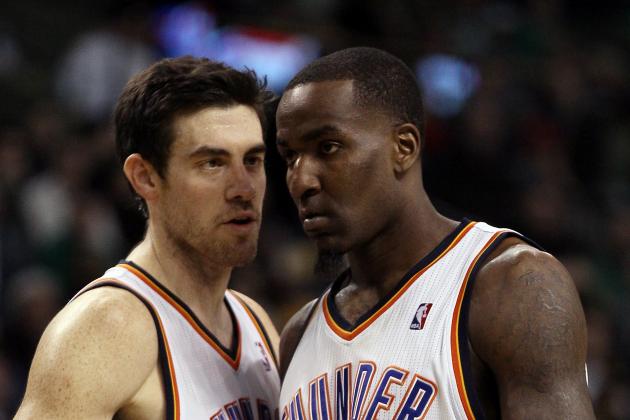 Elsa/Getty Images

This season, the Thunder bench has been one of the best in the NBA. Led by James Harden, the unit consists of Nick Collison, Thabo Sefolosha, Derek Fisher and Nazr Mohammed and is an advantage over most other NBA teams.
However, there have been games when the bench has not been able to get much in the way of production. The bench's play will be one of the X-factors for this team in the postseason, and it should be something the Thunder are constantly fine-tuning.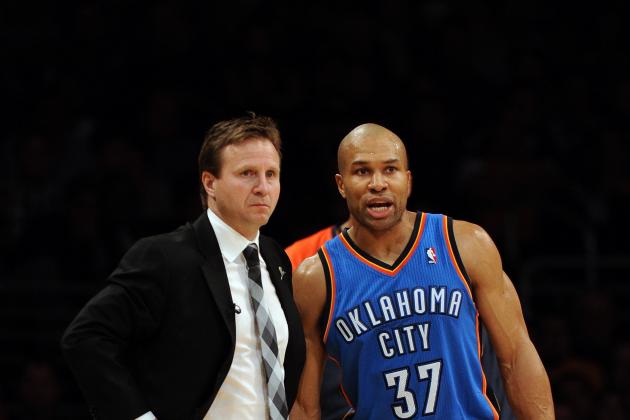 Harry How/Getty Images

Scott Brooks has done a great job so far in his tenure with this team. He has managed the young players' egos nicely, while also understanding the importance of veteran leadership.
Last postseason, Brooks was out-coached by Rick Carlisle. That can't happen this season. Brooks must be ready for whatever the opposing coach throws at him and must do a better job with his play-calling in critical situations.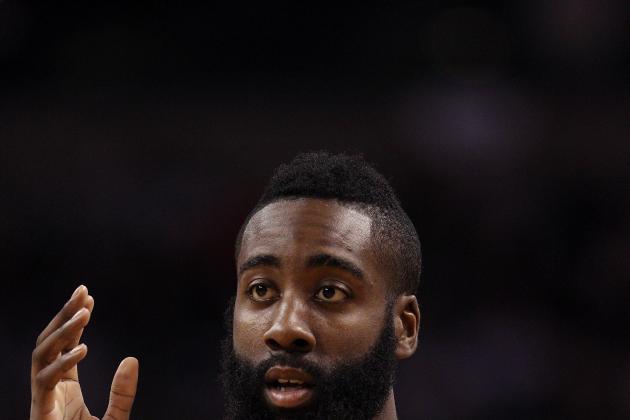 Elsa/Getty Images

James Harden is going to be the Sixth Man of the Year. Book it.
He looks like the second coming of Manu Ginobili, and Thunder fans are hoping that he'll perform in the playoffs like it . Harden is the spark plug for this team off the bench, and he might be the most well-rounded player on the team.
If he can average his usual 17 points, four rebounds and three assists per game during the playoffs, the Thunder will have a great shot at winning it all.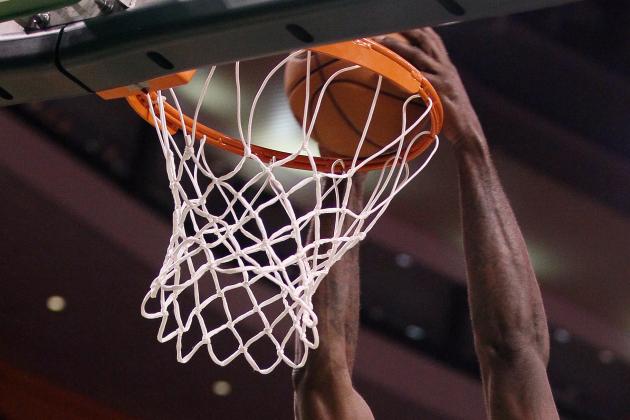 Elsa/Getty Images

Kendrick Perkins was brought in to do one thing, and one thing only: play defense.
In the playoffs, that will be his main responsibility. Whether it is Tim Duncan, Andrew Bynum or Marc Gasol, Perkins will always be assigned to guarding the talented center opposite him. He's been that type of defensive stalwart in the past, and he needs to be that again.
While the Thunder don't normally require much from Perkins on the offensive end, it has been proven this season that they are better when he is more involved. Against Miami, he was ready and waiting for easy looks at the hoop. He needs to continue doing that.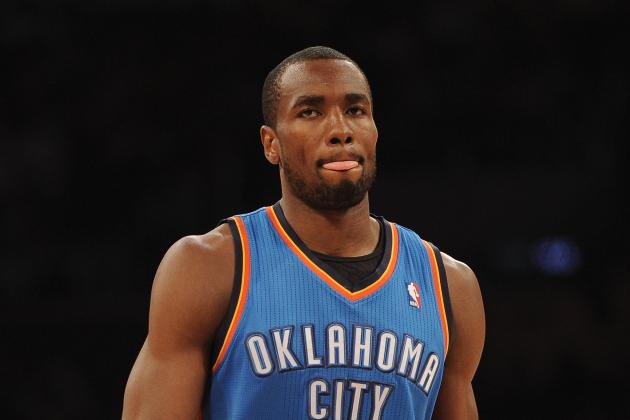 Harry How/Getty Images

The man known around Oklahoma City as "Air Congo" might be the NBA's best block artist, averaging 3.5 per game, but that's just the surface of what his game can bring to the table.
While Ibaka is still a fairly raw talent, he is continuing to develop offensively and has averaged 8.9 points and 7.6 rebounds per game in his first season as the starting power forward for the Thunder.
He needs to stay involved in the offense and be ready when Kevin Durant and Russell Westbrook hit him underneath the basket. The development of his jump shot has also made him a much more lethal offensive threat.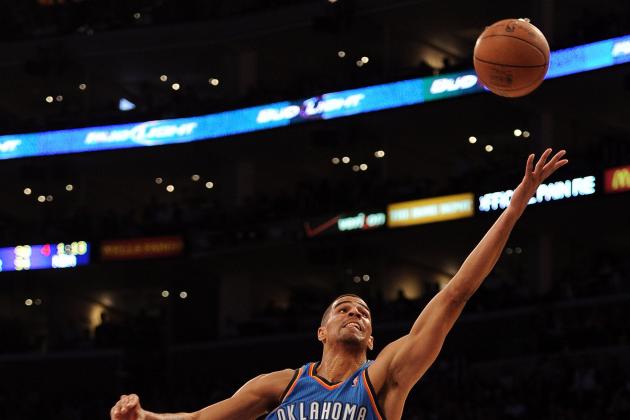 Harry How/Getty Images

It might be a mystery to many who don't watch this team regularly as to why Thabo Sefolosha is a starter on this squad. But to avid Thunder fans, Sefolosha's presence is clearly felt.
He's missed quite a few games this season, and the Thunder's defense has been lacking in those games. Sefolosha makes the whole team better on defense, and he's also become a better shooter this season (improved from 27 percent to 47 percent from behind the arc between last season and this one).
Sefolosha proved his worth in a recent Thunder game against the Milwaukee Bucks. The 6'7" shooting guard scored 14 points and had seven steals, five rebounds and three assists. He also shot 62 percent from the floor.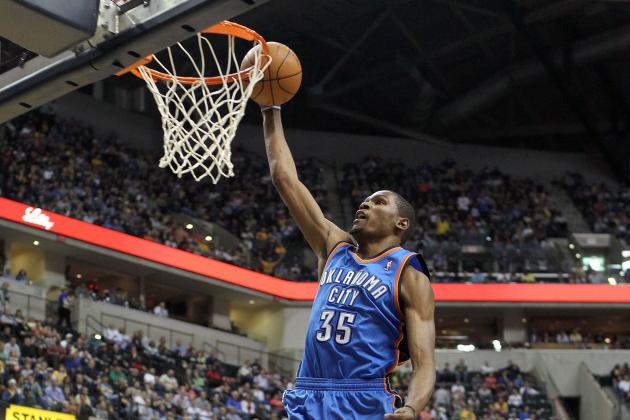 Andy Lyons/Getty Images

Kevin Durant is having the best season of his career this year. He's averaging 27.6 points, 7.9 rebounds and 3.5 assists per game, while shooting 50 percent from the field. Each of those, except for the points, is a career high.
The Thunder need Durant to be the guy who does everything for them if they are going to win big. He's gone a long way this season toward proving that he's more than just a volume scorer, and he'll continue to get even better in the areas of rebounding and assisting.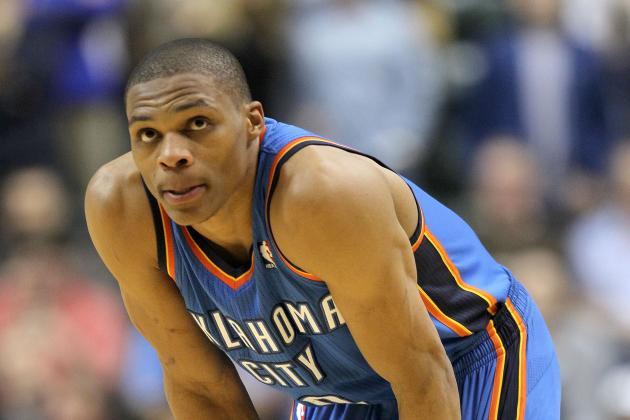 Andy Lyons/Getty Images

There is no question that Russell Westbrook is having the best year of his career. He's averaging 24.2 points, 5.4 assists and 4.6 rebounds per game. He has improved his outside jumper and is hitting 47 percent of his shots from the field.
If he can make good decisions leading up to and in the playoffs, the Thunder are set for an NBA Finals appearance. Westbrook must know when to shoot and when to pass. He must make sure to keep others involved in the offense and not shoot automatically every time up the court.
He must temper his scoring with good decision-making. That combination is deadly for every other NBA team.