Big 12 Football: Ranking the Best Uniforms in the Conference
Erich Schlegel/Getty Images

Ranking all 123 FBS teams in terms of any single category is perilous at best, and this includes ranking who wears the sharpest uniform.
Yes, rating 123 shades of red, blue, green, gold, black and orange is a dizzying business at best, and ultimately is a process that demands simplification.
And so, in the spirit of de-complication, rather than trying to rank the best uniforms in all of college football, the following slideshow does this service for one single conference.
This conference is the Big 12; which once had 12 teams, then had 10, then had eight and now has 10, again.
Begin Slideshow

»
Jamie Squire/Getty Images

Kansas is one font selection short of having one of the best patriotic hued uniforms in the nation.
Yes, the Jayhawks daring, but not so appealing non neo-classical lettering and numbering on their helmet and jersey is the only thing standing between them and stylistic triumph.
Kansas's blue and crimson kit is well played visually and a block font would, frankly, save the day.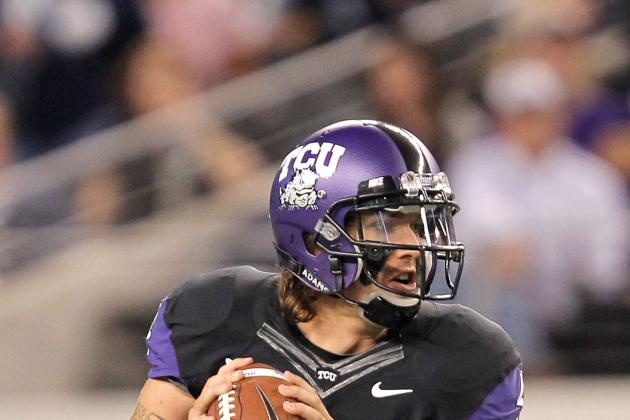 Sarah Glenn/Getty Images

Fate has decided, against all odds, that the Big 12 will now have two purple hued members, ultimately altering the colorful landscape of college football fashion forever more.
Yes, when Kansas State rolls into Fort Worth this coming November it will suddenly be a lilac gridiron explosion like none other before it.
But, instead of using silver to compliment its purple tones as Kansas State does, TCU uses black, and they use it well.
Where the Horned Frogs headwear is fairly traditional, the rest of their kit is deliciously modern and brings a sizeable contribution to an already colorful Big 12 fashion feast.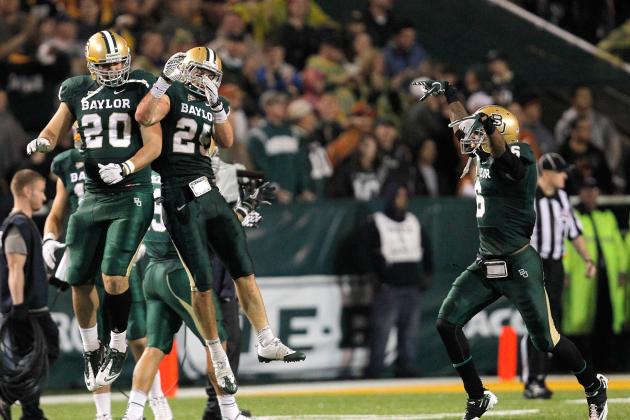 Sarah Glenn/Getty Images

Baylor's everyday wear looks a lot like Notre Dame's "super special, we're going to win this huge game" uniforms.
The Bear's start things off with a classic gold helmet emblazoned with an alluring triple stripe and contrasting block lettering, and then go forth with a classic green jersey capped off by a green pant featuring a singular gold stripe.
I personally would like to see Baylor kick it old school and add a stripe on the pants that matches the one that graces the helmet, but otherwise this is a stand-up, traditional presentation.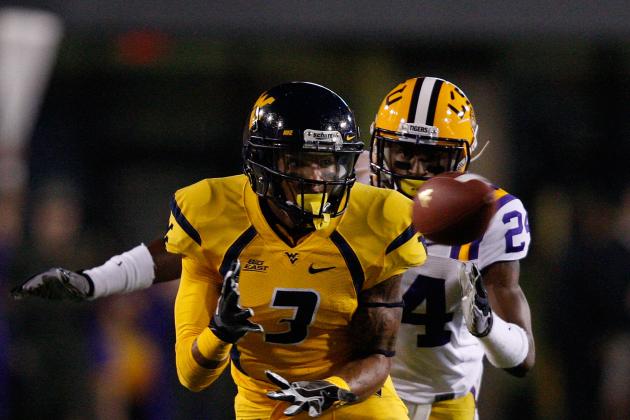 Jared Wickerham/Getty Images

League newcomer West Virginia is beginning to come out of its shell from a uniform perspective in the same way that Oregon and Oklahoma State once did.
Hopefully, the Mountaineers all-gold kit that they donned for their 2011 meeting with LSU is a sign of what's to come as West Virgina storms into the Big 12 in 2012.
Old gold and blue concoctions masterfully combined with a high flying offense, played on a bigger stage, have the potential of besting any gridiron outfitters in these United States.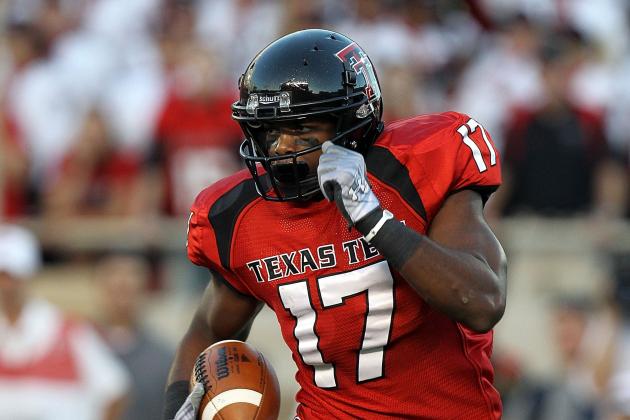 Ronald Martinez/Getty Images

Even though the Tommy Tuberville era in Lubbock harkened the renewal of the all-white uniform in Lubbock, Texas Tech still manages to look first-rate on game day.
Yes, though the all-white uniforms complete with white triple-striped helmet, look a lot better when you haven't just dropped to 5-7, it's tough to beat a modern take on the classic scarlet and black color scheme.
The Red Raiders paint modern lines upon their uniform canvas and, if nothing else, their helmet is about as iconic as they come.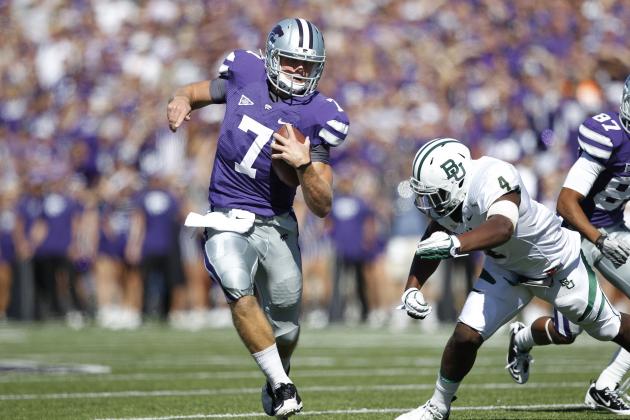 Joe Robbins/Getty Images

The color purple and the game of football are strange bed fellows.
Yes, hues of grapes and violets are intriguing when people are knocking the crap out of each other, but that said, when you mix in some well served silver and bold, white things certainly can work out really well.
Kansas State's royal purple and silver are substantially more successful as a duo due to the graceful matching stripes found on the Wildcats pants and helmet, and then bold use of white on the jersey to bring everything to fruition.
This is one of the best purple productions in all of sport.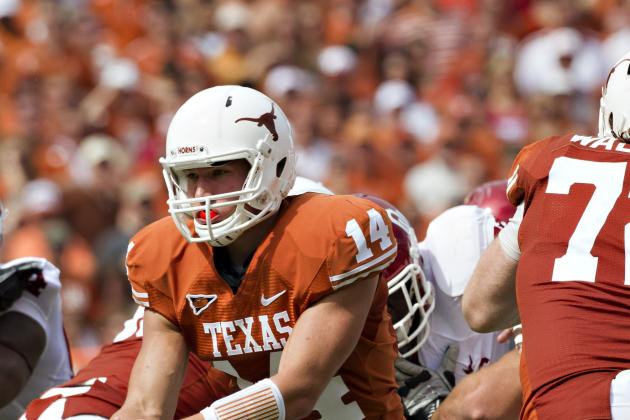 Wesley Hitt/Getty Images

There are few orange hued teams in all of sport that have advanced their color farther than the Longhorns have marketed their shade of burnt orange.
Like their rival neighbors Oklahoma, Texas' gridiron garb garners reviews such as "timeless, classic and ageless."
The steer festooned white helmet, the double-striped sleeve on the jersey and the simple all-white pants are all landmarks of collegiate sport fashion.
And, thank goodness the Horns haven't tried to improve on what is simplistic perfection.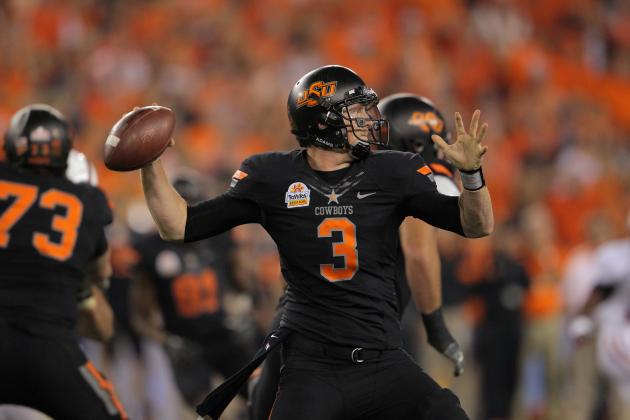 Doug Pensinger/Getty Images

The Cowboys uniform, of late, has begun to morph into as many variations as a certain breed of Ducks native to the stormy Northwest.
But, whether the helmet is flat black, gray or white and regardless of the jersey and pant color combination the Cowboys are sure to look super sharp on game day.
Oklahoma State…where cutting edge football style is done right.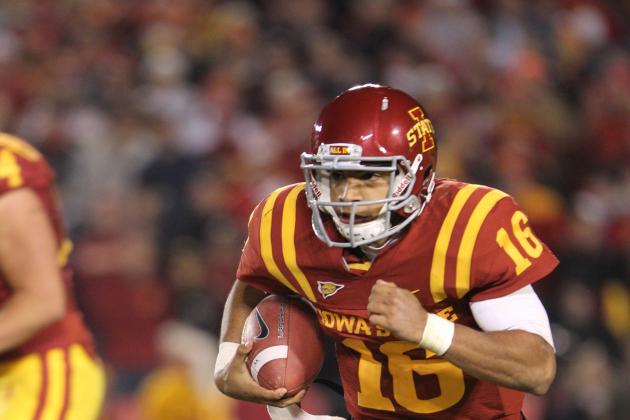 Reese Strickland/Getty Images

Iowa State's bold, alluringly vibrant and beautifully striped uniforms are among the most underrated in college ball.
Sure, the Cyclones haven't won a conference title since they took home a shared Missouri Valley crown in 1912, which makes their uniform a lot less recognizable from a national perspective, but this is a superb visual package no matter how you slice it.
Cardinal and gold striped jerseys are masterfully complemented by gold and cardinal striped pants creating a "wow" factor that's difficult not to want to ogle.
The only thing missing from this vivid staging is a harmonizing stripe right down the middle of the helmet, an addition that could send this kit over the top.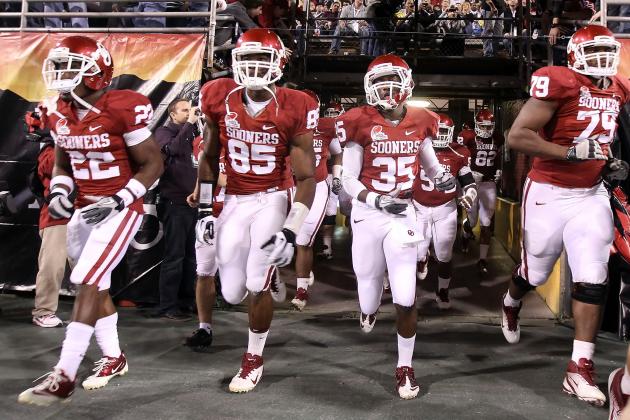 Christian Petersen/Getty Images

Classic…that's the best word to describe the Oklahoma Sooners football kit.
The timeless block "OU" emblazoned on the helmet, the double stripe pant and the simplicity of the jersey all scream "immortal" at the top of their wind whipped lungs.
Crimson and cream, over and over.