Shabazz Muhammad: Breaking Down What Duke, Kentucky and UCLA Have to Offer
April 11, 2012

Jonathan Daniel/Getty Images
On Wednesday, we're finally going to find out where Shabazz Muhammad will be playing his college ball.
Muhammad, a shooting guard/small forward out of Bishop Gorman High School in Las Vegas, is widely regarded as the top basketball recruit in the country. Rivals.com has him rated as the No. 1 prospect in the country, as does ESPN.com.
According to Marc J. Spears of Yahoo! Sports (and numerous other pundits), Muhammad will choose from three schools on Wednesday: Duke, Kentucky and UCLA. Exactly which school he's likely to pick varies depending on who you ask.
Here's a look at what each school has to offer Muhammad.
Duke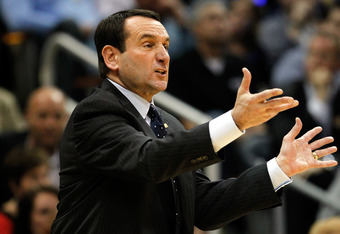 Streeter Lecka/Getty Images
If Muhammad is looking to play for a program with a great coach and a tradition of excellence, he could do a lot worse than Duke.
There's really not much left to say about Mike Krzyzewski and the impact he's had on Duke's basketball program. Since he took over in 1980, the Blue Devils have gone to the NCAA tournament pretty much every season, and Coach K has led them to four national championships. 
At this point, it can be taken for granted that Muhammad will experience winning more than he'll experience losing if he chooses to head to Duke. And winning is most definitely important to him, as he told Spears that he's going to college to try to win a national championship.
With Rivers gone, there's a spot for Muhammad to slide into. As a bonus, he'll be able to play alongside U.S. teammate Rasheed Sulaimon (see Rivals.com profile), who has already committed to Duke.
Sulaimon told ESPN.com that he thinks Muhammad is going to join him at Duke:
I really believe that Shabazz is gonna join me next year because he's a competitor and wants to win. Coach K is the ultimate competitor and does great with guards like Shabazz. I believe we can do a lot of damage right away.
The conventional wisdom is that Duke is not a haven for one-and-done players, which would definitely complicate its pursuit of Muhammad. But that's a bunch of nonsense. Kyrie Irving left for the NBA after one season at Duke, and so did Rivers. If Muhammad wants to be a one-and-done player, he shouldn't shy away from Duke.
Kentucky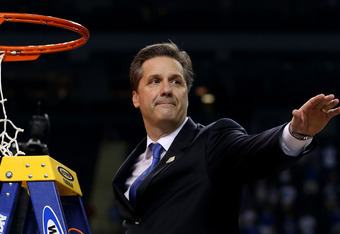 Jeff Gross/Getty Images
A couple prominent one-and-dones have gone through Duke in the last couple season, but no school specializes in one-and-dones quite like Kentucky.
This is because John Calipari has a way of attracting one-and-done players, which is a tendency that he's not about to apologize for. After all, he just won a national championship using a handful of one-and-done stars.
Calipari already has some good replacements lined up. ESPN.com has Kentucky's recruiting class ranked as the second-best recruiting class in the nation. If the Wildcats managed to land Muhammad, they will surely be bumped up to No. 1.
For his part, Muhammad is definitely intrigued by Kentucky.
"Kentucky is up there," said Muhammad, according to Spears. "How can you not be attracted to Kentucky? They are run-and-gun."
The word is that Anthony Davis, Michael Kidd-Gilchrist and Terrence Jones are all going pro, which is no real surprise. Assuming they do, the departures of MKG and Jones open up a hole that Muhammad can help fill. 
In the event Muhammad were to go to Kentucky and then decide to leave for the 2013 draft, we can take it for granted that Calipari would not stop him. So if Muhammad is using college as a means to an end, Kentucky is the ideal landing spot for him.
If Muhammad is sincere about wanting to a win a championship, Kentucky can satisfy that desire too. Indeed, the Wildcats just won a championship.
UCLA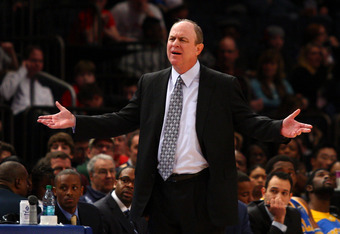 Chris Chambers/Getty Images
Of the three programs Muhammad is considering, UCLA is the least appealing program on the surface. The Bruins were mired in controversy this season, and they struggled out on the court too.
But as far as Muhammad is concerned, UCLA is appealing because it's close to home. Moreover, there is hope for the program going forward.
The Bruins rank 12th on ESPN's countdown of the top recruiting classes, and coach Ben Howland has already secured the talents of top recruits Kyle Anderson and Jordan Adams.
Muhammad told Rivals.com that he likes what he sees when he looks at UCLA:
With UCLA they've got Kyle Anderson and Jordan Adams coming and then possibly Tony Parker. They've got a lot of bits and pieces there also. With Coach Howland and his style of play, I think I could do a lot of damage there too. The Pac-12 has been kind of a down conference and I think that if we all came in we could really make some noise right away.
Muhammad is right about the Pac-12. It's not a strong conference, so it's conceivable that Muhammad's talents will look even more impressive playing in the Pac-12 than they would in any other conference. 
There's also the appeal of reviving a sagging program, as UCLA could use a pick-me-up after the season it just went through.
The only iffy part is UCLA's championship potential, which is nowhere near as strong as Duke's or Kentucky's. He has a much better chance of winning a title at those two schools than he does at UCLA.