Miami Dolphins: The Dream Draft
April 11, 2012

Mike Ehrmann/Getty Images
The Miami Dolphins are a talented team. With a new coaching staff that brings a new vibe to the team, the Dolphins have the potential to be a great team if they can manage to have a great draft.
After reading through many mock drafts and big boards, I have came up with what I believe could be the Miami Dolphin's Dream Draft:
Round 1: I believe that Miami should trade down with this pick and grab an extra second round pick. With that being said, Miami should pick up WR- Alshon Jeffery, South Carolina late in the first round.This is, of course, if he is still in the draft. Some people have Blackmon or Floyd as the number one receiver in the draft, however I see more potential and overall skill in Jeffery. Alshon is a Brandon Marshall without the problems. This would be a great pick for Miami because coincidentally, we just traded Marshall away. If he is off the board by the time Miami picks, Kendall Wright or Stephen Hill are also options.
Round 2: With the second pick, Miami should grab DE - Vinny Curry, Marshall. He has great explosiveness off the line and can develop into a great addition for the Dolphins.
Round 2: With the pick that Miami received from the 1st round, the Dolphins should grab either QB - Ryan Tannehill, Texas AM if he is still available, or they could go in a different route with QB - Kirk Cousins, Michigan St. This is not the most talented quarterback in the draft, but his intangibles are off the chart. His leadership qualities some say are that of a Tom Brady, or a Drew Brees. With coaching, and sitting behind watching the game for a few years, this kid has real potential.
Round 3: OT - Zebrie Sanders, Florida State. Great athleticism, and great blocking. Smart player, great character. Durable and healthy.
Round 3: TE - Orson Charles, Georgia. Charles is a big tight end that has speed and great hands. Great red-zone target that can create mismatches around the field.
Round 4: WR - Marvin McNutt, Iowa. Another big-bodied wide receiver, McNutt is a talented athlete that has a connection with Miami's WR coach. He was previously the offensive coordinator for Iowa.
Round 5: OG - Lucas Nix, Pittsburg. Great anchor for the offensive line, great run blocking skills. Developmental player.
Round 6: FS - Eddie Whitely, Virginia Tech.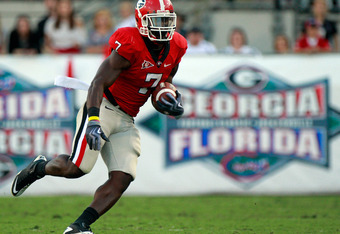 Sam Greenwood/Getty Images
Round 7: CB- Donnie Fletcher, Boston College. Ireland likes to go defense with the seventh round pick.
Overall, this is just another writer's mock draft, but it includes all the needs for Miami. I am excited for April 26.
Follow me on twitter: @JordenBonanno