Addition by Subtraction Could Reap Odom More Benefit Than It Did Dallas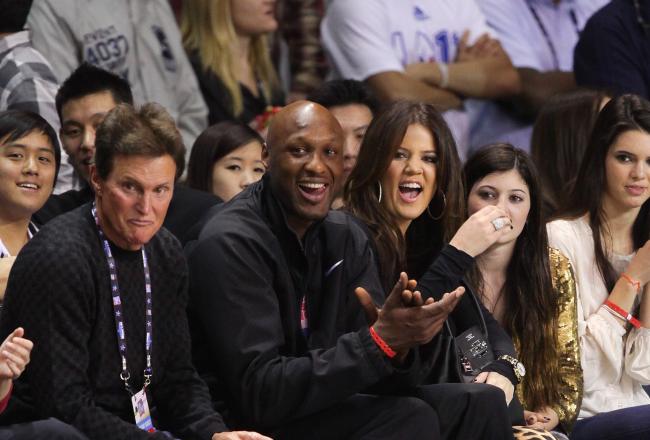 Which part of his life will Odom enjoy the view from the sidelines?
Noel Vasquez/Getty Images
Yesterday marked a day that many Mavs fans angrily knew was coming long before the rest of us did, because, much in the way that hell hath no fury like a woman scorned in the real world, no one knows the depths of human contempt more so than a fan that watches their team routinely get jilted at the altar, game after game by someone who was supposed to be a sworn ally.
Which is why, really like any break up affiliated with the name Kardashian, no one is surprised at the result as much as the shameless declaration of its intent.
Because, as the New Orleans Saints brass learned recently, intent doesn't just implicate the "criminal" more than the crime, it also blinds people from the culture it was conceived in.
And unfortunately, in Odom's case, that culture had nothing to do with basketball and everything to do with his involvement on a reality T.V. show that has made a mockery of every role he assumes in his life.
Think about it.
Dallas may seem like the aggrieved party here, but what did they really lose? They got him for a huge discount in the aftermath of the Chris Paul veto debacle, and anyone who really believes he will matter in the grand scheme of the Mavericks' chances in defending their title should read this article.
At the end of the day, the Mavs' organization, from Mark Cuban to Dirk Nowitzki, came into this season like they were playing with house money, knowing full well that the high of winning a title last year would suffice for Mavs fans, as the commitment to now could be bargained for the team's commitment to the future—i.e. getting Deron Williams this summer.
Odom, meanwhile, may have escaped with a few dollars in tow, but, and as Dallas' beat writers have been so unapologetic in pointing out, his character has been all but assassinated.
Now, it's not my intent to turn all this Odom backlash on its head and make him seem like a sympathetic figure.
I'm just saying that, well, how many of you have a friend that's like Lamar Odom?
You know what kind of guy I'm talking about.
Someone who didn't have it easy growing up and lived on the wrong side of the tracks.
Someone who is good-natured at heart and just wants to be and make everyone around them happy.
Someone who is willing to say yes to just about anything just to appease the people around them.
Someone who probably likes his women the same way he likes his eggs: over easy, not scrambled.
Here's my point.
Lamar Odom isn't the kind of guy that would step on someone's toes to get ahead.
If so, he wouldn't have been the Lakers' glue guy all those years he played in LA, serving a role that is arguably more a testament to someone's character than any other on a sports roster.
And even if you are willing to believe that the impetus for Odom's perfunctory play was his allegiance to the Lakers, you'd still arrive at the same common denominator.
Lamar's play in Dallas wasn't marred by the fact that he couldn't ever say goodbye to Los Angeles. It was marred because he couldn't say goodbye to Hollywood.
Reality T.V. has cheapened every event in his life to gossip fodder and invariably exaggerated its impact to the point that, like any soap opera, everything hinges on emotion.
In other words, everything went to voice mail.
A rational Lamar Odom would have realized that the bonds of loyalty between him and the Lakers were never breached because, after being embarrassed by the Mavs last years, they needed to make a change.
A rational Lamar Odom would have realized that Mavs fans weren't booing him because they didn't like him—at least, not initially. They were booing him because they'd hoped such an insult to his talents as a basketball player would motivate him to play better.
Only, he couldn't come to these realizations, because he was already knee-deep in a culture which acts first and thinks after.
And if Lamar hopes to salvage what's left of his career, he would be wise to follow the steps of the team that just let him go.
A team, mind you, that was aware of the baggage that Lamar Odom—the TV star—was having on them, possibly as much as the Lakers organization—due to years of knowing Odom—knew it was having on himself.
It's time Odom cut his ties with reality T.V. and return back to basketball 100%.
Because, at this point, it's looking like one or the other.
This article is
What is the duplicate article?
Why is this article offensive?
Where is this article plagiarized from?
Why is this article poorly edited?

Dallas Mavericks: Like this team?