MLB: Selig Shows His Hypocrisy Again with the Ozzie/Castro Situation
April 10, 2012

Mike Ehrmann/Getty Images
By now, we all know the story here: Marlins manager Ozzie Guillen made some questionable comments about Cuban president/dictator Fidel Castro, and the media was livid about it. Since then, Guillen has been suspended for five games as a result of this statement to Time magazine (via ESPN).
To his credit, Bud Selig didn't actually make the final decision on Ozzie Guillen's suspension. Miami's ownership bailed Selig out from doing what he hates to do most: make a decision.
From steroids to Pete Rose's reinstatement, Selig has often flailed back and forth, not wanting to make any sort of decision until the public sentiment is blatantly clear in one direction or another.
Now, in the wake of the media outcry over Guillen's now infamous comments, Selig was threatening to take action to suspend Guillen:
"Major League Baseball supports today's decision by the Marlins to suspend Ozzie Guillen. As I have often said, baseball is a social institution with important social responsibilities. All of our 30 clubs play significant roles within their local communities, and I expect those who represent Major League Baseball to act with the kind of respect and sensitivity that the game's many cultures deserve.

"Mr. Guillen's remarks, which were offensive to an important part of the Miami community and others throughout the world, have no place in our game."
Before I go any further, let me be clear that I have no issue with the Marlins themselves handing down the suspension. As an organization, they can set standards for things like this reflecting on their team, community, employees and so on.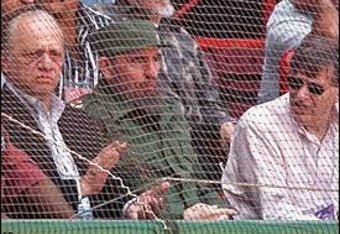 However, Selig would easily be overstepping his bounds by suspending Guillen for having an opinion. Especially on this issue. Yes, Castro is a terrible man; yes, Castro's done awful things to his people. That said, let's examine the two main issues here.
First off is the backlash over having an opinion. Major League Baseball consists of almost entirely American ball clubs throughout the major and minor league levels. The United States of America is a nation in which we have the freedom to have opinions, regardless of how hard they go against the grain, no matter how dissenting they are.
To turn around and say that you'll be suspended for not having the same opinion as the powers that be makes Selig no better than Castro himself in this regard.
The second—and personally more enraging—factor here is that Selig has done far more to damage the reputation of Major League Baseball via Fidel Castro than Guillen's comments ever would, even though this incident was 13 years ago.
Back in 1999, the Baltimore Orioles traveled to Havana to play the Cuban All-Stars. In a stadium that was repaired using money from American owner Peter Angelos. A stadium that had no luxury boxes, so Fidel Castro took the seat directly behind home plate in the first row, sitting between Angelos and Selig.
At no point did Selig condemn Angelos, the Orioles or himself for these actions. They went to Havana, met with Castro, sat with him and yet, no condemnation. Things were just fine—just like the "balls being wound tighter" in the mid-to-late 90's to explain the home run surge.
Guillen is crucified in the media over giving credit where credit is due—it is a testament to Castro that he's stayed alive and in power in Cuba for all these years with all the international and national hatred of him.
Yet, Selig, who willingly sat next to Castro for a ballgame which saw 18 runs be put on the scoreboard, is suddenly an authority on proper conduct involving Fidel?
Shame on you, Bud Selig. Once again, you let your hypocrisy, indecisiveness and lack of mental fortitude cast a negative light on the greatest sport on the planet.