Cain Velasquez vs. Frank Mir Will Happen, Just Not at UFC 146
April 10, 2012

There has been much speculation and gross misinterpretation running rampant since Dana White tweeted a response to a fan requesting that Dana not break up the fight between Cain Velasquez and Frank Mir. Dana White's response was simple: "Mir vs Cain will happen." 
The most important and most noticeable part about that quote is that Dana White said absolutely nothing about this fight taking place at UFC 146. Dana White is a brilliant businessman and knows that fans want to see Velasquez vs. Mir, but he is also aware that a fight between the two can happen in the future.
Other than Alistair Overeem, there is only one fighter left for the UFC management to turn to in their time of crisis, assuming that Overeem's second blood sample also produces failed results.
That man is none other than the longest-tenured heavyweight in the UFC, 11-year UFC veteran and two-time UFC Heavyweight champion Frank Mir.
Mir, who has already expressed an interest in fighting the newly crowned champion Junior dos Santos, would easily be the most logical fill-in replacement for multiple reasons:
Mir is a large draw in the UFC, so pay-per-view buys wouldn't decrease as much.
Mir is a legit threat to JdS' title reign. As a multi-dimensional threat, Mir can take JdS into deep waters. 
Mir doesn't have to account for takedowns or any ground game from dos Santos. He is a larger fighter and might be able to bully JdS around the Octagon.   
Mir broke Nogueira's arm. JdS is a training partner and this would be an easy sell for the UFC as a team redemption fight for Junior dos Santos.
Mir is simply the only deserving fighter. With three straight wins over notable fighters, Mir has climbed back into contention, and if Overeem was never signed, Mir would've been the first contender regardless.
Fans want to see Junior dos Santos fight an actual contender, not a pretender. We've already seen him climb the ranks, now lets see him fight the best fighters available.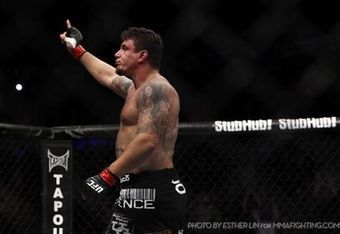 The UFC doesn't have many viable options other than Mir. Other fighters that have been mentioned as replacements for Overeem are Cain Velasquez, Fabricio Werdum, Mark Hunt, Fedor Emelianenko and Dan Henderson.
Cain Velasquez shouldn't even have his name mentioned at this point in time. He lost his last match against Junior dos Santos by knockout in just over one minute. That is the only fact that needs to be mentioned here.
Fabricio Werdum has been impressive, but he lost to Alistair Overeem while competing in Strikeforce. The fight was largely disappointing, and Werdum did little to show that he can compete against a top-level striker.
It should also be noted that Werdum has already lost to Junior dos Santos, and history is more than likely to repeat itself should these two be pitted against each other again.
Mark Hunt has been on a roll against the UFC's B-team heavyweights and is a leader in "write-in votes." Hunt has been collecting wins over the likes of Chris Tuchscherer, a horribly gassed Ben Rothwell and most notably Cheick Kongo.
Mark Hunt has taken his record to 8-7, breaking the .500 win percentage barrier for the first time since December 31, 2008. Giving a title shot to this man is disrespectful to any fighter who has worked his tail off to be ranked in the top five, or top 10 for that matter. Hunt needs to earn his spot and this hasn't happened yet.
Fedor Emelianenko is another opponent I'm having an extreme problem with getting a UFC title shot. Emelianenko was considered the best heavyweight in the world for many years, but after suffering three straight losses to fringe level top-10 fighters Fabricio Werdum and Antonio Silva, he then a lost to Dan Henderson, a guy fighting two full weight classes above where he should have been, by knockout.
Fedor has reeled off wins over irrelevant 41-year-old Jeff Monson by decision and by knockout over Satoshi Ishii.  
Dan Henderson would be an emergency option to fight Junior dos Santos. The emergency would be if Frank Mir couldn't make the fight either. Henderson has proven he can compete and excel against heavyweight fighters. He has beaten Wanderlei Silva, Antonio Rodrigo Nogueira, Gilbert Yvel and Fedor Emelianenko, all of whom have fought over 206 pounds at times.
Henderson also is on an impressive four-fight win streak and has decided to wait for a title shot. The question is, though, should he be awarded a title shot at heavyweight?
I agree he has the knockout power, and Hendo has never been knocked out before, so it already seems more interesting than Mark Hunt getting a shot but in reality, Hendo should only be an emergency option.
With all of the options available, and after taking a closer look at the "contenders," it is easy to see that Frank Mir will fight Junior dos Santos at UFC 146 if Alistair Overeem is unable to secure a license to fight.
It's the most logical fight to make happen, it's the best fight to make happen, and it's the right thing to do, for business and for the fans.