Arsenal vs. Manchester City: FA Lose the Plot as Mario Balotelli Goes Unpunished
April 10, 2012

Michael Regan/Getty Images
I'm going to try and keep this short, and rather bitter.
The Football Association, to be perfectly honest, hasn't exactly covered itself in glory in recent months. There have been disciplinary issues in the English game, refereeing incompetence and inconsistency, PR fiascoes by high-ranking officials at international events and of course, one disaster after another with regard to the English national team.
But the events of the past weekend must surely represent the FA's lowest point.
There were two contrasting incidents during consecutive games last Sunday. The first one took place during the match between Manchester United and Queens Park Rangers at Old Trafford. With the game goalless after 13 minutes, Ashley Young, miles offside moments earlier, disgracefully flung himself to the Old Trafford turf after being tickled in the back by QPR's Shaun Derry.
The linesman, amazingly, did not flag Young offside, and referee Lee Mason pointed to the spot and sent Derry off for a "last man" foul. United, with a one-man advantage for the remaining 77 minutes, predictably went on to win 2-0.
Even more incredibly, having been given the opportunity to somewhat restore justice, the FA decided to reject Derry's appeal, and handed him an immediate one-game ban.
Hours after that incident, Manchester City's enfant terrible Mario Balotelli rubbished rumours that he couldn't get stupider by delivering a sickening, potentially career-ending studs-up tackle to the knee of Alex Song in his team's game against Arsenal at the Emirates Stadium.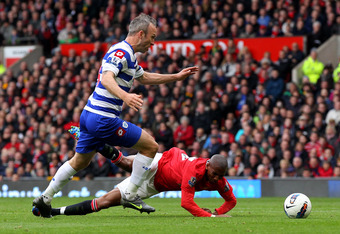 Alex Livesey/Getty Images
No action was taken by referee Martin Atkinson.
At the time, there was widespread incredulity over how the referee and his assistant could both have missed such a blatant, flagrant and dangerous tackle.
If you thought that was ridiculous, what do you think of this?
In a statement released today, the FA said the following:
Retrospective action in relation to the incident involving Mario Balotelli of Manchester City and Alex Song of Arsenal, which occurred in the 20th minute of Sunday's game, will not be taken.

Where at least one of the officials has seen the coming together of players retrospective action is not taken, regardless of whether they have seen the full extent of the challenge.
Put simply, the FA are saying that since the referee (or linesman) saw the incident, we cannot take any further action. And then they go on to assign responsibility for such course of action at FIFA's doorstep.
Lovely.
This is actually quite bizarre, because rule E3 of the FA states that "A charge of Misconduct … may be brought against a Player in relation to an incident, notwithstanding that the same incident has been dealt with ... having particular regard to the following." And one of the "following" reads as follows: "The nature of the incident, and in particular any intent, recklessness, negligence or other state of mind of the Player."
By going against the very dictates of their own rules, the FA show themselves to be not just cowards, but grossly irresponsible and undeserving of the authority that has been conferred upon them.
When the guilty party's manager states, in his post-match interview, that "I hope" that the FA reviews the incident, agrees that a lengthy ban would be deserved and says—quite unequivocally—that Balotelli will not play any more this season, it makes the FA's stand look even more ridiculous.
And wait, I'm not done yet.
If Martin Atkinson, or his assistant, actually did see the incident (as the FA claim) and did not punish Balotelli, do they have the right to be officiating any football match, let alone a Premier League one? Is there no accountability for officials and no performance review?
We've heard this being said before, but I'll say it again. It's time the FA stepped out of the 19th century. It's time that common sense became the order of the day. And it's time they started behaving like the thought leaders they love to claim they are.
The Scottish FA–yes, you read that right–have recently appointed a Compliance Officer to "deal expediently with all disciplinary matters," including retrospective reviews of incidents, irrespective of the referee's initial reaction and response. 
For heaven's sake, if they can do it...
Football is set to witness a testing and tumultuous next few years. Racism, financial fair play, the influence of broadcast deals and player (agent) power are sure to shake the very foundations of the beautiful game.
If English Football is to have any chance to come out on top at the end of such trying times, it is time for those at the top of English Football to try and make a difference.
Otherwise, "FA" will take on an entirely different meaning.