NBA Draft 2012: Breaking Down the Top-Tier Underclassmen
April 11, 2012

Ronald Martinez/Getty Images
This is not the year to be a college senior looking to enter the 2012 NBA draft.
There are a great deal of exciting talents declaring early, and a lot of teams looking to make a splash will be looking toward youthful prospects.
With a number of intriguing prospects but a lack of "franchise" players available in this year's pool, it will certainly be interesting to see just how high teams are willing to reach to nab their man.
1. Anthony Davis, PF, Kentucky
If there is going to be a guy to build around for a franchise moving forward, Davis is the pick.
Davis' freshman numbers were absolutely startling, and once he fully adjusts to playing a big man's game in the NBA, it's frightening to think what he'll be able to do.
2. Michael Kidd-Gilchrist, SF, Kentucky
We know that he's great in transition, but what else can he do? Kidd-Gilchrist's main shortcoming is his perimeter shooting, but he can improve in that department at the next level.
He's got ideal size for a small forward, and that's going to go a long way for his draft stock.
3. Andre Drummond, PF/C, UConn
Drummond might not go as high as third overall, but he's incredibly big and is ready to step onto the hardwood right now.
He doesn't have the traditional approach for someone of his size at either end of the floor, but he might take some time to round out once he reaches the NBA.
4. Bradley Beal, SG, Florida
Beal is blessed with an incredibly versatile game for someone of his size, but he does more than just rebound the basketball well.
He's got a very strong feel for asserting himself at the defensive end, and his high basketball IQ should really serve him well as he attempts to find his place in the league.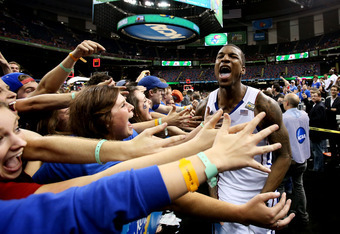 Jeff Gross/Getty Images
5. Thomas Robinson, PF, Kansas
The main reason Robinson is this low on the big board is due to his size, but are we really going to hold that against him?
The Kansas product has proven that he can get it done every single night, and there is no questioning his commitment to excellence as a complete basketball player.
6. Harrison Barnes, SF, UNC
Barnes' performance during the NCAA tournament left some questioning how he'll fare in the NBA, but he's got a chance to go higher in the draft than most are projecting.
He can shoot the ball and has carved out a clear role as a scorer on the wing, both things that will appeal to a litany of teams looking to bolster the offense.
7. Perry Jones III, F, Baylor
The best basketball talent on the board behind Davis, Jones is all the way at seventh here because he simply appears disengaged far too frequently.
There is no question that he's a gamble, but he could be the player that several general managers kick themselves over if they decided to bypass him on draft day.
8. Kendall Marshall, PG, UNC
Marshall is an impressive talent with a knack for finding his teammates on the floor, and his court vision is something that will hold great appeal.
He'll have to improve his scoring touch and free-throw shooting in the league, but his ability to dish the rock is an immediate asset.
9. John Henson, PF, UNC
The main thing holding back Henson currently is his frame, as he'll need to add some serious bulk to bang around beneath the basket.
However, he can rebound and defend quite well, and his solid length will definitely help him continue to do that regardless of what team selects him.
10. Damian Lillard, PG, Weber State
Lillard improved his efficiency from the floor while increasing his scoring average this season, something that won't be overlooked by any team considering drafting him.
He has a tendency to fall in love with his three-point shot. He'll have to curb that habit while finding his teammates more frequently.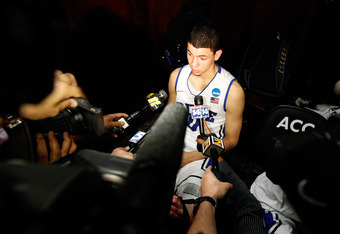 Streeter Lecka/Getty Images
11. Austin Rivers, SG, Duke
Although his freshman season wasn't what some had been expecting, Rivers should be able to transition to the NBA without much of an issue.
He absolutely needs to improve his foul shooting as well as his shot selection, but both of those are areas that he can work on and improve for the future.
12. Tony Wroten, G, Washington
Wroten very well could have gone a lot higher in the 2013 draft had he stayed at Washington for another season, but he'll enter the league early and some team will wind up with a bargain.
He found creative ways to score despite struggling with his perimeter shot, but he'll need to develop a consistent jumper to rely upon in the NBA.
13. Jared Sullinger, PF, Ohio State
The lack of speed and athleticism is a real concern for Sullinger, as well as the fact that he's not exactly the most gifted contributor on the defensive side of the ball.
He needs to prove that he can find success down low despite being slightly undersized, but Sullinger might have a tough time doing that against superior competition.
14. Jeremy Lamb, SG, UConn
Lamb took on a larger role during his sophomore season, but he took a step back from behind the arc, as he was firing up the attempts far too frequently.
The concern with Lamb is that he's simply not big enough to defend opposing shooting guards, and he'll need to add some versatility to his game in order to avoid becoming a niche player.
15. Terrence Jones, SF, Kentucky
Jones took a backseat in Kentucky this season, but his versatile game continued to show as he contributed across the stat sheet.
There will be a team that loves what he does defensively, but Jones is another guy who struggles with a consistent mid-range jumper and has to improve from the charity stripe.