Alabama Football 2012: 6 Issues the Tide Must Overcome to Repeat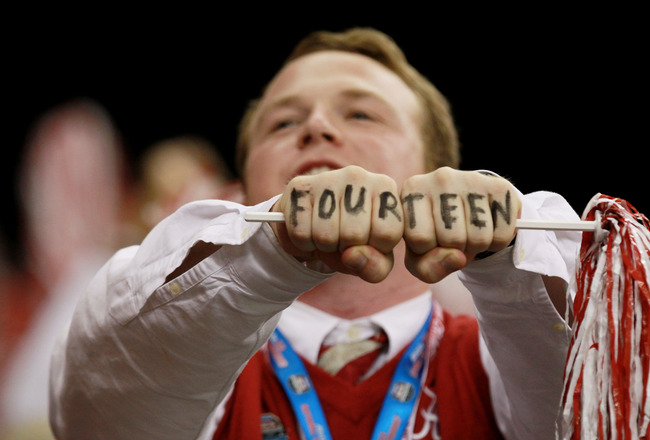 Ronald Martinez/Getty Images
The Alabama Crimson Tide come into the 2012 season after proving to the country that they were, in fact, the best team in college football last season.
While championship No. 14 did stir an enormous amount of controversy and could eventually lead to a plus-one system in college football, the Tide rolled on their way to the crystal ball, dominating their scheduled opponents week after week, even in the one week where they took a loss.
However, in beginning a defense of the championship, Alabama has more than a few concerns looming large. While there is no questioning the talent level of the squad after a long run of stellar recruiting classes, the team still must address six vital issues to have a legitimate shot at repeating.
If any one of these six deficiencies is not addressed in preseason, it will certainly open Bama up to losing a game or two throughout the season, putting an end to any dreams of going back-to-back.
Correcting four or five will likely ensure the team of a 10-win season and a likely BCS bowl appearance.
But we all know that they don't play for 10-win seasons in Tuscaloosa.
Inexperience in the Defensive Backfield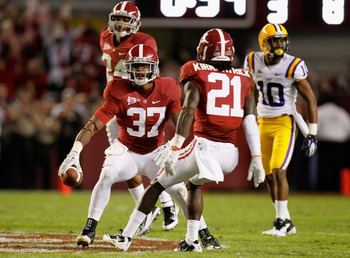 Kevin C. Cox/Getty Images
We'll start with the obvious one based off of past experiences. After the national championship run in 2009, Alabama returned one starter in the defensive backfield, Mark Barron.
In most schemes, this would not have been nearly as devastating as it was for Alabama. However, with Nick Saban and Kirby Smart running a complex pro style defense with numerous audibles and reads dictating player reaction, it can lead to numerous big plays for the opposition resulting from blown coverages.
Fast forward to 2012. The Tide again returns one starter in the defensive backfield, safety Robert Lester. Fortunately for the Tide, there are also other players with significant experience in the defensive system to step in as well, including Dee Milner and Vinnie Sunseri.
The young DBs will need to grow up quickly if Bama hopes to avoid early season letdowns similar to South Carolina in 2010.
Lack of Depth on the Offensive Line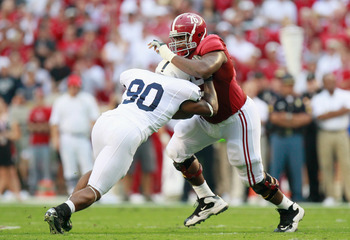 Kevin C. Cox/Getty Images
The starting five for the offensive line is pretty much set, and it will be as good as any in the SEC. Barrett Jones will make the move from left tackle to center and will make all of the calls. While William Vlachos was a great player, the drop off to Jones will be minimal, if there is any at all.
This opens a slot up for Cyrus Kouandjio at left tackle. Big Cyrus played well before going down with a knee injury last season and projects to be a force for the next couple of years.
They'll be joined by returning starters D.J. Fluker, Anthony Steen and Chance Warmack.
Again, that's as good as any line in the SEC.
The problem is what happens when one of these beasts goes down. The Tide have no established depth at any of the offensive line positions, meaning they can either pray for an injury-free season or develop someone quickly.
Offensive line coach Jeff Stoutland had his work cut out for him in getting these young guys ready to go.
Kicking Game Deficiencies
Kevin C. Cox/Getty Images
If Alabama had a weakness in 2011, it was definitely the kicking game. Punter Cody Mandell was near the bottom of the SEC rankings with a 38.9 yard average, and while Jeremy Shelly was fairly reliable inside of 40 yards, Cade Foster managed to convert only two of nine field goals on the season from longer range, in addition to averaging only 63 yards on kickoffs meaning the ball lands on the 7-yard line.
The Tide also loses star returner Marquis Maze and long snapper Carson Tinker.
Luckily, there is hope for the Tide. Shelly is coming off of a confidence-boosting BCS title game and Saban's staff landed one of the most hype kickers of all time in Adam Griffin.
Christion Jones appears ready to step into the return roles and Matt Wilkinson and MK Taylor are battling for the snapping duties.
To put it mildly, the Tide must improve special teams to have any hope of playing for the national championship in 2012.
Lack of an Established Outside Threat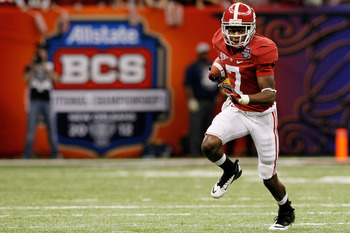 Kevin C. Cox/Getty Images
Julio Jones is still missed tremendously in Tuscaloosa. Bama got by with Marquis Maze and Darius Hanks in 2011 primarily because of having one of the great defenses of all time and Trent Richardson behind the quarterback most plays.
Without those things to fall back on, the offense will have to take it to the air a bit more often this season and will need playmakers on the outside to stretch the defense.
Bama signed two of the top receiving recruits in the nation in Amari Cooper and Chris Black, and both expect to battle for playing time. Other returners include Kenny Bell, DeAndrew White, Kevin Norwood and Christion Jones.
At least one of the players needs to step up and give the Tide the outside threat that they sorely missed in last season's title run.
For the record, I'm pulling for Kenny Bell!
Defensive Leadership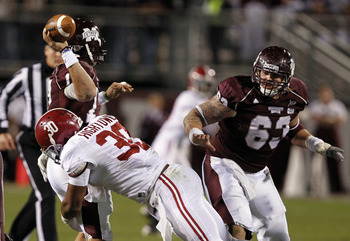 Butch Dill/Getty Images
As we've already discussed, the Alabama defensive scheme is complex. There are two primary reasons for its success in recent years: extremely talented personnel and a large playbook full of disguised schemes.
The talent is still there. Whether or not the full playbook can be used is yet to be determined.
Like in most situations, there are chiefs and there are Indians. When the chiefs pass on, or in this case Donta Hightower and Mark Barron bolt for the NFL, then some Indians have to get promoted. And sometimes, great Indians make horrible chiefs.
For an instance where this can just go horribly wrong, see 2010. After losing all-world linebacker Rolando McClain, Bama placed his decision-making role on Hightower. Hightower simply wasn't ready for the role, and the results showed.
A linebacker and a defensive back must step up and fill these shoes in 2012, likely Robert Lester and either Nico Johnson or Trey DePriest.
Development of a Pass Rush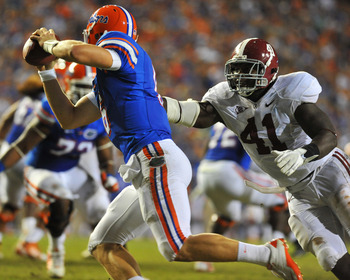 Al Messerschmidt/Getty Images
In the Alabama 3-4/nickel scheme, defensive lineman aren't there to rush the passer. Sure, occasionally a lineman will grab a coverage sack, but for the most part they are there to keep offensive linemen off of the linebackers so the mid-level defenders can make plays.
Alabama gets pressure from an extensive blitz package utilizing a series of stunts and overloads to basically send more than the opposition can block. The primary beneficiary of these schemes is the player in what is called the "Jack" linebacker role, or for the last couple of seasons, Courtney Upshaw.
Well, much like Hightower, Barron and a host of others, Upshaw has moved on to greener pastures…actually, a very green pasture, based on NFL first-rounder contracts.
Fortunately, there is no shortage of competition for the illustrious "Jack" position, as Alabama has stockpiled 4- and 5-star linebackers for some time now. Whoever fills the role will need to at least approach the level of production Bama's losing with Upshaw's departure.
Conclusion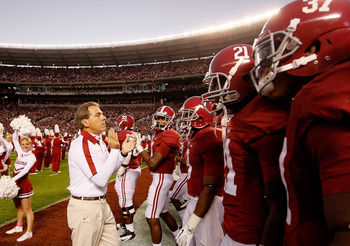 Kevin C. Cox/Getty Images
Alabama has the talent and the drive to repeat as BCS national champions. With a brutal schedule that opens with Michigan in Dallas and includes LSU and Arkansas on the road, it will definitely be an uphill battle.
The young team has little room for error if it expects to run the table or suffer only one loss in 2012. Making the task even more difficult is the fact that very talented teams like USC and Oklahoma have much easier roads to the title and could very well end the season undefeated.
The chances for a repeat national championship are probably unlikely, but with Nick Saban at the helm of a squad of highly competitive, ultra-talented players, don't sell them short just yet.
Keep Reading

Alabama Crimson Tide Football: Like this team?