Robinson Cano and 5 Studs Who Could Chase the Triple Crown This Season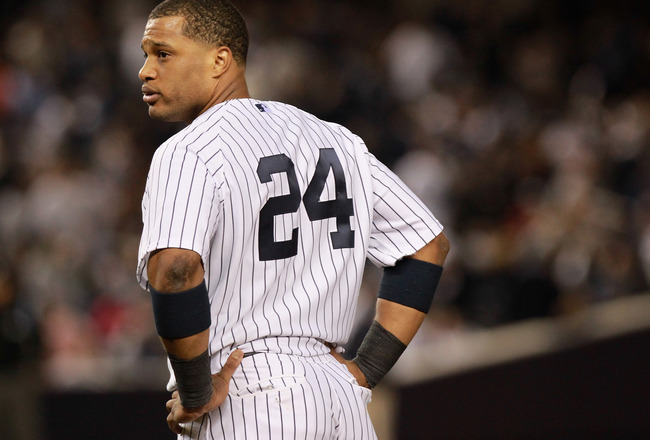 Nick Laham/Getty Images
In 1967 Carl Yastrzemski of the Boston Red Sox won the last Triple Crown for a hitter. Since then there have been players who have made real runs at winning the Triple Crown but all of them have come up short.
I'm going to list six players that I think could change history and be the first to win the Triple Crown since Yastrzemski.
Robinson Cano, New York Yankees
Patrick McDermott/Getty Images
Robinson Cano is one of the most complete hitters in the majors. Cano can hit for power and average. Over the past three seasons Cano has consistently been at the top of the American League in batting average. He also has been inside the top 10 in runs batted in, the last two years. Last year he had a career high with 118 runs batted in.
In order for Cano to make a realistic run at the Triple Crown he is going to need his home run total to jump. Cano has never hit more than 30 homers. His home run total needs to be between 40 and 45 to have a realistic shot. The reason I say 45 home runs could do the trick, is two out of the last three years the home run champion of the AL failed to break 44.
With the Yankees moving Cano to the three hole, it's going to make pitchers throw to him. That might allow him to get enough good pitches to hit out of the park.
Adrian Gonzalez, Boston Red Sox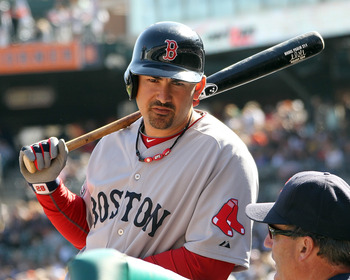 Dave Reginek/Getty Images
Adrian Gonzalez left Petco Park in San Diego after the 2010 season when he was traded to the Boston Red Sox. We saw an immediate jump in two of the three categories that make up the Triple Crown last season. Gonzalez finished the year with the highest batting average of his career. He also had the second most RBIs in his career.
Gonzalez's home runs took a dip last year, which is a little surprising. Gonzalez hit 27 home runs last year with the Red Sox. The last four years he was with the Padres he averaged just over 34 home runs a year. The most home runs he's ever hit was 40 and that was in 2009.
I think Gonzalez is going to continue to have one of the highest batting averages and continue to be a league leader in RBIs. Last year Gonzalez hit one home run in the month of April. If he can get going a little earlier his home run numbers should bounce back.
If the home runs are there Gonzalez will be in contention for the Triple Crown.
Jose Bautista, Toronto Blue Jays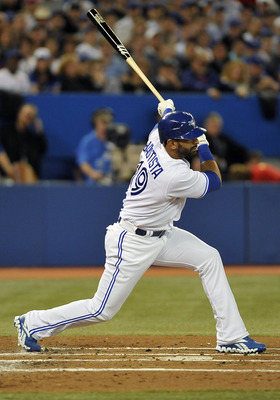 Brad White/Getty Images
Jose Bautista has led the American League in home runs the last two years. He has also been in the top 10 in runs batted in that same time span. Bautista does not lack in the power department.
If Bautista wants to make a run at the Triple Crown and be a serious contender, he needs to get his batting average up. The last three seasons he has barely cracked .300 one time. The lowest batting average champion over the last three seasons has been .344. Bautista's best has been .302.
Bautista has two of the three categories down pat when it comes to being the Triple Crown winner. If he can get his batting average up, he could be a runaway Triple Crown winner.
Joey Votto, Cincinnati Reds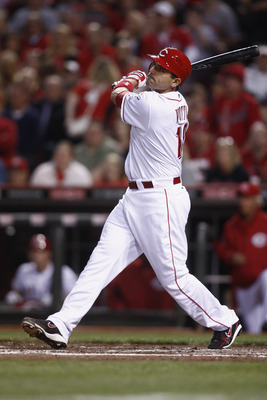 John Grieshop/Getty Images
Joey Votto could be one of best bets for winning the Triple Crown in the National League. The last three seasons his batting average has been above .300. The last two seasons he has broken 100 RBIs. In 2010 Votto was third in home runs.
The last two years Votto has been top five in batting average and top 10 in runs batted in. The home run total is going to be the Achilles heel for Votto, if he wants to win the Triple Crown. In 2010 he was third in home runs in the National League. So we know he is capable of leading the NL in that category.
One of the guys that finished in front of him was Albert Pujols and he doesn't have to worry with him anymore.
If Votto can get going early, he should be a serious contender for the Triple Crown.
Ryan Braun, Milwaukee Brewers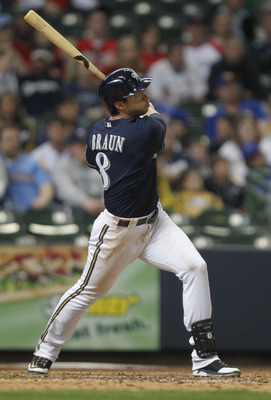 Jeffrey Phelps/Getty Images
Ryan Braun is coming off an MVP season, whether it was tainted or not is another discussion. Braun has been one of the most consistent hitters in baseball for a couple years now. He has had a batting average over .300 the last three seasons. He has also broken 100 RBIs the last four years and hit more than 30 home runs three of the last four.
Braun is a complete hitter, the biggest challenge for him this season is going to be adjusting to batting without Prince Fielder. Pitchers might feel like they can pitch around Braun now that Fielder is not in the picture. Not having Fielder could affect his RBIs and home run totals.
In the end Braun will be in contention for the Triple Crown because he was one of the best hitters in all of baseball.
Matt Kemp, Los Angeles Dodgers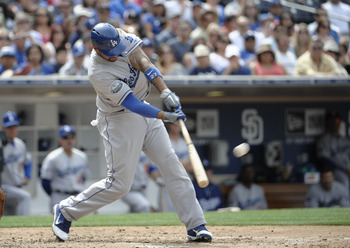 Denis Poroy/Getty Images
Kemp is one of baseball's most complete players. He is also as durable as they come. Over the last two seasons he has missed a grand total of one game. Being on the field everyday allows him to have more opportunities at home runs or RBIs.
Since Kemp entered the majors his home run numbers have steadily increased every year. Last year he led the National League in home runs with 39. To go along with leading the National League in home runs he also led in RBIs. Kemp finished third in batting average last year as well.
Kemp was 15 points behind Jose Reyes for winning the Triple Crown a year ago. There's no reason why he can't lead the National League in all three categories this year and win the Triple Crown.
Keep Reading