D-League Sets New Marks, Takes Big Strides as a Legitimate Minor League System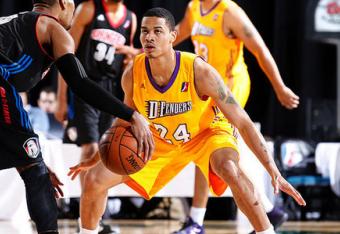 Joe Murphy/Getty Images

Good news abound from the NBA D-League: This season, in all of its weird, abbreviated glory, has set record marks for both call-ups and assignments between NBA clubs and their D-League affiliates, per a league release.
While it's positively wonderful that D-Leaguers are getting a shot in the NBA and some extra cash flow (and that the D has seen some high-profile signings, as well as some of its alumni rise to prominence), it's the assignments that, in this case, are indicative of real, positive change.
A record number of call-ups was to be expected, after all, in a season started so suddenly and plagued by so many injuries. But the way that teams have used their D-League affiliates this season—as actual portals for in-house development—is truly impressive, and offers hope for the D as a legitimate minor league system. The D-League has long been filled with fringe-level NBA talent, but many teams seemed surprisingly reluctant to send their seldom-used prospects down to their affiliate for playing time, instruction and a chance to establish familiarity with the pro game.
Minutes are such a crucial mechanism for improvement, and yet many young players are expected to attune their games to a completely new style and system without much of an opportunity to learn through experience. The more that teams assign their own players to the D-League, the more they'll come to understand its benefits. Many coaching staffs simply don't have the manpower for a considerable amount of one-on-one work with developing players, particularly those in need of the most instruction.
It's one thing for a team to invest resources in a lottery pick, but what of the second-rounder who needs help reading pick and rolls? What about the undrafted free agent who had gone through his entire basketball career without much coaching? There's a place for basketball talent in all its forms, and it's a legitimate wonder that a league so interested in finding useful players took this long to wise up on the idea of exporting their development to a D-League affiliate.
To take it a step further, NBA teams could go the route of the Spurs, and use their affiliate program as a fully-integrated part of their overall operation. The Austin Toros are so seamlessly connected to the rest of the Spurs infrastructure that T.J. Ford was "assigned" to Austin this season so that he could participate in a single practice; a fully-controlled alternative practice was just under two hours away. The Toros are an extension of practical resources, a grounds for experimentation and an objective-specific training resource.
There are very real benefits to affiliate ownership, but even beyond that, the league's bare-bones affiliate structure still provides value to every team, regardless of where they might lie on the D-League curve.
More important yet: The distribution along that curve is changing, and although there are still some coaches and teams that seem oblivious to the D-League's existence, the savvy are seeing legitimate dividends.
This article is
What is the duplicate article?
Why is this article offensive?
Where is this article plagiarized from?
Why is this article poorly edited?