NHL Playoff Schedule 2012: Injured Stars Who Will Make-or-Break Matchups
April 10, 2012
Christian Petersen/Getty Images
The Philadelphia Flyers won't get Chris Pronger back for the playoffs. It is unfortunate that their captain and top blueliner will be absent, but they have had some time to prepare for life without him and will continue on.
He would have been a huge boost to their cause this season, though, and his loss is one of the most detrimental in the league.
There are other injured superstars of his caliber injured right now as well, and a few of them are coming back. How they fare on the ice will ultimately decide their respective teams' playoff fates.
Daniel Sedin, Canucks (vs. Kings)
A return to the Stanley Cup Finals rides squarely on how Daniel handles his return to the ice from a concussion last month.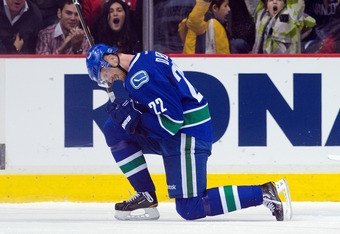 Rich Lam/Getty Images
It cannot be predicted and there is no cure. We don't know how Sedin will handle his first hit, but we do know that the Canucks need him in goal scoring mode if they are going to win games.
To make matters worse, they open the postseason against Johnnie Quick and the Los Angeles Kings. Quick has been sensational this season, and if Vancouver doesn't have their star left winger it could doom them.
No goalkeeper has recorded more shutouts this season than Quick, and he's allowing the least amount of goals per game of any every day starting goalie.
We know he'll return, but how he handles that return is still up in the air.
Jonathan Toews, Blackhawks (vs. Coyotes)
Like Sedin, we know Toews will be back, but we don't know how effective he will be.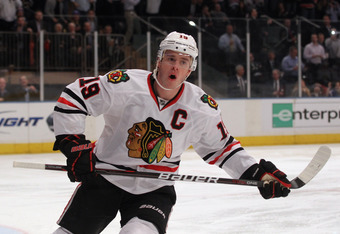 Bruce Bennett/Getty Images
The Blackhawks have a huge advantage playing at home in the postseason, but they start on the road against a Coyotes team that could make quick work of them.
He's the only chance this team has at making a run for the Cup, and they know this as well as me and you.
Sidney Crosby, Penguins (vs. Flyers)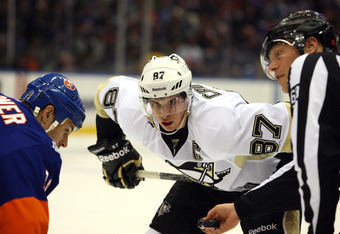 Chris Chambers/Getty Images
And the ultimate injury-ridden star, Sid the Kid will need to rise up and make his presence felt in the postseason if the Penguins are going to earn a series win over the Flyers in the opening round.
Like Sedin and Toews, we know he is coming back but he's proven time and time again that we don't know how he'll handle a return to the ice.
In playoff time there is no mercy.
Crosby is going to have to be careful, but he is going to have to be on his game if the Penguins are going to compete at full strength.