Fantasy Baseball 2012: Rest-of-Season Projections for Runs Leaders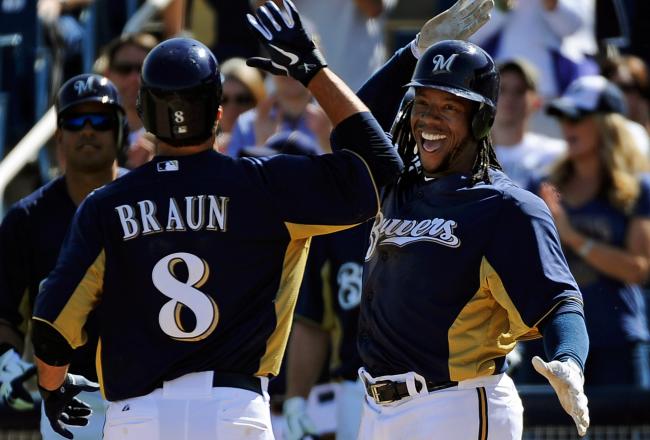 Brewers teammates Ryan Braun (210 runs) and Rickie Weeks combined for 399 runs during the 2010-11 seasons.
Kevork Djansezian/Getty Images
AccuScore, a company widely known for its thorough game simulations, has made a few on-the-fly revisions to its seasonal projections.
These 47 hitters will score 85 or more runs from this point forward (April 10-Sept. 30):
1. Jose Reyes, Marlins—109
2. Ryan Braun, Brewers—108
3. Jacoby Ellsbury, Red Sox—107
4. Carlos Gonzalez, Rockies—106
5. Curtis Granderson, Yankees—106
6. Ian Kinsler, Rangers—105
7. Miguel Cabrera, Tigers—104
8. Albert Pujols, Angels—104
9. Rickie Weeks, Brewers—102
10. Matt Kemp, Dodgers—101
11. Jose Bautista, Blue Jays—99
12. Jason Kipnis, Indians—96
13. Joey Votto, Reds—96
14. Dustin Pedroia, Red Sox—96
15. Brandon Phillips, Reds—96
16. Austin Jackson, Tigers—95
17. Corey Hart, Brewers—95
18. Shane Victorino, Phillies—95
19. Robinson Cano, Yankees—94
20. Derek Jeter, Yankees—94
21. Matt Holliday, Cardinals—94
22. Josh Hamilton, Rangers—94
23. Justin Upton, Diamondbacks—93
24. Dee Gordon, Dodgers—93
25. Hanley Ramirez, Marlins—93
26. Dexter Fowler, Rockies—93
27. Desmond Jennings, Rays—93
28. Mark Teixeira, Yankees—92
29. Alex Gordon, Royals—92
30. Evan Longoria, Rays—91
31. Cameron Maybin, Padres—90
32. Michael Bourn, Braves—89
33. Adrian Gonzalez, Red Sox—89
34. Troy Tulowitzki, Rockies—88
35. Prince Fielder, Tigers—87
36. Melky Cabrera, Giants—87
37. Elvis Andrus, Rangers—87
38. Dan Uggla, Braves—87
39. Jose Tabata, Pirates—87
40. Adrian Beltre, Rangers—87
41. Brett Lawrie, Blue Jays—87
42. Drew Stubbs, Reds—86
43. Paul Goldschmidt, Diamondbacks—86
44. Martin Prado, Braves—86
45. Andrew McCutchen, Pirates—85
46. Lance Berkman, Cardinals—85
47. Chris Young, Diamondbacks—85
Jay Clemons can be reached on Twitter, day or night, at @ATL_JayClemons.
This article is
What is the duplicate article?
Why is this article offensive?
Where is this article plagiarized from?
Why is this article poorly edited?