South Carolina Football: 10 Reasonable Goals for the 2012 Season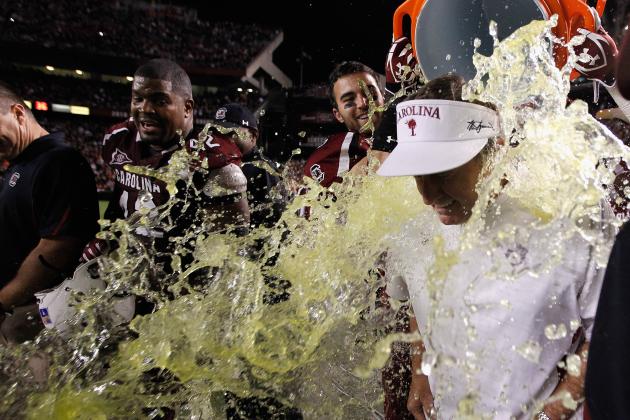 Streeter Lecka/Getty Images

South Carolina has a big season coming up. For once, the program isn't marred in a negative mindset. This year, South Carolina knows it can compete. The program has definitely turned a corner.
They aren't elite yet, and they have a long way to go to get there. However, they are currently in a very solid place as a team and program.
Without looking through garnet-colored glasses, here are 10 reasonable goals that the Gamecocks should set for themselves. These aren't goals that I think they will automatically meet. These are goals the team must work for.
They have to be prepared to face every challenge in order to meet these lofty goals.
Begin Slideshow

»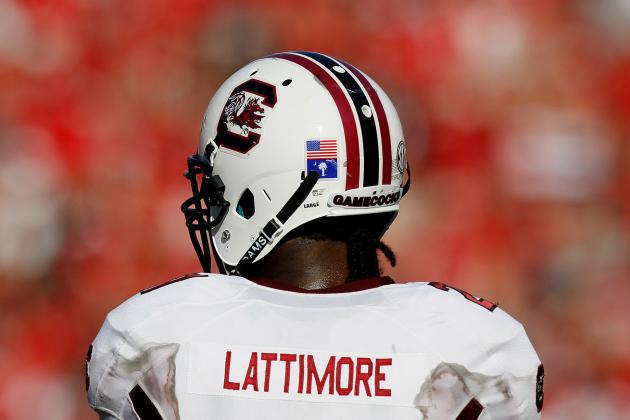 Kevin C. Cox/Getty Images

The first thing that the Gamecocks must do is put themselves in a position to win their division. Georgia has an easier schedule this year. Missouri and Florida could be potent as well.
The Gamecocks have the talent, but they also have their work cut out for them. If they are in a position to win the East, that sets them up for the ultimate goal.
Streeter Lecka/Getty Images

This goes without saying. To have a chance to win the East, you must have at least nine wins under your belt. 9-3 may get you in with help. 10-2, 11-1 or 12-0 would be ideal.
A nine-win season in the SEC is nothing to sneeze at. It would also allow the team to stay in contention for most of the year. If the team only wins seven or eight games, it should be considered a massive disappointment.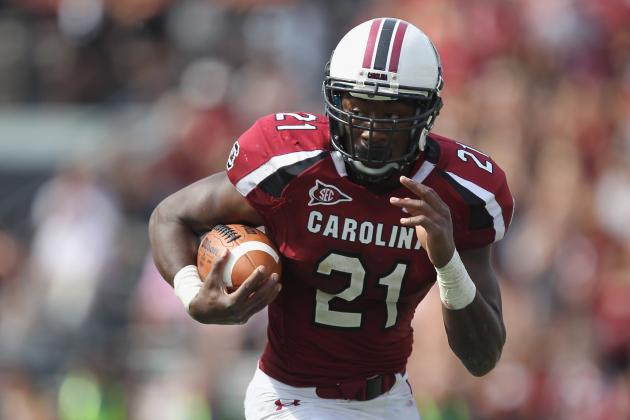 Streeter Lecka/Getty Images

With as many great runners as the Gamecocks have, this should be possible. Marcus Lattimore returns, along with an experienced Connor Shaw, as well as starting-caliber runners Kenny Miles and Brandon Wilds.
Add to the mix the explosive Shon Carson and freshman Mike Davis, and the Gamecocks could be one of the best running teams in the country.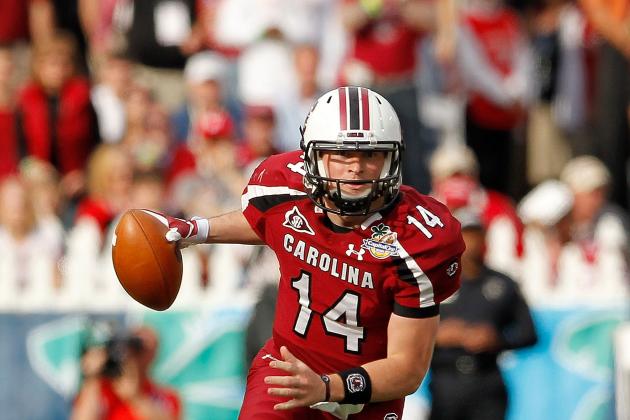 Mike Ehrmann/Getty Images

Even though the Gamecocks will rely heavily on the ground game, the passing game showed great signs of life in 2011. Connor Shaw proved he was more than just a runner.
Playing an entire season as starter should boost Connor Shaw's numbers, and if one or two reliable receivers emerge, the Gamecocks could have a deadly offense.
Yes, I am aware of Steve Spurrier's woes during the spring this year. He says that every year. I won't be concerned until the first game.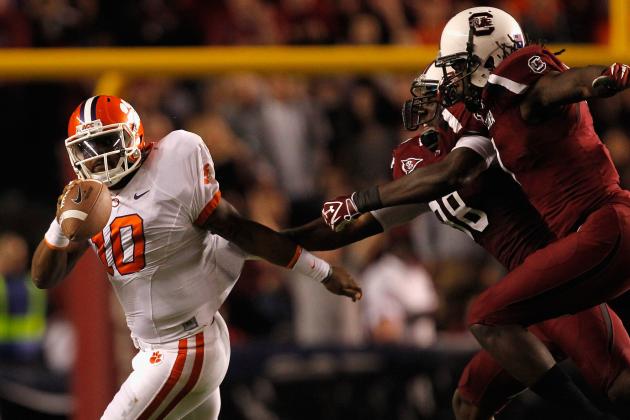 Streeter Lecka/Getty Images

South Carolina isn't elite when it comes to the program, but the defense was pretty close last year. The Gamecocks will miss Melvin Ingram, Antonio Allen, Travian Robertson and Stephon Gilmore, but they return Jadeveon Clowney, Devin Taylor, Victor Hampton and Kelcy Quarles.
In other words, the team is still loaded. There is a great deal of potential on this defense, but a bit less proven production. If the potential is fulfilled, this could be an even better defense. If not, the worst-case scenario is that it slips a bit but is still stifling.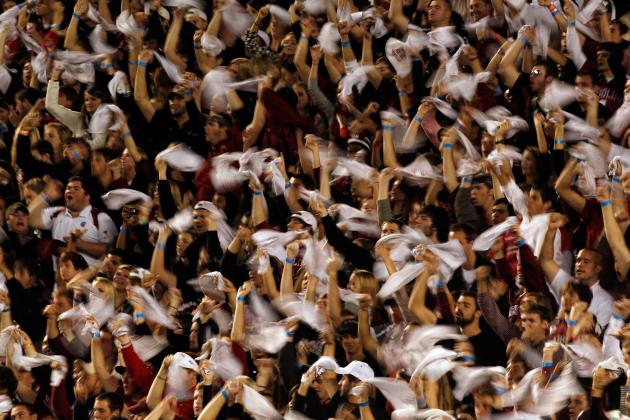 Streeter Lecka/Getty Images

South Carolina has an incredible atmosphere at Williams-Brice Stadium. People are loud, and the team plays very well. One way to ensure a great season is to win every game at home.
South Carolina's two toughest games at home are Georgia and Arkansas. While tough, South Carolina has the ability to win those games.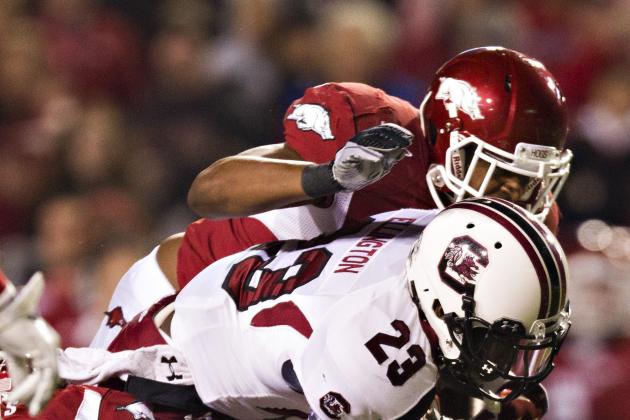 Wesley Hitt/Getty Images

It's no secret that South Carolina's special teams have been less than special. They improved some last year, but for South Carolina to become a truly deadly team, they need a spark.
Joe Robinson is a great hire for the special teams. He helped create the monster LSU special teams. The coverage must improve, as well as kick return yards.
If they can make a substantial jump in this category, the Gamecocks will be even more difficult to beat.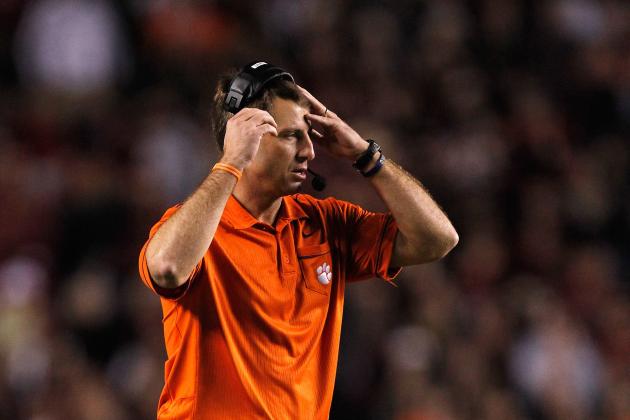 Streeter Lecka/Getty Images

There are still some Clemson fans that are clinging to the idea that this is just a flash in the pan. I have many friends that are Clemson fans. Many are rational.
Some are not. While I don't believe the tide has "officially" turned on the rivalry, I do feel as though the Gamecocks have clearly established themselves as the better program currently.
A fourth loss to the Gamecocks would probably spell the end for the Clemson domination era.
While the Gamecocks have a couple more wins to go to make it even (it's not as one-sided as Clemson folks would have you believe—it's 65-40 Clemson, meaning that Clemson wins roughly six out of 10 games, not nine out of 10 as many would lead you to believe), winning five of the last seven games will go a long way in establishing a new tide.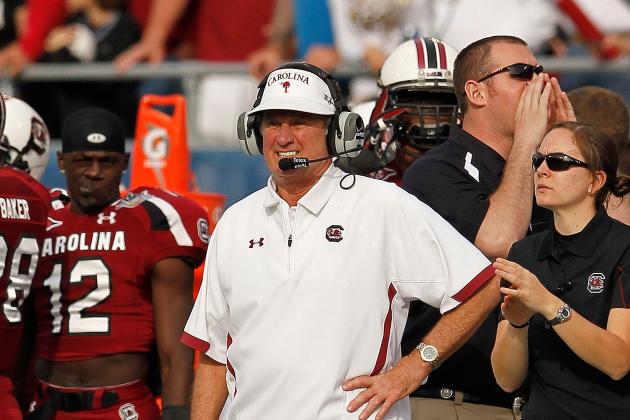 Mike Ehrmann/Getty Images

South Carolina has had a pretty terrible bowl history. Last year's Capital One Bowl victory against Nebraska probably ranks as the biggest bowl victory.
So no matter what bowl game the Gamecocks go to, they must leave with a W.
While the odds aren't in the Gamecocks' favor, they definitely have a chance. Ten years ago, even the most fervent Gamecock fan knew they didn't have a chance at the SEC.
Now, they do. They are talented, well-coached and recruit well. This should be the ultimate goal from here on out. One day, the Gamecocks will win the SEC. It may not be this year. It may be 10 years down the road. However, the South Carolina Gamecocks will be in the hunt year in and year out.