Bills Parcells: Failure to Secure Coach Ruins Saints' Super Bowl Chances
April 10, 2012

Marc Serota/Getty Images
In the wake of Bountygate, the New Orleans Saints had an opportunity to add a legendary coach in Bill Parcells, which would have helped fill the hole left by Sean Payton's suspension.
But Parcells has reportedly declined the interim head coach job offer, choosing to remain in retirement.
Chris Mortensen of ESPN tweeted on Tuesday:
Bill Parcells is certain to remain retired and not serve as the Saints' interim head coach, per sources. More coming on ESPN.

— Chris Mortensen (@mortreport) April 10, 2012
According to NBC reporter Scott Walker, assistant coach Joe Vitt will likely be the interim head coach next season for the Saints.
This is bad news for the Saints. They had a chance to fill a void while Sean Payton served his one-year suspension and make another run at the Super Bowl.
But with respect to Vitt, he's not the man to lead the Saints to the title. He served as the St. Louis Rams' interim head coach back in 2005 and went 4-7. The Saints need a top head coach like Parcells to challenge for the Lombardi Trophy next season.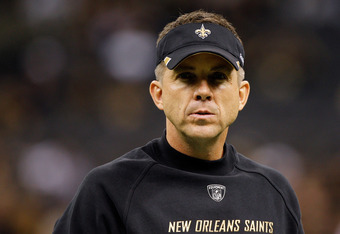 Chris Graythen/Getty Images
But it's not just that I feel the Saints need a top head coach to make it to the Super Bowl. It's that there is so much turmoil and uncertainty in the organization that they seriously need a boost. Think the New York Jets last season.
Keep in mind the Saints have yet to work out an extension with disgruntled quarterback Drew Brees. That's another big distraction added to the mix. With everything going on surrounding the team—the suspension of Payton, the indefinite suspension of former defensive coordinator Gregg Williams, the eight-game suspension of general manager Mickey Loomis—there needed to be a huge hire to get the Saints over the hump.
Instead, they will likely use a stop-gap in Vitt. It's hard to see them failing to make the playoffs, but to say they will make a run at the championship is far-fetched. It's more than the product on the field now. It's about righting a ship that is battered and in need of repairs.
Follow me on Twitter. We can talk about the Saints and the NFL together.