MLB Trade Rumors: 4 Teams Who Desperately Need to Make a Move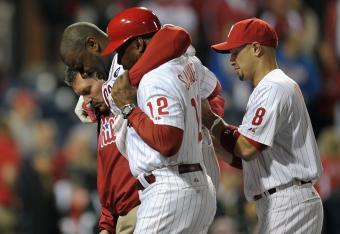 Drew Hallowell/Getty Images
The season's only four games old, so there's no need to panic, but based on the early-season results there are some teams who may be making moves well before the trade deadline starts.
Players, managers and even the front office know that serious trade talks won't commence until May or June, but a few teams now have bigger needs than when the season began.
You can't win the pennant in April, but a bad first month can make the climb back to the playoffs that much harder.
Here are a few teams who should make some moves early in the year.
Anytime you make Barry Zito look like the most dominate pitcher in baseball, your team needs help. In their home opener, the Rockies were shut out by Zito and San Francisco Giants, losing 7-0 in a performance that had the sellout crowd booing.
That's right, the Rockies were booed on Opening Day.
But they have bigger problems than an embarrassing loss that made a once faltering pitcher look like a god. The Rockies also lost two out of three to the Houston Astros.
The same Astros team that lost a franchise worst 106 games last year.
The Rockies have been outscored 17-5 the last three games, so they can't just blame the pitching.
Doug Pensinger/Getty Images
Through four games Colorado has a team average of .180 and rank last in the league in on-base percentage.
Pitching is where they may look to make their early-season moves and hope the offense comes around.
It's a great story that Jamie Moyer is your fourth starter, but he is 49-years-old.
Now with Jorge De La Rosa likely out until at least late May, Moyer will have to pick up the slack. Should the ageless wonder struggle into May, the Rockies will be in the market for some pitching.
The Red Sox started 0-3 for second straight year, the first time since 1933. Fortunately the "Curse of the Bambino" is long gone or Bobby Valentine would have been public enemy No. 1.
Right now the focus falls on the bullpen and closer Alfredo Aceves, who blew his first save of the year when he gave up a game-tying three-run homer to Miguel Cabrera.
Aceves is only closing because Jonathan Pabelbon went to the Philadelphia Phillies and new closer Andrew Bailey will be out until July or August.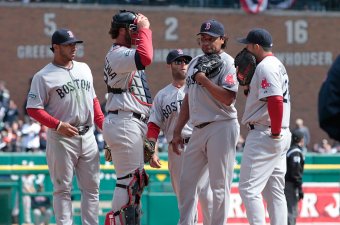 Leon Halip/Getty Images
Boston isn't going to trade away for another closer until they need to. Aceves did pick up his first save yesterday, so Red Sox fans can breathe a sigh of relief for now.
If Aceves continues to struggle, the Sox may go after closers Joel Hanrahan or Francisco Cordero, according to Buster Olney.
With the franchise worth $2 billion, it's only a matter of time until the Dodgers go after a big name.
For the first time in about three years, the Dodgers are actually relevant again, thanks to Magic Johnson and company.
The Dodgers probably won't make moves until the trade deadline, but they do have some holes on their team.
Right now they have some offensive needs with Mark Ellis, Dee Gordon and Juan Uribe holding down three fourths of the Dodgers infield.
With money to spend, the Dodgers will be buyers at this year's trade deadline.
Signings could also come this offseason, where they may go after pitchers like Cole Hamels or Zack Greinke.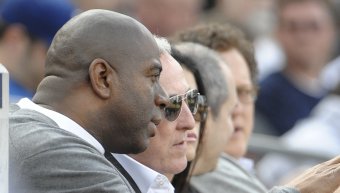 Denis Poroy/Getty Images
Don't be surprised if they decide to rent a player if they are in the thick of the playoff race.
Philadelphia Phillies
The Phillies can't score runs. In their first four games they've had a runner safely cross the plate just eight times. At 1-3, there is some reason for concern. They were basically shut down by the Pittsburgh Pirates.
The battling Bucs play good baseball, but the Phillies looked horrible on offense. Fortunately, they have one of the strongest pitching staffs in the league, and will have to rely on it until the offense returns.
They are also playing without their two best offensive players: Ryan Howard and Chase Utley. Howard is still recovering from an Achilles injury and Utley is starting the season on the disabled list for the second straight year.
The Phillies have reportedly shown interest in former Giants infielder Mike Fontenot, which would plug a hole until Utley returns.
As long as Howard and Utley return in the foreseeable future, the Phillies should be posed for another postseason run, but if their two stars continue to ride the DL, they may have to add some offense.
This article is
What is the duplicate article?
Why is this article offensive?
Where is this article plagiarized from?
Why is this article poorly edited?