David Wright, New York Mets Giving Fans a Reason to Watch Early on
April 10, 2012

Jim McIsaac/Getty Images
After a 9-20 spring training, If I had told you the Mets would have gotten off to a 4-0 start, you would have looked at me every sort of goofy way possible.
Guess who's undefeated to start the season?
The Mets swept the opening series from the Atlanta Braves—including a 1-0 shutout with help from a returning Johan Santana—and have taken the first game of a three-game series from the Washington Nationals thanks to some late-game heroics from Daniel Murphy.
It's baby steps for sure, but there's a gradually growing optimism with the team.
David Wright has started off the season white hot, notching seven hits in 12 at bats (.583 average), including one home run and four RBIs. Ruben Tejada—the appointed heir apparent to the recently departed Jose Reyes—has proven to be an adequate replacement, starting the season off with five hits, three doubles and a .47l OBP in limited time in the leadoff spot.
Lucas Duda notched his first career two home run game in just the second game of the season and Josh Thole and Daniel Murphy have been solid offensively, as well.
A bright spot through four games has to be rookie outfielder Kirk Nieuwenhuis.
The 24-year-old notched his first hit in the major leagues on Opening Day and blasted his first major league home run last night that tied the game at three, giving the Mets the chance to come back against Washington. 
However, its the Mets' pitching staff that has come to play in the opening week and been the key for success early on.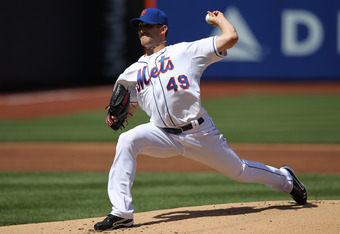 Nick Laham/Getty Images
Mets hurlers are tied for second best team ERA (2.25 ERA) in the MLB, second in .BAA (.188) and tied for fourth overall in K's (35). To add to impressive numbers, new closer Frank Francisco notched a franchise record three consecutive saves to begin the season in the Braves series.
A key to remember: New York has jumped out to an impressive start with important players still lagging behind.
Slugger Ike Davis has started the season hitless in 15 ABs with six strikeouts, looking early and out in front of most pitches. Jason Bay, who had a putrid spring training that included zero RBI, has only two hits, one RBI and four strikeouts. Andres Torres, penciled in as the starting center fielder, injured his calf on Opening Day and is on the 15-day DL.
Most experts had the New York Mets pegged to finish dead last in the ultra-talented NL East. It's only four games into a 162-game schedule, and those experts have proven to be right.
However, Mets fans should enjoy the hot start the team has gotten off to and remember: There's a reason why they play the games.
Anything is possible.