NFL Draft 2012: Cornerbacks Are Immediate Need for the Buffalo Bills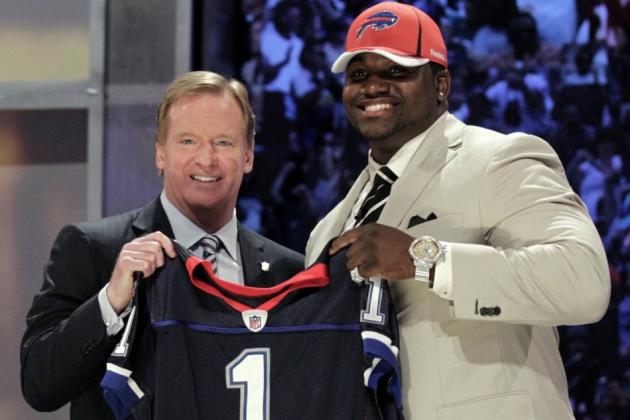 Bills 2011 1st round pick Marcell Dareus
The Buffalo Bills landed a playmaker in Marcell Dareus with their first pick in the 2011 NFL Draft. It happened to fill a major need in their defense as well. The Bills will look to do the same thing with their first-round pick in the 2012 NFL Draft.
Since the defensive line has been fortified with the signings of Mario Williams and Mark Anderson, the Bills could look to the secondary in the draft with the available depth at the position.
The team drafted Aaron Williams with their second-round pick last season, which could lead them to look elsewhere with their first pick; but it wouldn't hurt to have two top cornerbacks in the secondary for the next four to five years.
Terrence McGee, 31, has not played more than 11 games since the 2008 season and Leodis McKelvin was victimized by opponents wide receivers last year, making the cornerback position a target for the Buffalo Bills.
As draft time inches closer, here are the top four options the Bills should scout at the cornerback position.
Begin Slideshow

»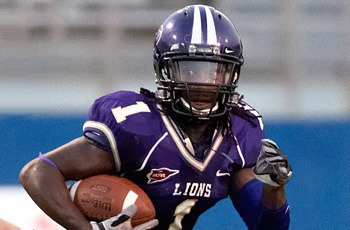 Janoris Jenkins is the wild card in this crop of cornerbacks. He had the opportunity to be the number one cornerback overall in this year's draft, but due to numerous off the field issues, his draft stock has plummeted.
Jenkins started his college career playing three years with the Florida Gators. Throughout that time, he posted great numbers (8 interceptions, 2 forced fumbles, 2 sacks and a total of 106 tackles.)
Throughout his tenure there, he was arrested three different times, which led to his dismissal from the team. Two of those arrests dealt with marijuana possession.
Jenkins moved to North Alabama (Division II) to help repair his image before entering the draft. He finished his senior season with two interceptions, four pass breakups and two fumble recoveries.
He improved his punt returning as another facet to his game, averaging 21.7 yards per KOR and returned three for touchdowns.
The biggest question for draft evaluators is whether Jenkins has matured enough to deal with playing on the NFL level along with dealing with his off-the-field issues. If so, he does have the talent to be a top cornerback in this league.
As for the Bills, they normally steer clear of players with character issues, so I do not see Jenkins as a fit for them.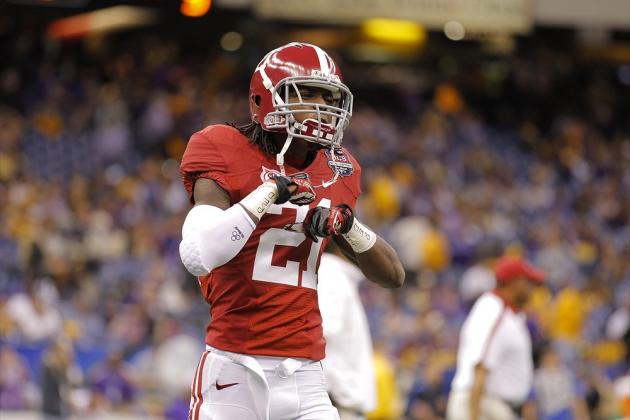 Dre Kirkpatrick is another cornerback with off-the-field concerns. During his freshman year, he was forced to return home to get his academics in order. More recently, two months ago, he was caught with possession of marijuana, which affected his draft stock.
Other than off-field concerns, Kirkpatrick has had concerns about his health as well. He had shoulder surgery after his senior year of high school and was hit with hamstring injuries throughout his freshman year in college. At the end of his sophomore (2010) season, Kirkpatrick went through another shoulder surgery.
After the BCS National Championship Kirkpatrick was seen as a potential top 15 pick. Following the drug possession and a more in-depth look at his injury history, it's hard to believe anyone would spend their top pick on him.
The Bills will most likely pass on Kirkpatrick due to his injury concerns since they have enough problems trying to keep Terrence McGee healthy. Plus, they tend to keep their distance from players with character issues.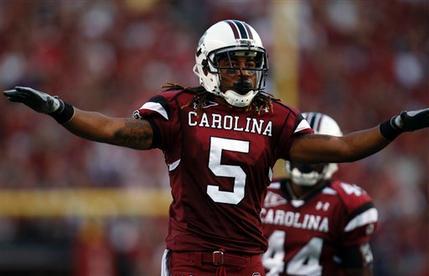 Stephon Gilmore has flown under the radar heading into the 2012 NFL Draft. Numerous scouts and analysts didn't have Gilmore in their first-round mock drafts back in February. Since then, he impressed at the combine and didn't find himself in trouble with the law. Now, Gilmore could find himself drafted in the top 15.
Gilmore may be the most complete cornerback coming out of this draft. His top end speed and vertical jump rivals even the top cornerback prospects. At the combine, Gilmore ran a 4.40 40-yard dash which was highest among all top five rated cornerbacks. Gilmore added a vertical jump of 36 inches, again good enough for number one among the top rated corners in this year's draft.
When it comes to durability, Gilmore may find himself among the best in that department as well. He started all 40 games during his three years at South Carolina, including his first as a true freshman.
Not only does Gilmore succeed on the field, but he does off the field as well. Throughout the 2009-2010 academic years, he was a member of the SEC Academic Honor Roll.
Overall, Gilmore can be someone the Bills may target at number 10. Since no other major playmakers will be around at number ten, this pick could be more likely then people think. Especially if Morris Claiborne isn't available.
Morris Claiborne is the top rated cornerback heading into the 2012 NFL Draft. Due to his great instincts, superior coverage and durability, he could be off the board as high as three to the Minnesota Vikings.
Claiborne finished his 2011 season with six interceptions and 51 tackles, which helped LSU reach the BCS National Championship game. Furthermore, because he played wide receiver in college, he has the best hands out of any of the cornerbacks coming out of the draft.
In addition, Claiborne remained mostly healthy throughout the last two years, missing only one game due to an undisclosed injury during the 2010 season.
Finally, Claiborne's big play ability in the return game (25.1 yards per KOR, 1 TD) could be another major asset in raising his draft stock to teams interested in his services.
The only downfall to Claiborne is the fact that he scored a four out of fifty on the Wonderlic test, which helps measure a player's aptitude on the football field. Take this as you will. Many other players have been very successful in the NFL after scoring poorly on the Wonderlic.
If the Bills want a cornerback that will be the leader of their defense for years to come, it may be smart for them to move up and nab him if he begins to slide a few picks in the draft.