2012 NFL Draft: Boise State Defensive End Billy Winn
April 10, 2012

Doug Pensinger/Getty Images
Billy Winn is a big, mobile defensive tackle from Boise State.  He is a versatile football player with very good size and athleticism.  At the NFL combine in February, he measured in at 6'3-1/2" and 294 pounds.  Winn has played all across the defensive line in multiple schemes at Boise State.
He is disruptive along the interior of the defensive line, as he plays with great strength and mobility.  He is versatile enough to be a productive three- or five-technique at the NFL level.
At Boise State, Winn was the anchor of a defensive front that helped put the Boise State program on the map.  Winn was All-Mountain West second team, and he was invited to the Senior Bowl in Mobile, Alabama.
I talked to Winn after his pro day workout.  We talked about his time at Boise State, the pre-draft process and his future in the NFL.  I asked him what it was like playing at Boise State.
"It was an awesome, awesome experience, you know, just having the fanbase that we do, having that college town sense of environment and just we were able to do some great things here.  You know, the environment was just great."
When we talked about how he was part of a group of players that put Boise State on the national football map, he directly pointed to the team's base of fans.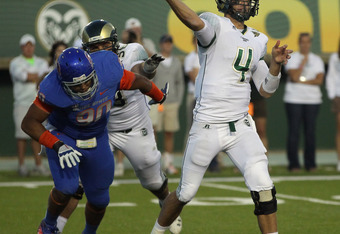 Doug Pensinger/Getty Images
"It all comes back to the fanbase, though.  You know, we just have a real solid core, you know, real genuine fans."
There have been plenty of memories for the Broncos over the last few years.  I asked him what his favorite memory was as a college football player.
"Just going out there on the blue [field] with my teammates, you know."
I asked him for a specific example of a play that stood out to him as something special for him.
"We were playing Oregon and I was able to get a safety on LeGarrette Blount in the end zone, and just to have that support from my teammates and having, you know, the other 10 guys just kind of wrap me up, you know, it was one of the most amazing experiences I'm sure that I ever experienced on the field."
Billy Winn is big and very mobile for his size, as evidenced by his 4.82-second 40-yard dash time.  He is also very versatile and can play multiple positions on the defensive line.   He told me that the Boise scheme called for them to play in a 4-3 base defense and in a 3-4 base defense.
He thinks he fits best inside in a 3-4 front.  He told me that he has the speed and strength to run and set the edge, but he thinks he also has the athletic flexibility to make plays on the inside.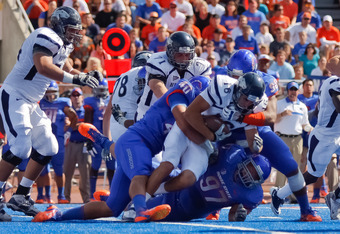 Otto Kitsinger III/Getty Images
We talked about the versatility of showing teams on tape that he can move all around the defensive front.
"I do think it helps me because there's going to be certain situations when you get in, when you get on the field that you may need a certain guy or a certain different kind of technique or a certain body type, and I feel like with that versatility, I can play any position on the defensive line, and I feel like I can bring that to the table."
I asked him about the combine and whether everything we have heard is true about it.
"For me, basically, it was a week-long job interview, and I was just trying to put my best foot forward, you know, and really show everyone that I want this more than anything."
"You know, this has been like the milestone of my career since I played in high school, and my biggest thing was, I want to be successful in college, but I also wanted to perform well at the combine and perform well at the pro day."
I asked him if he had been compared to a current NFL player, or if his game resembled anyone in the NFL.
"If I could say anybody, I would say Julius Peppers, you know, just with how physical he is at the point of attack and the athleticism that he plays with.  I just feel that that's one person that, you know, I've really tried to parallel my athletic ability to."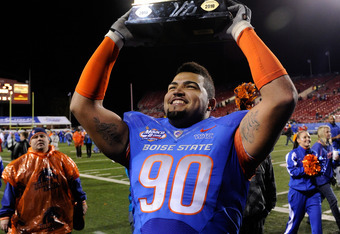 Ethan Miller/Getty Images
We talked about his hopes for the NFL and what the future might hold for him in the league.  We talked about what he could offer to a team.
"I offer great athleticism and a lot of speed for my size, and I make good decisions on the field."
We talked about what the specific strength of his game is.
"My speed—I'm about 290 to 295 pounds, but I've got enough speed where I can keep up with the fastest guys.  You know, that's, that's what I feel is my strongest core aspect."
I asked him what he wanted the fans of the team that drafts him to know.
"Sit down and enjoy the ride.  You know, it's going to be a fun experience going out there with the 10 other guys on defense and going out there and giving it everything we've got.  We're going make this fun and as exhilarating as we can for them."
Billy Winn is a very good football player, and a player that can help a team right away in a variety of ways.  He has shown that he can be productive anywhere along the defensive line.  He has shown that he can be productive in a variety of schemes. 
He is anxious to show he can do the same things in the NFL, and I am excited to see what he can do.
Scott Bischoff is a Contributor for Bleacher Report. Unless otherwise noted, all quotes were obtained first-hand or from official interview materials.