Alabama Football: 10 Reasonable Goals for the 2012 Season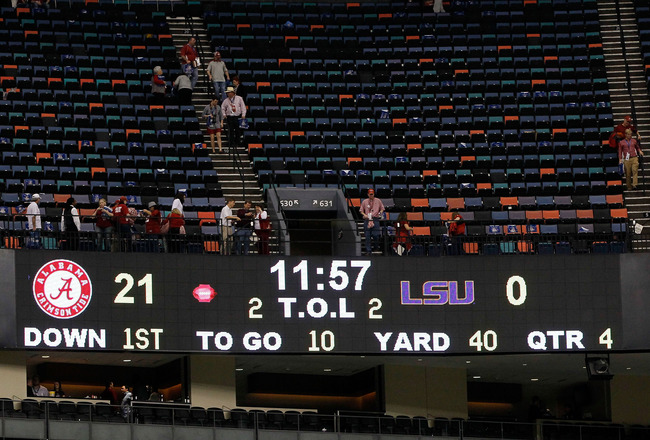 Kevin C. Cox/Getty Images
Believe it or not, the Crimson Tide can improve on many aspects of the 2011 season. Even with the loss of juniors to the draft and seniors to graduation, there are improvements that can be reasonably expected.
Though the biggest similarity from 2011 to 2012 is the team's name, there is no reason to believe that the Tide will repeat the three-loss 2010 debacle, either.
In fact, according to a lot of players (and Nick Saban), there is legitimate reason for hope in 2012. Let's take a look at 10 goals for the 2012 season that are more than just pipe dreams.
*Statistics, unless otherwise specified, are from rolltide.com
Force More Turnovers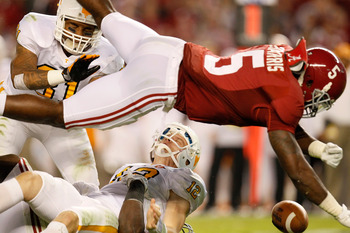 Kevin C. Cox/Getty Images
Alabama's opponents fumbled 18 times last year, but only seven were recovered by the Tide. There were 13 interceptions made by the Tide, and that's a respectable number that averages out to one per game.
While the interceptions don't leave much to be desired, the fumble numbers need to go up.
The Tide must raise that percentage to at least 50 in 2012. A 50 percent fumble recovery rate is more than just a reasonable goal.
2012 fumble recovery rate goal: 50 percent or better

Commit Fewer Turnovers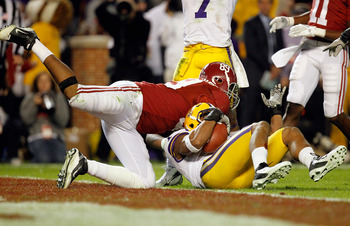 Streeter Lecka/Getty Images
Between the eight interceptions and four recovered fumbles by opponents in 2011, Alabama was basically a lock for committing one turnover per game.
That number has got to go down. The Tide fumbled 12 times, but only lost four of them. The turnover battle has got to be more one-sided than that.
Alabama needs to concentrate on keeping control of the ball at all times. Limiting the number of fumbles to 10 should be feasible, and reducing interceptions from eight to five should also be reasonable.
2012 fumbles committed goal: 10 or fewer

2012 interceptions thrown goal: 5 or fewer

Third-Down Conversions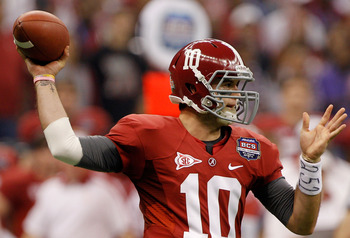 Chris Graythen/Getty Images
The Tide compiled a mediocre 47 third-down conversion ration last year. (78/167)
That number needs to skyrocket, especially with the seasoned offensive line and veteran quarterback returning.
I know it seems like a lot to ask, but McCarron and co. need to rack up at least 60 percent in the 2012 season, especially since they need to carry a young defense for the early part of the season.
2012 third-down conversion rate goal: 60 percent or better

Penalties
Kevin C. Cox/Getty Images
With the showing against LSU in the BCS title game, Alabama made it clear that a clean game is possible. It's a matter of rhythm, focus and determination.
If Alabama can put together one game with only one penalty, then there is no reason to believe that the 49 penalties committed in 2011 are acceptable.
Bringing that total below 40 is a reasonable goal.
2012 total number of penalties goal: 40 or fewer (roughly three per game)

Red Zone Scoring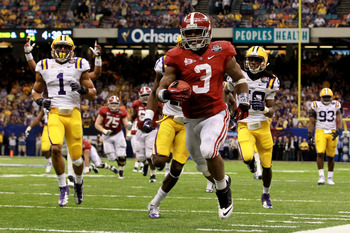 Ronald Martinez/Getty Images
Alabama scored on 88 percent of its trips to the red zone in 2011. Only 55 percent of the trips resulted in touchdowns, though.
In order to maintain the attitude of dominance, the Tide cannot continue to enter the opponents' red zones only to come away with three points.
True, a field goal is better than nothing, but a 55 percent conversion rate from the red zone is just not acceptable in the long run.
You have to be able to get inside the opponent's head when you cross the 20. Kicking field goals doesn't do that nearly as effectively as crossing their goal line.
2012 red zone touchdown rate goal: 67 percent or better
More Balanced Offense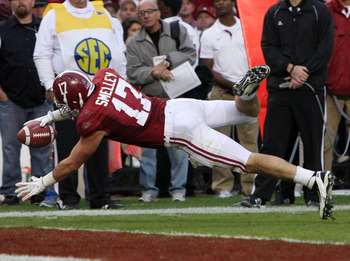 Mike Zarrilli/Getty Images
Out of the 50 offensive touchdowns scored by the Tide last year, 34 of them came on the ground.
Granted, the combo of Richardson and Lacy was lethal, but the issue with the ratio of touchdowns wasn't all because we had the nation's best tailbacks in the backfield.
The bigger issue was the inability to complete touchdown passes with regularity.
The Tide will always have a threat at tailback, and they will always manage to break off big runs late in the game to seal the Tide's victory.
To ask for a 50/50 ratio is a little ridiculous, but a two-thirds ratio indicates a problem with the passing game. To ask for a 60/40 split from the Crimson Tide is quite reasonable, though.
2012 rushing touchdown percentage goal: 60 or fewer (down from 2011's mark of 68)
Longer Punts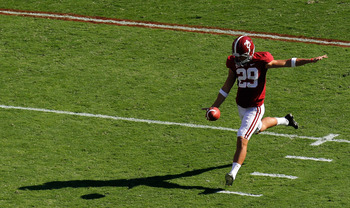 Kevin C. Cox/Getty Images
Of course, in a perfect world, the Tide would never punt.
In the real world, the punt needs to go far enough to be worth kicking and hang long enough for the gunners to get there at the same time as the returner.
In 2011, Alabama averaged 39.3 yards per punt off 39 punts. That number should be able to go to 45 this year. With Adam Griffith showing up to enter punting competition, the fire under the kickers' butts should get pretty hot.
Someone will come out with a cannon where his leg used to be.
2012 average punt distance goal: 45 yards or more
Rushing Yards Gained by Opponents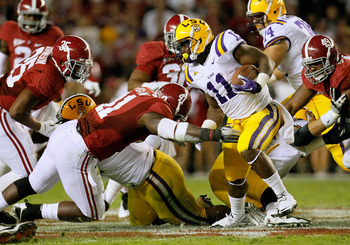 Kevin C. Cox/Getty Images
It's unreasonable to think that this year's Tide can do better than last year's Tide. The 2011 Tide was among the elite defenses in college football history, even with its one loss.
However, the 2011 tide allowed a stingy 72.2 average rushing yards per game to its opponents.
Lowering that number is not expected, but keeping the rushing total to an average of less than 100 yards per game is quite feasible.
The Tide may allow Michigan and/or Arkansas to rush for over 100 yards, but the defense should clamp down after week three and stifle the following rushing attacks quite well.
2012 opponents' rushing average per game goal: 100 yards or fewer
Less Than 21 Points Allowed in Every 2012 Match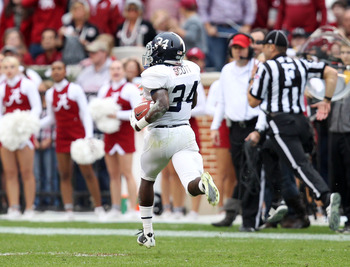 Mike Zarrilli/Getty Images
Georgia Southern ran its offense perfectly against the Tide in 2011, effectively crushing the Tide's accomplishments prior to that meeting.
The 2012 Tide will probably not allow fewer than 106 points on the season, but they can at least hold every opponent to fewer than 21 points.
It may be a tall order, but the Tide has the talent to accomplish this. (Of course, if no one scores more than 21 points, the Tide has a great shot at repeating, right?)
2012 maximum points allowed goal: 20 or fewer
No Worse Than a One-Loss Season with a BCS Bowl Berth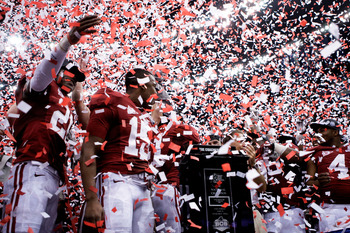 Andy Lyons/Getty Images
Alabama's four toughest games in the 2012 season are against Michigan, Arkansas, Missouri and LSU.
The season opener against Michigan should be a win, as should the conference opener against Arkansas. (I don't think the difference between the two teams will be 24 points different from last year's 38-14 win over the 'Backs.)
Before Alabama travels to Missouri, the Tide has its bye week. The extra prep time should translate to a win for Alabama.
LSU enjoys the luxury of a bye week before hosting Alabama, while the Tide will be playing Mississippi State. LSU is going to be a rough game for the Tide.
The defense should have had time to gel by September, and the LSU match could easily go down as a "W" for the Crimson Tide.
However, if the Tide does lose to LSU, the chances of ending up in the Sugar Bowl are still good for 'Bama.
The only potential monkey wrench at that point would be Georgia. Georgia doesn't play Alabama, LSU or Arkansas in the regular season and could end up undefeated heading into the SEC Championship Game in Atlanta.
If that happens, then it could be a very close race between Georgia and Alabama for the Sugar Bowl berth.
2012 postseason goal: BCS bowl (Title game or Sugar Bowl, either one would be just fine for Tiders everywhere)
Keep Reading

Alabama Crimson Tide Football: Like this team?