NFL Draft 2012: With the 4th Overall Pick the Cleveland Browns Select...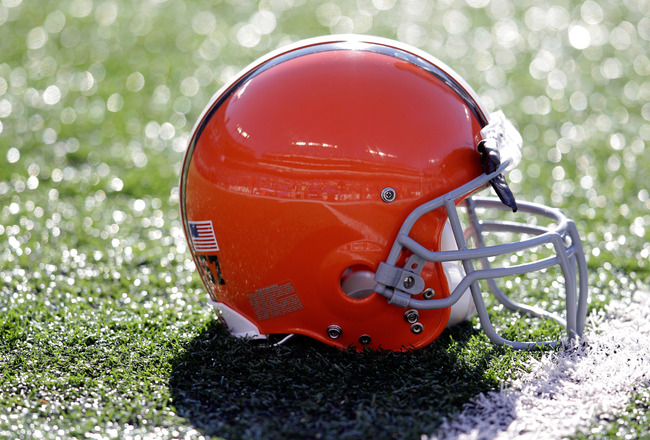 Rob Carr/Getty Images
With the first three picks theoretically in the books (unless the Vikings trade down), the Cleveland Browns are practically on the clock.
Most people know the debate going on with this pick.
Should the Browns take Tannehill since QB is the most important position? What about taking Morris Claiborne even though they have a shutdown corner already? And what about Trent Richardson? There is no doubting his talent, but taking a RB in the top five is taboo.
So who should the choice be? I have ranked the top three prospects.
3. QB Ryan Tannehill, Texas A&M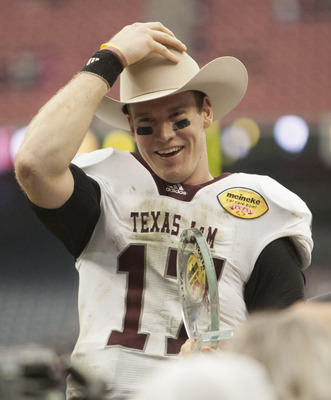 Bob Levey/Getty Images
Pros
Tannehill is a very raw prospect that has tremendous upside and could move into the top five. He is athletic enough to make the throws outside of the pocket and move within the pocket when pressure comes.
He is very sensitive to pocket pressure. That sensitivity doesn't mean that he is afraid to get hit; it means that he knows when to tuck the ball, when to throw it and when rushers are closing in.
He has a good release and has raw arm strength. He shows a lot of guts running down field and doesn't cringe from hits. The same can be said about him in the pocket; he follows through on his throws even if he is going to get thumped.
Cons
The Browns could use an upgrade at QB, but Tannehill is not NFL ready. Granted that he comes from a run-first, pro-style offense, but he doesn't have the experience under his belt that you look for in a day one starter.
The Browns RT issues mean he could get hit more often than he should, which could hinder his growth. Tannehill doesn't keep his eyes downfield as well as Cam Newton did, and if he is going against the elite AFC North defenses, they could jump his short routes or just knock him out in that situation. We'll need to rely heavily on the run game and play action to be successful, and the Browns are not equipped for that.
Overall
I don't like him this high. If they could trade down and get him a little later in the draft after adding more pieces, I would be okay with this.
Also, not signing any big name players in FA really makes me think that they are going to have to build through the draft. That doesn't spell success for a rookie QB with no weapons—especially one that will need more coddling than most.
Also, the Browns have Colt McCoy who fans love. While McCoy is a decent starter, if the Browns give him weapons this year and he doesn't produce, fans may need to get ready for him to get the boot.
He is a game manager that may be a backup QB only. He could prove me wrong this year, and I hope he does. If he doesn't though it is either his job or Shurmur's—maybe both.
2. CB Morris Claiborne, LSU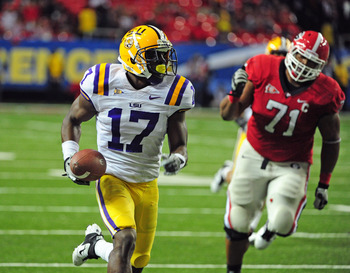 Scott Cunningham/Getty Images
Pros
Claiborne has fluid hips and does a great job breaking on the ball. He is a true shutdown corner that has produced at the highest level against the toughest competition. He has a big frame that suggests a lack of wear-and-tear for the future.
Also, he has a nose for the ball that is rare in DBs. He was a key part of the LSU near-championship defense, and had they not played Alabama in the championship game, it's possible that Claiborne could have been the MVP against a Stanford or OKST team that throws the ball all over the field.
He is NFL ready and is a safe pick for any team.
Cons
I love Claiborne, please don't misunderstand. He is a great prospect and is tied for fourth on my big board.
However, the depth of this DB class prevents this from being a smart pick. Stephon Gilmore and Alfonzo Dennard and Janoris Jenkins will probably be available in the late first or early second round and provide a better value.
Overall
This is a toss up. Either he or Richardson would be home runs for the Browns.
The only reason he is number two is the depth in this class. There are easily six quality starting number two CBs in this draft. The RB position only has one elite player and three to four second tier guys.
Feel free to chew me out, but this is my stance.
1. RB Trent Richardson, Alabama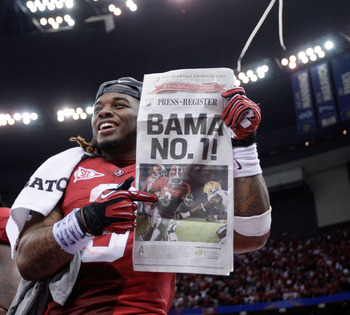 Andy Lyons/Getty Images
Pros
Richardson is elite and can be one of the few franchise backs in the NFL.
He is a bulldozer between the tackles, and linebackers look silly trying to bring him down.
He also has the quick cut skills to get outside the tackle box and beat LBs to the edge. He also has elite acceleration to plant his foot and go. He is country strong (which in my mind means that he uses his force to get the job done when his speed can't) and doesn't give up on runs even if he is given the choice to avoid a hit by using the sideline.
He is one of the few backs that delivers the hits to defenders, and you can tell late in the game that they often just want to go home.
A thick back that runs faster than his size, I could see Richardson getting 1000 yards in his rookie year no matter what OL is in front of him.
Cons
He is a RB. That is the only flaw I see. He has a strong body of production, two championship rings and an elite size/speed combo. The only thing that is even a question is whether or not you take a RB in the top five in today's pass-happy league.
Overall
If they don't want Trent Richardson and aren't absolutely sure that there are no other CBs for them in this draft, the Browns should consider trading this pick.
It is a reach for Tannehill, and unless Kalil falls, the elite class of players will all be gone after pick No. 6.
If the Browns got an offer from the Bengals for their two first-rounders, it would be tough to say no. This would give the Browns the 17th, 21st and 22nd pick in this year's draft. Those picks could be used to draft weapons for McCoy and would seriously make this team stronger.
But then again so would Richardson. Dealer's choice, I suppose.
Leave a comment and let me know how much you loved this or hated this. I want to hear from Browns fans and from anyone else who read this. Thanks for reading.
Keep Reading

Cleveland Browns: Like this team?