Arkansas Football: Petrino Rally Puts Jeff Long in a Difficult Position
April 10, 2012

Al Messerschmidt/Getty Images
Bobby Petrino's motorcycle accident, cover-up and leave of absence have landed the fifth-year Arkansas coach in the national headlines yet again—and left the Arkansas fanbase divided.
Approximately 200 Petrino supports rallied in support of the embattled coach on Monday night on the Arkansas campus, according to ArkansasSports360.com. The event, which was organized by a Facebook fan page with more than 15,000 members, only drew about 200 fans.
My colleague Michael Felder over at Your Best 11 already discussed why this rally was a bad idea, and one quote from the organizer from last night's event dictates why.
When asked by ArkansasSports360.com's Chris Bahn if Petrino would have this kind of support of the program was coming off of a seven-win season, event organizer Matt Couch said what everybody has already been thinking:
If they won seven games, would we be saying the same thing? Probably not. There's probably a chance we wouldn't even be having this rally because that decision would have already been made.
Couch is absolutely right. It's all about wins and losses, and that's exactly why athletic director Jeff Long is in a no-win situation.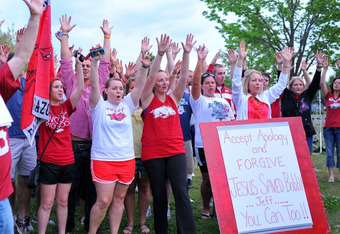 Petrino's a winner. There's no doubt about it. His Arkansas program is 21-5 over the last two seasons and is poised to take the next step and jump into the legitimate national title discussion. 
But as the old saying goes: "Fool me once, shame on you. Fool me twice, shame on me."
That's why Long has to suspend Petrino for a significant amount of time and dock him a significant amount of pay. You can't lie to your employer, put the institution in jeopardy of a lawsuit and create a public spectacle and get away with it. That's true of people in any line of work, not just college football coaches.
Does Petrino deserve to be fired? I don't know, you don't know and Jeff Long doesn't know yet. But what I do know is that Long deserves the benefit of the doubt, not Petrino.
Petrino will be fine. If he's fired, he will land on his feet somewhere, despite his long track record of general shadiness. This is Long's legacy as Arkansas' AD, and blindly supporting Petrino without knowing all of the facts puts pressure on Long that he neither needs nor deserves.
Coaches are out for themselves. That was the crux of the Sporting News story on Urban Meyer. It's why Nick Saban gets criticized for oversigning, and it is what ultimately led to the resignation of Jim Tressel. 
Athletic directors are out for the good of the athletic program, and a "win-at-all-costs" approach isn't always the best path for programs to take.