MLB Free Agency: Why Texas Rangers Would Regret Not Re-Signing Josh Hamilton
April 10, 2012

Ronald Martinez/Getty Images
Free agent to be after the 2012 MLB season, Josh Hamilton, is one of the best players in all of baseball, and the Texas Rangers would greatly regret not re-signing him. 
After not being re-signed by Texas in the offseason, Hamilton may be one of the dangerous players in baseball in 2012 as he has even more to prove. Hamilton has found a way to quiet his critics ever since making his major league debut in 2007 with the Cincinnati Reds.
Since joining the Texas Rangers in 2008, Hamilton has took the baseball world by storm. The star has been an All-Star in all four years and even won an AL MVP in 2010 after hitting .359 with 32 home runs and 100 RBI.
It's safe to say Hamilton is taking his contract year to heart, as he has started the season on fire. In four games, Hamilton is already hitting .500 while blasting two bombs and posting a 1.346 OPS. Yes, it's only been four games, but the league should take note on Hamilton's fast start. Don't be surprised if Hamilton keeps tearing the cover off the ball all season.
Unfortunately, the highly talented Hamilton has also had some rough patches in his career.
It wasn't surprising that Texas did not re-sign Hamilton in the offseason as his troubling fight with substance abuse took another bump in the road this offseason.  
Hamilton, the former No. 1 overall draft pick by the Tampa Bay Devil Rays in 1999, first saw his life go downhill when he tried drugs and alcohol in 2001. From 2004 to 2006, Hamilton was out of baseball due to his troubles with substance abuse. However, Hamilton has been a man of God and has only had two little slip ups since becoming sober. 
On Feb. 3, the world became a little bit sadder when news about Hamilton drinking the night before at Sherlock's Pub & Grill in Dallas, Texas surfaced. Hamilton quickly informed the Texas Rangers and took complete accountability for his actions.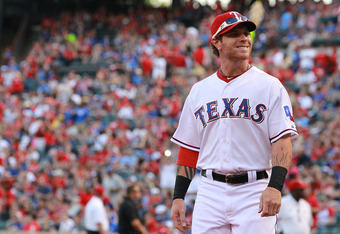 Ronald Martinez/Getty Images
Hamilton's fight with drugs and alcohol have clearly been a problem and give Texas a cause for concern. What most abusers would do is hide from their problems. Not Hamilton.
Anybody with half a heart has to praise Hamilton for his honesty and accountability. Hamilton understands that he has a disease that he must battle everyday and has been honest, the whole time. The Rangers should feel lucky that they have such a quality person in Hamilton as most abusers would run and hide instead of being a man.
Another cause for concern is Hamilton's injury-filled past. In Hamilton's five-year major league career, he has only averaged 117.8 games per season due to injuries. Hamilton will also be turning 31 years old this May.
However, when healthy, Hamilton is one of the best all-around players in all of baseball. Including the beginning of this season, Hamilton's statistics for a 162-game average are fantastic. The statistics would be a .309 batting average with 33 home runs and 117 RBI. Those are yearly MVP numbers.
Wins have also been piling up for Texas since Hamilton joined the team. In his four years with the team, the Rangers have averaged 88 regular season wins and made it the World Series in 2010 (the franchise's first appearances ever) and 2011.
While in the playoffs, Hamilton has came to play every game, even in pain. In his first playoff appearance in 2010, Hamilton won the ALCS while defeating the New York Yankees and hitting .350 with four home runs in six games.
In 2011, Hamilton did not produce eye-popping numbers in the playoffs but played through the pain of a sports hernia every game, and his home run in the 10th inning of the World Series would have won it all if it wasn't for David Freese's heroics.
Hamilton plays the game the right way. His injuries have come from running into walls or sliding head first to try to score a run. Hustle has never been a problem to Hamilton and Texas should appreciate his hard play.
This season, Hamilton has continued to be a team player. Playing his natural center field position, Hamilton is putting himself at risk, while helping the team. Texas could put Julio Borbon, Craig Gentry or prospect Leonys Martin in center, but the team is much better off with Hamilton there. David Murphy now gets to play left field and gets more at-bats, thanks to the unselfish Hamilton.
Not many players in baseball are as unselfish or as big of team player as Hamilton, and Texas has to appreciate that.
Another factor in the Hamilton saga is the Los Angeles Angels of Anaheim. After signing both Albert Pujols and C.J. Wilson this offseason, the Angels got much better and looked to run away with the offseason championship.
Then Texas went out and signed Yu Darvish. Texas and Los Angeles clearly have a rivalry that is heating up. If Texas loses Hamilton, the Angels will be in good shape to overtake the AL West for a long time.
Yes, some baggage comes with Hamilton, but the rewards of having him on your team outweigh the risks by a ton. Texas should realize how lucky they are to have such a talented and honest person as a part of their franchise.
Hamilton is one of the best all-around players in all of baseball and the Rangers would easily regret not re-signing him.