Oklahoma Football: 10 Reasonable Goals for the 2012 Season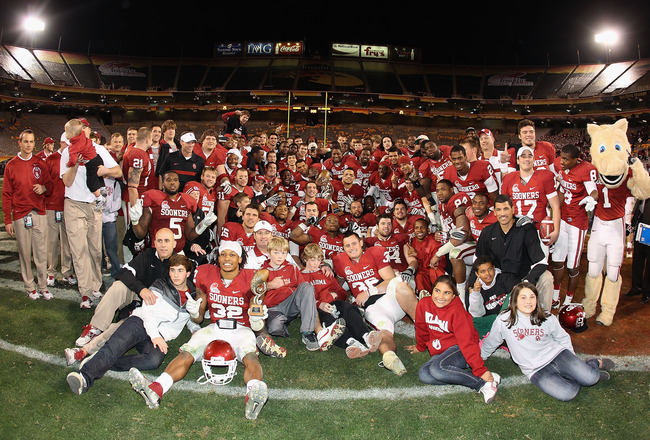 Christian Petersen/Getty Images
This weekend, the Oklahoma Sooners will be showcasing their talent at the annual Red and White spring football game.
The Red and White game is a culmination of all the hard work the Sooners have put in during the last month, and even more importantly, it's one step closer to the 2012 season.
The Sooners' season kicks off on the first of September in El Paso, Texas, against the UTEP Miners. While that date is nearly five months away, we are still allowed to project on how the Sooners might fare next season, what they need to do to contend and what some reasonable goals are to place on this year's squad.
Once again, the Sooners are loaded with talent and will be one of the preseason favorites to go all the way. After missing out on the national championship game three years in a row, getting back to that game has to be the ultimate goal.
Let's take a look at some of the other reasonable goals for the upcoming season.
More Production out of Landry Jones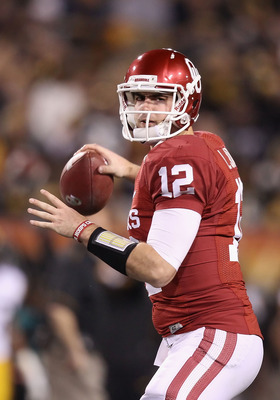 Christian Petersen/Getty Images
It's hard to harp too much on Oklahoma quarterback Landry Jones. I mean, he does hold the record for most passing yards and passing touchdowns by an Oklahoma quarterback, and he has yet to lose a bowl game.
I just feel like he's underachieved as far as player development and growth are concerned, and anybody who has watched more than one Oklahoma game over the past few years can likely attest that statement.
To put it more into perspective for those who haven't followed the Sooners as closely as others, here are Jones' year-by-year stats:
2009: 261 of 449; 58.1 completion percentage; 3,198 passing yards; 26 touchdowns, 14 interceptions
2010: 405 of 617; 65.6 completion percentage; 4,718 passing yards; 38 touchdowns, 12 interceptions
2011: 355 of 562; 63.2 completion percentage; 4,463 passing yards; 29 touchdowns, 15 interceptions
Yes, Jones always puts up big statistics, but are you seeing how many times he throws the ball? In terms of efficiency, 2010 was by far his best season, but he was still raw as a sophomore. After that promising season, though, Jones figured to be a Heisman contender in 2011.
While there were a few games Jones showed Heisman-like potential, for the most part, he seemed to be less polished than he was the season previous. Many times last year Jones looked downright uncomfortable in the pocket—if there was pressure, he would undoubtedly make a terrible decision.
I've conceded the fact that Jones is not Sam Bradford, and I feel like other Sooner fans have done the same, but a little progression would be nice, especially during his last season at Oklahoma.
Reportedly, Jones spent his spring break working with quarterback guru George Whitfield Jr., who also mentored Cam Newton before he was selected as the top pick in last year's draft.
This is good news to hear. It seems like Jones has acknowledged his lack of progression, and by electing to return for his senior season, he truly wants to become a better quarterback and a better NFL prospect.
No Major Injuries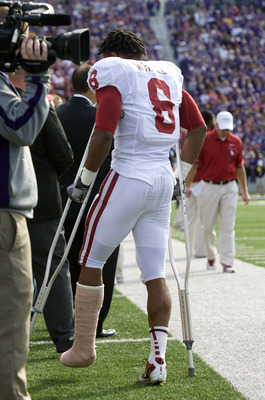 Ed Zurga/Getty Images
The injury bug is something of major concern on the Oklahoma campus. It has taken away key contributors to the Sooners' roster for the last few seasons, ultimately causing the destruction of national championship dreams.
Last season, the Sooners started the season off with one of the best feel-good stories in all of college football. Junior running back Dominique Whaley was a walk-on who transferred from Langston University before he cracked the rotation and eventually became the No. 1 running back on the depth chart last season.
Whaley began the year with a standout performance against Tulsa, carrying the ball 18 times for 131 yards and four touchdowns. He quickly became a household name and wasn't even on scholarship.
He was on pace to exceed 1,200 rushing yards and had the potential to reach 20 rushing touchdowns. However, his season was cut short in Week 6 after injuring his ankle. That left the Sooners thin at running back with just sophomores Roy Finch and Brennan Clay to shoulder the load for the rest of the season.
Finch played admirably in Whaley's absence, but nobody could have prepared for the injury that took place in Week 10 against Texas A&M—Ryan Broyles ending his career at Oklahoma after tearing his ACL.
At first, I shrugged off the injury. While I was aware that the offense may take a slip in production, I never thought it would cause as big of an impact as it did. I even wrote an article here on Bleacher Report explaining exactly why losing Ryan Broyles wouldn't be a huge concern.
Boy, was I wrong. Not only did Broyles' injury affect the way Landry Jones played for the rest of the season (zero touchdowns to five interceptions), it also seemed to affect the rest of the receivers. Kenny Stills and Jaz Reynolds dropped passes that were normally automatic; it was as if nobody wanted to step up and be "the guy."
Whaley and Broyles were the Sooners' main offensive weapons last season and both went down with season-ending injuries. Last season brought back sour memories of the 2009 season that took star quarterback Sam Bradford and tight end Jermaine Gresham out for nearly the entire season.
This cannot happen this season. I understand that injuries can't exactly be prevented, especially when it's a freak accident like Broyles' case, but staying injury free has to be a big goal for the Sooners in 2012.
Find a Defensive Leader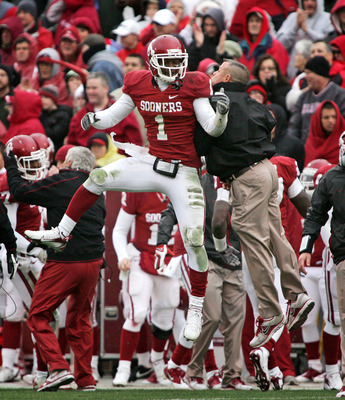 Brett Deering/Getty Images
I've said it before and I'll say it again: I'm looking at you, Tony Jefferson.
For the past two seasons, outside linebacker Travis Lewis has been the heart and soul of the Sooners' defense. The case can even be made that defensive end Frank Alexander and cornerback Jamell Fleming also had a hand in leading the defense last season, but all that can be laid to rest now that they're all off to the NFL.
It's time for somebody new to step up for the Sooners. It's time for somebody to take the responsibility that comes with being a leader. Why shouldn't this be junior defensive back Tony Jefferson?
As the best defensive player on the roster, Jefferson is the most qualified to take Lewis' role. Jefferson is a two-year starter who has racked up 139 tackles, 6.5 sacks and six interceptions in his stint at Oklahoma.
The Sooners desperately need somebody who can be a constant motivator on the field, in the huddle and on the sidelines. In my eyes, that needs to be Jefferson. Not only will it help him improve as a player at Oklahoma, but his leadership skills will be a desirable trait in the NFL.
If for whatever reason Jefferson isn't the guy I'm making him out to be, then junior linebacker Tom Wort is the next best option.
Wort definitely has the ability to be an emotional leader for the Sooners, and his non-stop motor and hard-nosed playing style make him a nice candidate, as well.
Be More Disciplined in the Secondary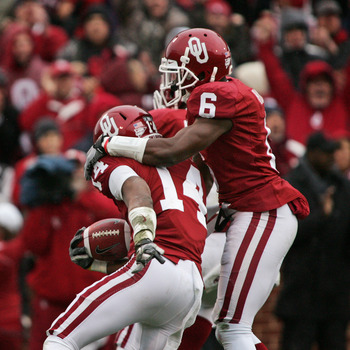 Brett Deering/Getty Images
This goal kind of goes hand-in-hand with the previous goal. When and if Tony Jefferson steps up and becomes a defensive leader, the Sooners' secondary will become more disciplined.
Of course, the help of "new" defensive coordinator Mike Stoops may factor in, as well. However, once Jefferson takes the responsibility of being a leader, his teammates, especially those in the secondary, are sure to follow.
It's no longer news—everyone is aware that the secondary needs to step their game up in a big way this season. Frankly, it's odd that they played so badly in the first place last season.
Jamell Fleming played the best and, of course, he's now off to the NFL. Demontre Hurst is entering his senior season and is NFL bound, as well. CBS Sports actually has Hurst ranked as the No. 4 cornerback in the 2013 draft class.
In his first year as a strong safety, Aaron Colvin played admirably, totaling 84 tackles. Javon Harris, who was seemingly in the wrong place at the wrong time more often than not last season, is a more than qualified athlete who was maybe just playing the wrong position.
Then you add in Jefferson, who at times didn't play up to his potential, and Gabe Lynn, who hasn't lived up to his potential in either of his first two seasons, and the Sooners have a bevy of talent at their disposal that just hasn't played disciplined football.
Last season, the Sooners' defensive backs (and Travis Lewis) took on the nickname "The Sharks" in the preseason. While the nickname provided a "swagger" to the defense that was needed, the players seemed to rely on their swagger and athleticism to make plays rather than fundamentals and discipline.
With Jefferson likely moving back to his more natural free safety position this year, the secondary will hopefully be better in coverage situations. Javon Harris would be better suited playing strong safety, but he may be the odd man out if Stoops wants to keep Colvin in that spot.
Regardless, the Sooners need to be more disciplined in the secondary this season, and that all begins with Jefferson's leadership and Stoops' coaching.
Find a Replacement for Ryan Broyles
Like I mentioned earlier in the article, after Ryan Broyles went down with a season-ending injury, the entire passing game went down, as well. Landry Jones wasn't hitting his targets as often, and when he did, the receivers were dropping passes that they normally wouldn't.
Nobody stepped up in Broyles' absence to become Jones' go-to guy. Thankfully, the Sooners have the entire offseason to find a replacement, and they have a handful of options to choose from.
The most likely choice is Kenny Stills, who has played second-fiddle to Broyles for the last two seasons. Stills has decent size (6'1", 189 pounds), and before he decided to start dropping passes at the end of last season, I would have been confident in saying he had the next-best hands on the roster.
Jaz Reynolds is another option, and after a breakout sophomore performance he may be in line for a big year. Reynolds finished the year with 41 catches for 715 yards and five touchdowns, and he wasn't even in the lineup for three games.
While Stills and Reynolds may be the most likely options, freshman Trey Metoyer may actually be the best receiver on the roster. Metoyer (6'2", 198 pounds) is the first 5-star receiver that has played under Bob Stoops at Oklahoma.
As you can see in the picture (Metoyer is No. 17), he has the build of a big-time receiver, and he has already begun impressing the coaches this spring.
If you haven't already seen the video of Metoyer's one-handed catch this spring, watch it here.
Go Undefeated at Home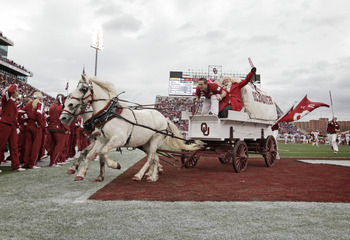 Brett Deering/Getty Images
This goal is almost always achieved. Under Bob Stoops, the Sooners are 77-3 when playing at home. That's practically unheard of.
However, after the Sooners suffered an embarrassing home defeat to Texas Tech last year, this goal has to be a priority, especially with the caliber of opponents that are coming into Gaylord Memorial this season.
Here is a list of the Sooners' home games and opponents in 2012:
Week 2: Florida A&M
Week 4: Kansas State
Week 8: Kansas
Week 9: Notre Dame
Week 11: Baylor
Week 13: Oklahoma State
Florida A&M, Kansas and Baylor should be no problem for the Sooners at home this year, and I even believe the Sooners are going to once again throttle Kansas State despite their well-established ground attack.
That leaves a huge Week 9 non-conference matchup against Notre Dame and the (almost) always exciting Bedlam matchup against Oklahoma State. Both games will prove to be tough tests, but I'm more nervous about Oklahoma State.
Everyone knows that Oklahoma State lost quarterback Brandon Weeden and wide receiver Justin Blackmon to the NFL, but you can't be so quick to write off the Cowboys. Running back Joseph Randle is an All-American hopeful, and their secondary will prove to be one of the best in the country.
It will be an interesting game—hopefully much closer and exciting than last year's blowout in Stillwater.
Run the Ball More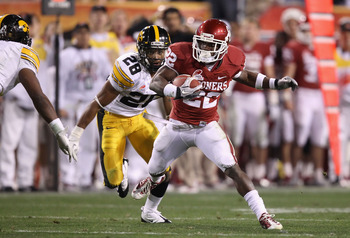 Christian Petersen/Getty Images
This goal falls entirely on offensive coordinator Josh Heupel's shoulders. I understand that Oklahoma is now a spread-attack offense and Heupel loves to throw the ball (he was a quarterback, after all), but the Sooners need to run the ball more.
There's too much talent being wasted in the backfield, which is likely one of the reasons freshman running back Brandon Williams decided to transfer.
Last season, the Sooners threw the ball 583 times and ran the ball 469 times. This doesn't seem like a huge difference, and when broken down, it really means that the Sooners only threw the ball 8.8 more times a game than they ran it.
However, third-string quarterback Blake Bell ended up carrying the ball 44 times last season out of the Belldozer package. Luckily, that produced 13 touchdowns and completely changed the Sooners' red-zone offense, but Bell wasn't the only player that had good stats.
Both Dominique Whaley and Roy Finch had an average of 5.5 yards per carry last season. Those are great numbers from your No. 1 and No. 2 running backs. Give the ball to them twice, and it's an automatic first down (statistically speaking, of course).
Fullback Trey Millard only carried the ball 24 times last season, but he averaged seven yards per carry. Wide receiver Trey Franks even ran the ball seven times last season, and he averaged 14.3 yards per carry.
Don't get me wrong, I love watching the Sooners run a hurry-up, spread attack. It keeps defenses guessing and produces points quickly, but when was the last time a spread offense won a national championship?
The Sooners still have Whaley, Finch, Clay, Millard, Franks and Bell on their roster. On top of that, they will have junior college transfer Damian Williams in the backfield this season, as well as redshirt freshman Danzel Williams.
Run the ball more, Heupel. Not only will it help the offense, but it will also help the defense. Being able to score in under two minutes is cool, but the defense has to get ridiculously tired throughout the game when that happens.
Big 12 Champions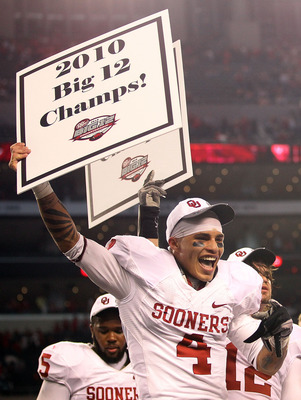 Ronald Martinez/Getty Images
These last three slides are all "big picture" goals, and each slide will be accompanied by a photo from the past. Let's start with winning the Big 12 championship.
As you can see in the photo, wide receiver Kenny Stills is elated after winning the Big 12 championship. However, the sign reads "2010 Big 12 Champs," not 2011. Instead, the 2011 crown went to rival Oklahoma State—who was the better team in every facet of the game last season.
Losing the Big 12 championship to your in-state rival has to leave a bitter taste in your mouth, and the Sooners have once again loaded up on talent and are ready to regain their prowess as the best team in the conference.
While under Bob Stoops, the Sooners have never gone back-to-back seasons without winning the Big 12 championship. In that time, the Sooners have completely dominated, winning seven Big 12 championships; Texas is the next best in the conference with two.
In order for the Sooners to get back to the top, they have to go through a hellacious schedule to end the year. Assuming the Sooners get by Kansas State, Texas Tech and Notre Dame without any hitches, the Sooners' next toughest opponents come in the final three games of the year:
Week 12 at West Virginia
Week 13 vs. Oklahoma State
Week 14 at TCU
Newcomer West Virginia potentially poses the biggest threat to the Sooners this season, and that Week 12 matchup is going to be huge. Playing on the road in rowdy West Virginia may make or break the Sooners' chances of winning another Big 12 title, but even if they win, they still have tough matchups against Oklahoma State and TCU to round out the season.
If the Sooners make it out virtually unscathed, a Big 12 championship will be hanging in the midst. Which leads me to my next slide.
Earn a BCS Bowl Bid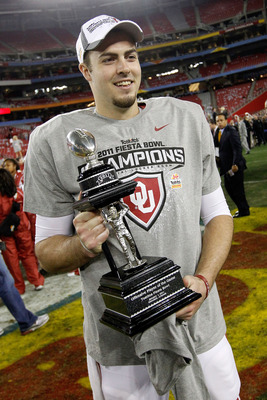 Tom Pennington/Getty Images
If the Sooners do manage to win the Big 12 this season, a BCS bowl bid will be their prize. It's almost impossible to earn a BCS bid without winning your conference, unless, of course, someone from your conference is playing for the national title.
As you can see in the picture, Landry Jones' shirt reads, "2011 Fiesta Bowl Champions." This picture corresponds with the last slide's "2010 Big 12 Champs" due to the fact that it's the same season. Last season, the Sooners missed out on a BCS bowl and instead fell all the way down to the Insight Bowl to play an inferior Iowa Hawkeyes team.
If the Sooners can win the Big 12, they will be guaranteed a spot in the Fiesta Bowl against an at-large opponent. In 2011, the Sooners destroyed Connecticut by a score of 48-20, but the Fiesta Bowl isn't always so nice.
In the Sooners' previous two appearances, they got crushed by West Virginia (2007) and fell victim to Boise State in overtime (2006).
While getting back to the Fiesta Bowl would be a nice accomplishment, the Sooners have bigger goals to accomplish.
Win the National Championship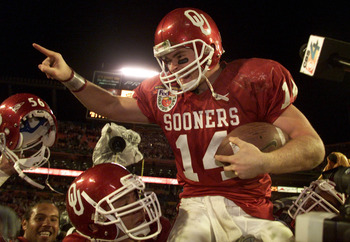 Andy Lyons/Getty Images
Miami, Florida, is the destination of the BCS national championship game this season, and that's what the Sooners have their sights set on.
In this slide's picture, Josh Heupel is seen being hoisted up onto his teammates' shoulders after winning the national championship in 2001 (2000 season). Where was that game held? You guessed it: Miami, Florida.
Since that game, the Sooners have been back to the national championship three times, and they've come away empty handed each visit. Two of those three games were actually back in Miami—2005 (2004 season) against USC, and 2009 (2008 season) against Florida.
In order for the Sooners to get back to the national championship, every goal that was previously mentioned in this article has to happen. It's almost impossible to get to the national championship if you have more than one loss on the season, and the Sooners are in an awkward position with their three toughest games coming at the end of the season.
The Sooners have the talent to get this far, though. Getting back to and winning the national championship has to be the No. 1 goal for the 2012 season.
If I had to guess, the Sooners will have to go through an SEC team to achieve this goal. It could be possible to see a 2003 rematch between the Sooners and the LSU Tigers.
Keep Reading

Oklahoma Sooners Football: Like this team?